Jared Kushner's Office Sued for Lacking Transparency on Infrastructure Plan 'Ripe for Cronyism,' Complainant Says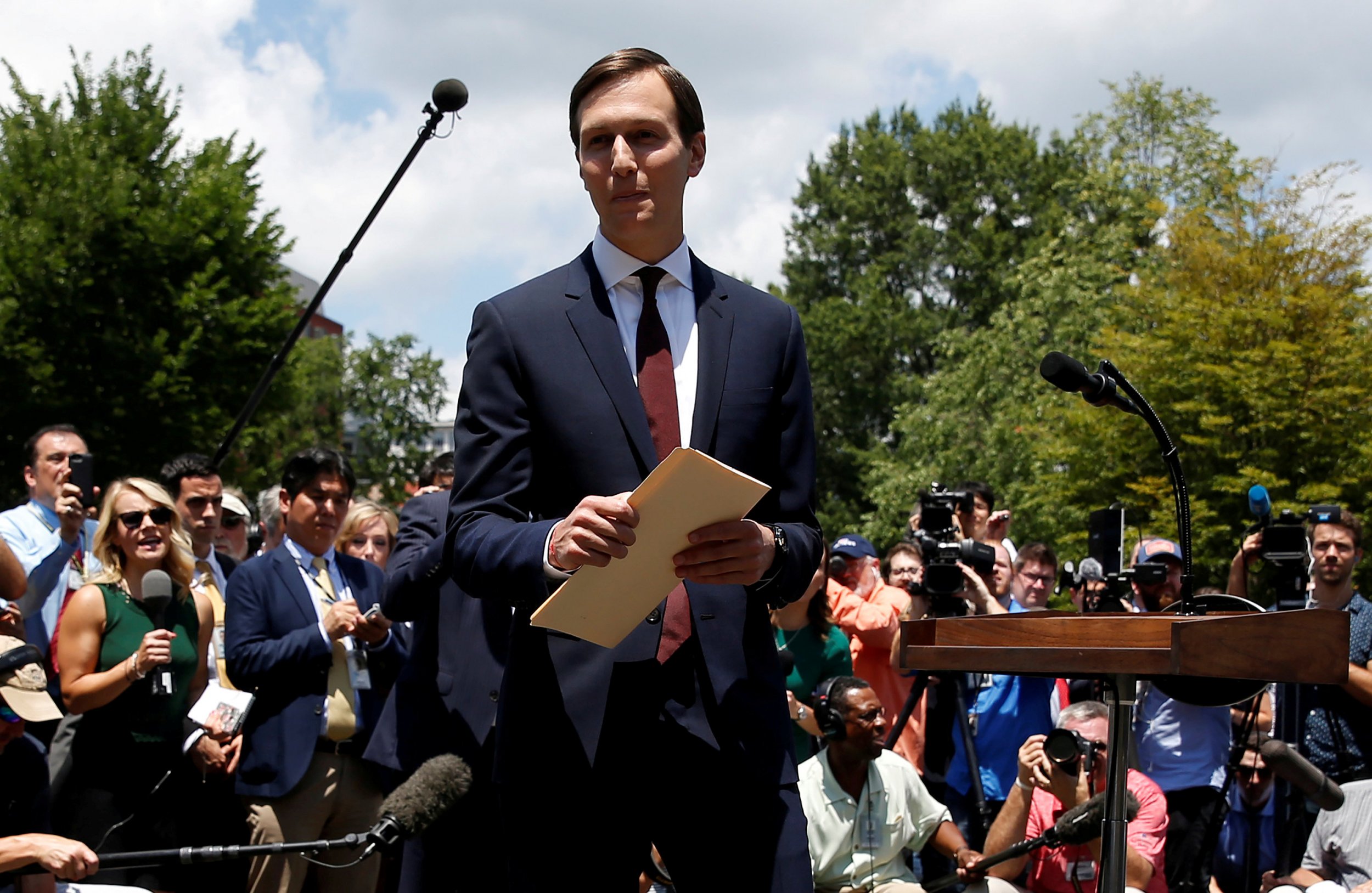 The Office of American Innovation, led by President Donald Trump's son-in-law Jared Kushner, has been sued for allegedly attempting to skirt federal transparency laws while shaping the administration's infrastructure policy.
Related: Did Jared Kushner help Puerto Rico? White House claims about his Hurricane Maria efforts are unclear: Report
The nonprofits Democracy Forward and Food & Water Watch filed the lawsuit Thursday after the Kushner-led office "ignored" Freedom of Information Act (FOIA) requests. The organizations made FOIA requests to see whether policy-making was being improperly influenced by conflicts of interest within the Trump administration, Food & Water Watch senior staff attorney Zachary Corrigan told Newsweek.
Established last March, the Office of American Innovation (OAI) played a major role in Trump's $200 billion infrastructure plan that puts more emphasis on finding private investors and less on how it benefits the public.
"Despite the obvious public interest and urgency in disclosing how the government developed this infrastructure policy, including the role of various government leaders and private individuals, OAI has not acknowledged or responded to Plaintiffs' FOIA requests, let alone produced responsive records, all in violation of the law," the complaint states.
Although the office's involvement in crafting the plan is unknown because the public records requests did not produce documents, Democracy Forward's policy and strategy director Corey Ciorciari told Newsweek that the groups believe it is "ripe for cronyism."
"How it was developed, some critical aspects of the plan such as the fact that funding will be available to private entities, that large amounts of discretion will be given to the Trump administration to choose projects they will award," Ciorciari said as examples. "So the plan itself is concerning."
The plan appears to be a "big grab bag for private companies that want to make a buck out of the American people and their water bill," Corrigan added.
Attorney Karianne Jones, who is representing both groups, told Newsweek that the office is obligated to comply with the Freedom of Information Act because it is engaging in "agency-type work."
Another concern, Ciorciari said, is that Kushner has been allowed to work with only interim security clearance. The watchdog group Citizens for Responsibility and Ethics in Washington also on Thursday filed a complaint with the White House demanding that Kushner's temporary security clearance be revoked until he passes a background check required for permanent clearance.
"We think it's important that the American people are able to, as legally required, have some light on what's going on in an office that is operating behind closed doors," Ciorciari said.
White House officials and a spokesman for Kushner did not respond to a request for comment from Newsweek.