Jared Kushner Is a Power-Hungry 'Prince' With No Government Experience Like Mohammed bin Salman, U.S. Intel Officials Say: Report
President Donald Trump's son-in-law, Jared Kushner, resembles Saudi Crown Prince Mohammed bin Salman, whom he's cozied up to, in being "power-hungry" and inexperienced in government, U.S. intelligence officials reportedly said.
The intelligence officials keeping tabs on the crown prince before he assumed that title in June 2017 "assessed him as a naive, inexperienced and ambitious upstart who was not prepared for a position of great power," The Washington Post reported on Sunday.
"They said they heard an echo of Mohammed in Kushner," the report says. "Here, too, was a young, power-hungry 'prince' with no track record in government."
The reported slights against Kushner come as the relationship between the United States and Saudi Arabia, which he has worked to improve, is rocked by the suspected killing of Saudi journalist Jamal Khashoggi. A columnist for the Post and a U.S. resident, Khashoggi went missing after entering the Saudi consultate in Istanbul.
While Kushner is not allowing Khashoggi's disappearance to damage his relationship with Crown Prince Mohammed, Trump has been more critical of Riyadh, which the president chose as his first international destination under Kushner's persuasion.
"Just spoke to the King of Saudi Arabia who denies any knowledge of whatever may have happened 'to our Saudi Arabian citizen.' He said that they are working closely with Turkey to find answer. I am immediately sending our Secretary of State to meet with King!" Trump tweeted on Monday morning.
Kushner, 37, and Crown Prince Mohammed, 33, became friends in March 2017 over lunch at the White House. The two had private phone conversations without note-takers that concerned U.S. national security officials, several sources told the Post, and an adviser to Trump said it was "insane" how often the two spoke.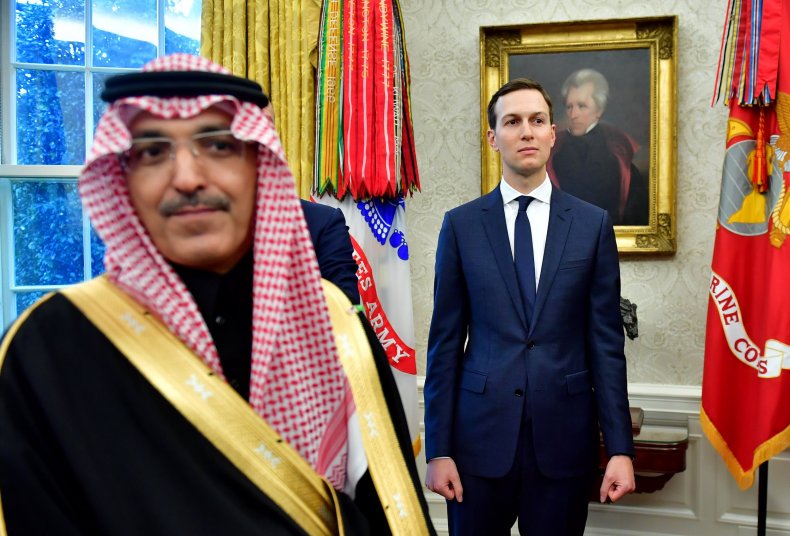 Trump entrusted Kushner, who had no prior government experience, with forging a Middle East peace plan. However, Saudi Arabia's King Salman rejected Kushner's peace plan after Trump recognized Jerusalem as the capital of Israel. The plan's rejection reportedly angered Kushner.
The president may soon release a revised peace plan, but the Saudi support and financial backing that Kushner advocated for are not guaranteed.
"It all smacks of a massive naivete on his part that he could sit down with MBS and figure out Middle East peace and a broader framework," Thomas Wright, a senior fellow at the Brookings Institution's Project on International Order and Strategy, told the Post, speaking of Kushner.
Trump put Kushner in charge of crafting the peace plan due to his longtime connection to Israel. But some U.S. spies reportedly have sought to manipulate Kushner because he lacks foreign policy experience.