'Couple of Facebook Ads': Jared Kushner Downplays Russian Interference as He Blasts Investigations
President Donald Trump's son-in-law and senior White House adviser Jared Kushner downplayed Russian interference in the 2016 presidential election Tuesday, suggesting it amounted to "a couple of Facebook ads."
"When you look at what Russia did, buying some Facebook ads to try to sow dissent, it's a terrible thing," Kushner said at the TIME 100 Summit in New York. "But I think the investigations and all the speculation that's happened for the last two years has had a much harsher impact on our democracy than a couple of Facebook ads."
Kushner said that he spent about $160,000 on Facebook every three hours during the campaign, "so if you look at the magnitude of what they did and what they accomplished, I think the ensuing investigations have been way more harmful to our country."
Russian agents with the intent of sowing discord among Americans spread fiery posts that reached 126 million Facebook users, according to copies of prepared remarks from the social media company obtained by The New York Times in late 2017.
The president's son-in-law was responding to Time senior White House correspondent Brian Bennett's questions about the Russia investigation following the release of special counsel Robert Mueller's redacted report last week.
"When the whole notion of the Russian collusion narrative came up, I was the first person to say I'm happy to participate with any investigations," Kushner said. "I thought the whole thing was kind of nonsense to be honest with you.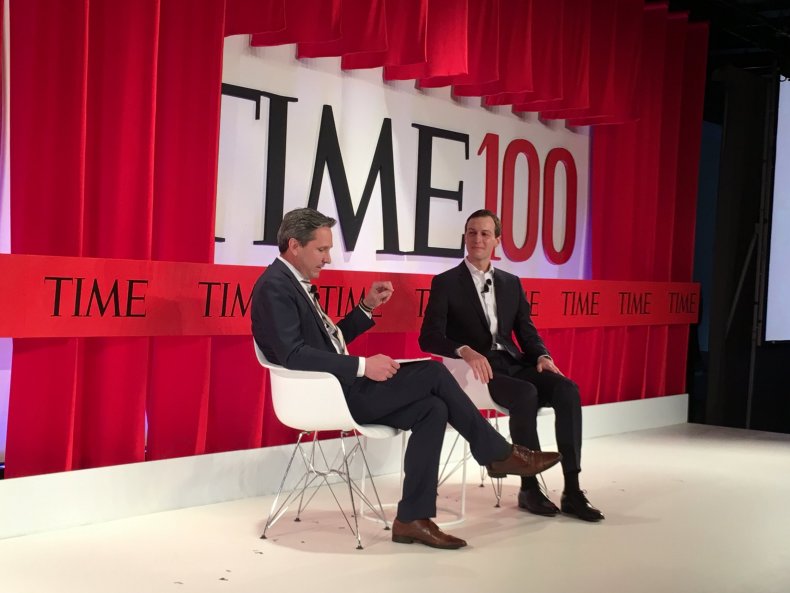 Kushner said the Trump campaign was very "untraditional" and "entrepreneurial," with few figures from the Washington establishment initially willing to help. "We had a lot of outsiders coming in," he said.
He also emphasized that he conducted three House interviews and about nine hours with Mueller.
"I think that everything that I've said has been proven to be true and has been very thoroughly investigated," he said.
Much of the focus on Kushner's alleged role in Russia's efforts has centered on his presence at a June 2016 Trump Tower meeting also involving Donald Trump Jr., then-campaign chairman Paul Manafort and a Kremlin-linked lawyer. Speaking Thursday, Kushner brushed off the meeting saying he would not have given it a second thought, "but now the media spends so much time focusing on it that quite frankly the whole thing is just a big distraction for our country."
Trump applauded Kushner on Twitter, calling it a "great interview" and saying, "Nice to have extraordinarily smart people serving our Country!"
Kushner was not one of the 100 politicians, leaders, CEOs, philanthropists and other influential people honored by Time this year.