Jared Kushner Touted His Relationship With Saudi Crown Prince Before Jamal Khashoggi's Disappearance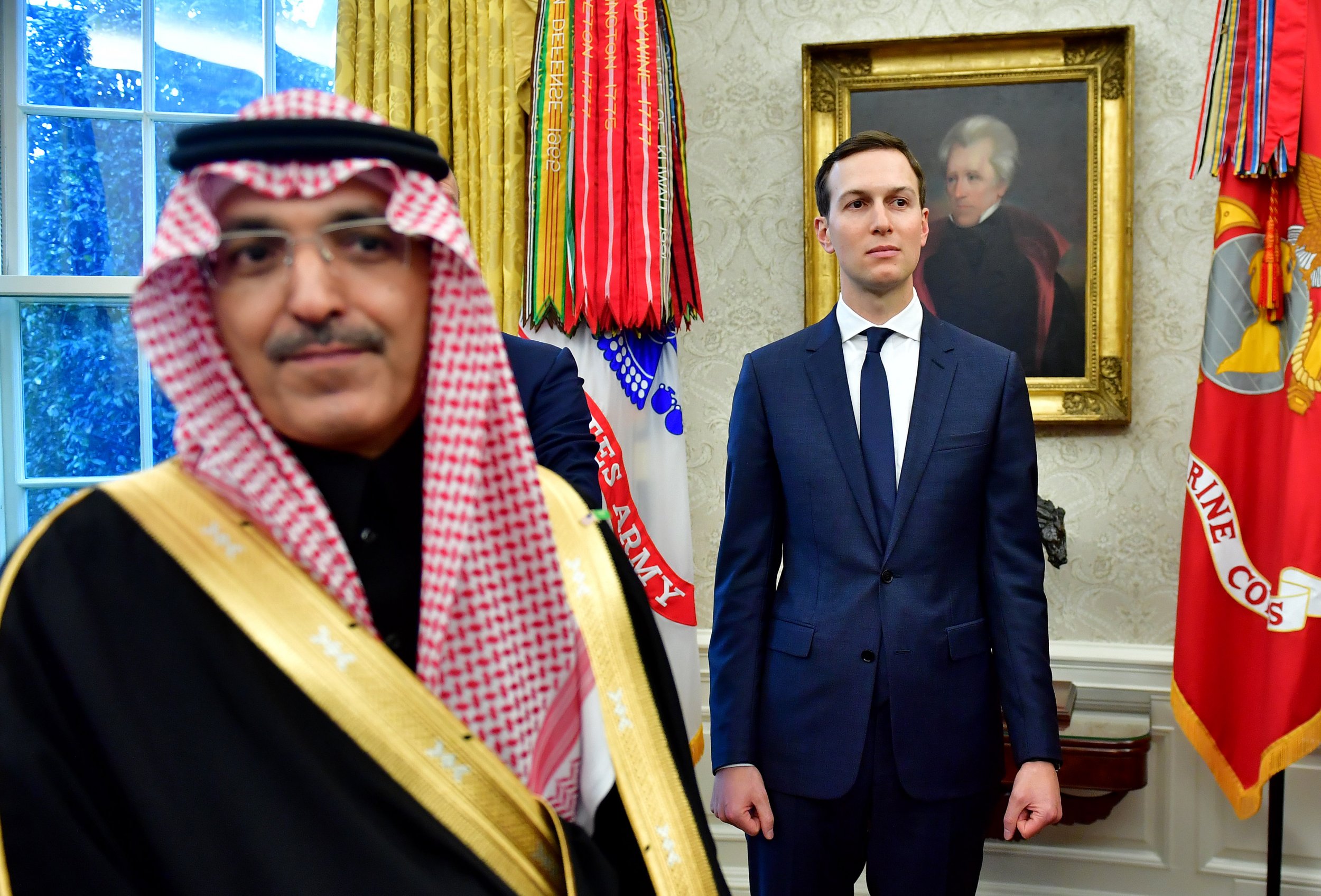 President Donald Trump's son-in-law and senior White House adviser Jared Kushner spoke highly of his relationship with Saudi Crown Prince Mohammed bin Salman before the disappearance and alleged murder of Saudi journalist Jamal Khashoggi.
"I would speak to MbS almost every day to plan it," Kushner said regarding talks around a Saudi proposal to convene 53 other Muslim or Islamic nations for a summit in Riyadh on combatting terrorism and Iran. The comment was one of several that Kushner provided about his relationship with the Saudis to CBS chief White House Correspondent Major Garrett in his book Mr. Trump's Wild Ride: The Thrills, Chills, Screams, and Occasional Blackouts of an Extraordinary Presidency published last month.
"Every single thing he promised me he delivered 150 percent on," Kushner said of the crown prince, who goes by his initials MbS, and the conversations that took place during the transition.
The crown prince during the summit said: "We will be firm in finding anyone who financed terrorism in any way shape or form and bring them to justice." That, from Kushner's point of view, would be the Saudis delivering 150 percent, the book states.
Kushner went on a mini-rant about the crown prince and his efforts to bring the Saudi kingdom back to a moderate form of Islam that is less oppressive and affords more rights to women. Specifically, according to Garrett, Kushner said he, and the United States, were looking for Mohammed "to be successful," that his presumed efforts were "incredible," and that "we should be trying to support him." Kushner in summer 2017 said:
It's not without speed bumps. He's got a lot of challenges. We're looking for it to be successful. If he can lead the global fight against extremism, that's incredible. If he wants to push back against Iran's aggression, that's incredible. If he wants a more free and open society where women have equal rights and you don't discriminate against people for their race or religion, I mean, that's incredible. We should be trying to support him. He's taking on big, bold objectives. We have to give him the space to try to accomplish it. These places are not going to become Jeffersonian democracies overnight or maybe ever. Our job is to run America and not to define places where people have common interests with us and respect their cultures and let them see our values.
Furthermore, Kushner said he faced great resistance from within the U.S. government to put on the summit and viewed it as a test for him, the Saudis, and in turn, Mohammed. Kushner appeared to tout his efforts in arranging the summit.
"I had a lot of people here who did not want to do the trip, who said the Saudis will never come through," Garrett said Kushner told him. "You will get there and it will just be a bunch of sand. They'll promise you things. They'll never do them. I said, 'Guys, they want to do this.'"
Kushner then paused to talk up how he's handled the role Trump gave him of leading relations with the Middle East, and that the region and other parts of the world might become increasingly welcome to him.
"People know [what] my motivation in coming here was. I gave up a very good career. I came here because it was an amazing opportunity," Kushner told Garrett. "They know when they talk to me I will give them honest feedback and I'm not trying to push my own agenda, I'm trying to push the president's agenda."
Kushner, 37, and Crown Prince Mohammed, 33, became close over lunch in the White House in March 2017. They have since had multiple private phone conversations that reportedly raised concerns among U.S. national security officials.
Their relationship has come under increased scrutiny since Khashoggi, who wrote columns critical of Saudi Arabia for The Washington Post, entered the kingdom's consulate in Turkey and never appeared again. U.S. intelligence officials have grown more convinced that the crown prince is culpable in Khashoggi's presumed killing, The New York Times reported on Wednesday.
A former official who is close to the White House told The Times on Thursday that Kushner argued that outrage over what happened to Khashoggi will pass like other mistakes by the Saudis, including the kidnapping of Lebanon's prime minister and an airstrike in Yemen that killed a busload of children.