Jared Kushner to Meet Mexico President Despite Losing Top-Secret Security Clearance
President Donald Trump's son-in-law Jared Kushner is scheduled to meet with Mexican President Enrique Peña Nieto in Mexico City on Wednesday—despite last week's White House announcement that he had his security clearance downgraded.
Related: Jared Kushner's Temporary Security Clearance Sets 'Dangerous Precedent' and Should Be Revoked, Watchdog Tells White House
The meeting will center on immigration, trade, security and economics, a Trump administration official told The Wall Street Journal on Tuesday. It comes 10 days after the U.S. and Mexico canceled a meeting due to disagreements on funding Trump's promised border wall.
Kushner's Mexico trip is the first true indication that he will continue to play an integral role in the administration's foreign policy, even though his downgrade has barred him from accessing classified information that is presumably key to doing his job. That includes the president's daily briefing featuring the most pressing information that U.S. intelligence agencies collect from around the world.
Chief of staff John Kelly, who made the decision to downgrade Kushner's security clearance, said in a statement last week, "I have full confidence in his ability to continue performing his duties in his foreign policy portfolio including overseeing our Israeli-Palestinian peace effort and serving as an integral part of our relationship with Mexico."
However, Kelly did not elaborate on how Kushner's downgrade would affect his work, which includes leading relations with Mexico and China and creating a Middle East peace plan.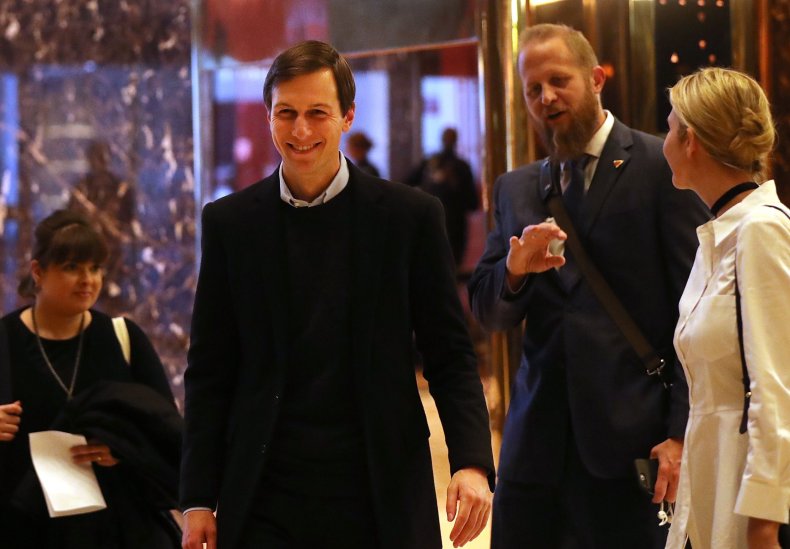 A White House spokesman for Kushner did not respond to a request for comment from Newsweek on Wednesday.
It is not the first time Trump has deployed a member of his administration without permanent security clearance to take on foreign affairs issues.
Last month, Kushner's wife and fellow senior White House adviser Ivanka Trump briefed South Korean President Moon Jae-in before the Winter Olympics closing ceremony on her father's new North Korea sanctions despite reportedly only having temporary a security clearance.
Asked if the first daughter had the appropriate security clearance to administer such a talk, Treasury Secretary Steven Mnuchin dodged the core of the question and said, "she has the appropriate access to brief the president."