Jared Kushner's Security Clearance Could Be a 'Threat to National Security': Watchdog Demands Investigation
A watchdog group on Thursday demanded that the Inspector General for the Intelligence Community immediately open an investigation into how President Donald Trump's son-in-law Jared Kushner received top security clearance and whether it "presents a threat to national security."
Citizens for Responsibility and Ethics in Washington (CREW) filed the request in light of reports this week indicating that Trump pressured then-Chief of Staff John Kelly to grant security clearance for Kushner, who serves as a senior White House adviser.
Trump has denied having any hand in giving Kushner the security clearance. Carl Klein, who was director of the Executive Office of the President Personnel Security Office at the time, reportedly overruled career security officials' recommendations that Kushner not get top-secret security clearance.
"Even if President Trump, despite his denial of any involvement in Mr. Kushner's security clearance, issued a Presidential order based on his authority as Commander-in-Chief that superseded the applicable legal requirements," CREW Executive Director Noah Bookbinder wrote in a letter to Inspector General Michael Atkinson, "The ICIG should review whether Mr. Kushner's top-secret clearance presents a threat to national security."
It is also unclear whether Kushner should have been granted clearance based on unresolved concerns about his "potential susceptibility to foreign influence," the letter stated.
"We're deeply concerned that President Trump may have played a role in granting Jared Kushner a security clearance against the recommendation of career security officials," CREW spokesman Aaron Rodriguez told Newsweek on Thursday.
CREW has long been critical of Kushner's security clearance. In February 2018, Crew sent a letter to Kelly requesting that Kushner's temporary clearance be revoked. The watchdog has cited multiple conflicts of interest around the president's son-in-law, including his foreign entanglements and family business interests overseas. Kushner supported a blockade of Qatar that gave the appearance of retaliation for the country backing out of deal with his family real estate business.
"The American public deserves to know the circumstances in which the president's son-in-law was granted access to our nation's most sensitive information despite security concerns and whether or not his access presents an ongoing national security threat," Bookbinder stated.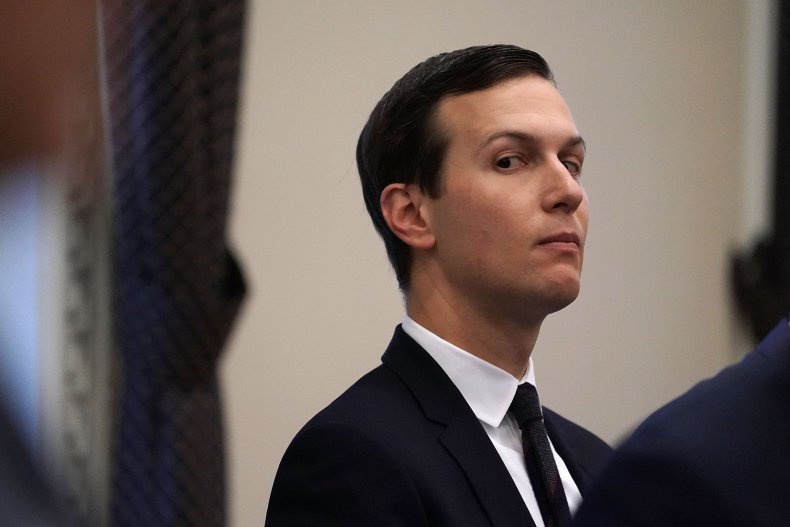 Additionally, the letter requested investigations on how and why about 30 other employees in the White House and the Executive Office of the President were granted security clearances.
The office of the Inspector General for the Intelligence Community did not immediately respond to a request for comment from Newsweek on Thursday.