Jared Kushner Still Doesn't Have White House Security Clearance After Ten Months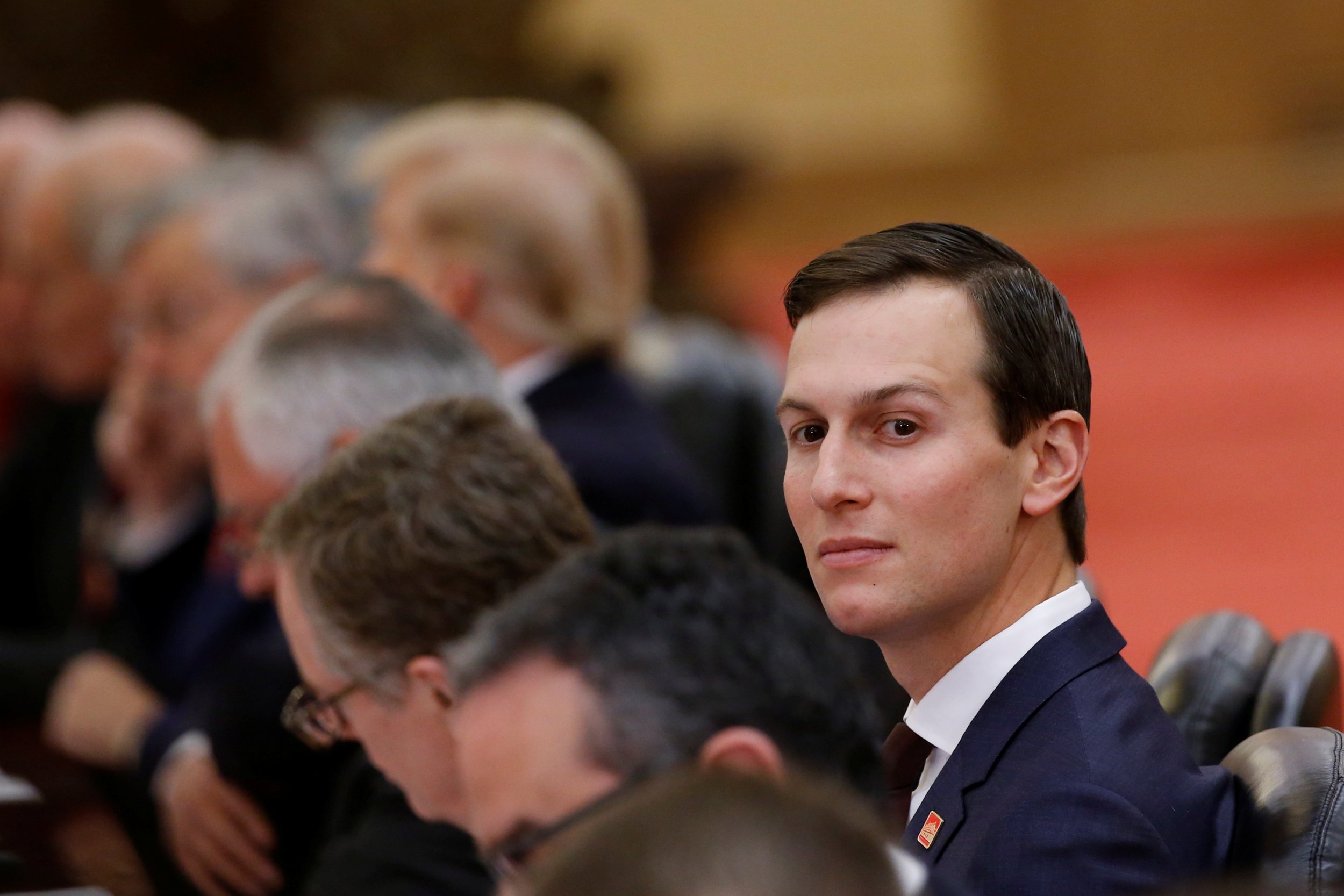 Experts are baffled as to why Jared Kushner, who has been tasked with forging peace in the Middle East and is one of President Donald Trump's top advisors, still does not have White House security clearance nearly a year after he was appointed.
Politico cited sources Thursday who said Kushner's clearance to handle America's most sensitive information is still under review.
Susan Hennessey, a national security fellow at the Brookings Institution, who specializes in congressional oversight of the intelligence community, said on Twitter: "The White House claim that it is 'completely normal' for it to take over 10 months to clear an extremely senior WH official is insane."
Kushner, who is also Trump's son-in-law, was one of the president's first appointees after he won the election a year ago. The White House told Politico that the delay is "completely normal" and that it can take more than 300 days, in some cases, to grant full security clearance. At present, Kushner has interim clearance.
Usually the most senior White House staff who will work closely with the president are prioritized with the goal of getting them clearance within 90 days, Leslie McAdoo Gordon, a security clearance lawyer, added. "Some of them get resolved in 90 days, but many of them don't. It can take months. It can occasionally take years. You just have to work the system," she said.
Kushner's application has been complicated by the fact that he initially left more than 100 names off his list of foreign contacts on the security clearance application—a chargeable offense.
Some of the contacts left off Kushner's application included meetings last December with then Russian ambassador to the U.S. Sergey Kislyak and Sergey Gorkov, president of the state-run Russian bank VEB.
Read more: Jared Kushner doesn't read and gets tired of talking about the Middle East, Joe Scarborough says
Other experts said the length of time it has taken to get clearance for Kushner, a first time applicant with a complex business and financial background, is normal. Kushner was CEO of his family's real estate firm Kushner Companies.
"As a general rule, with respect to clearances, when you have people who have never had one before and they have massive financial and foreign connection and a staggering amount of business interests, like some of the people accompanying Trump, it wouldn't be unheard of," said Mark Zaid, another security clearance lawyer.
Trump has given Kushner the responsibility of brokering peace between the Israelis and the Palestinians and restructuring the federal government. If his security clearance is revoked, he wouldn't be able to carry out his job.
On Thursday the Senate Judiciary Committee confronted Kushner in a letter for not turning over documents—including some about his security clearance—that it has requested from him as part of its investigation into the Trump campaign's ties to Russia and whether it offered any assistance in the Kremlin's election meddling efforts.
Kushner, the committee wrote, hasn't turned over emails from September 2016 about WikiLeaks and a "Russian backdoor overture and dinner invite." They said Kushner forwarded these to another campaign official. Kushner's attorney Abbe Lowell said they are open to disclosing the documents.
Key American intelligence officials produced a report early this year that found Wikileaks released thousands of emails that were stolen by Russian intelligence from the Clinton campaign and Democratic Party. Early this week The Atlantic revealed that Wikileaks was in contact with Donald Trump Jr. and pushed him to spread the email disclosures.
The committee said it believes Kushner hasn't turned over all communication about a select list of people they have picked out as part of the investigation.
"I'm thinking that asking why Jared Kushner still has a security clearance may not capture all his misconduct," wrote Democratic Rep. Ted Lieu of California on Twitter. "We really should be asking: Why is #Kushner still in the White House?"