'Outrageous' Jared Kushner a 'Huge Threat' to U.S. Foreign Policy, Says Retired Army General
White House senior adviser Jared Kushner has no business running or representing United States foreign policy, according to a retired four-star Army general, due to his lack of experience and potential financial conflicts of interest.
Retired General Barry McCaffrey blasted President Donald Trump's son-in-law while responding to reports of Saudi Arabia's crown prince claiming to have Kushner "in his pocket."
"Putting Jared Kushner, a 30-something person with no foreign policy or defense policy experience, as a leading representative of the United States is simply outrageous," McCaffrey told MSNBC Wednesday night.
"The officers of our government, under the Constitution, have to get confirmed by the Senate whether they're ambassadors, generals or senior officials of the government," he added. "So leaving out the State Department and having one-on-one contact between Jared Kushner by phone and in-person is a huge threat to a rational policy-making process."
McCaffrey also noted the reported frustration National Security Adviser H.R. McMaster and outgoing Secretary of State Rex Tillerson felt toward Kushner's place in the Trump administration's foreign policy, describing his outsized role as "unprecedented" in "modern times."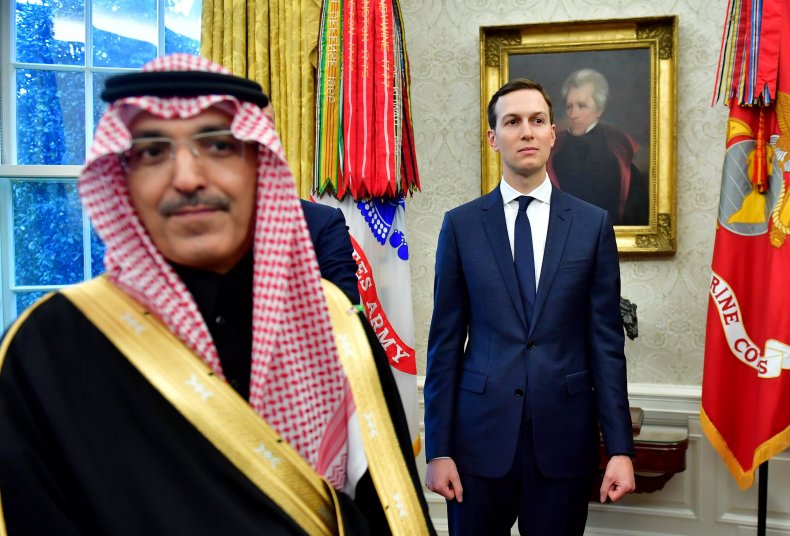 He summed up the point by calling Trump's use of his children during his presidency as a "personalization of a family business dealing with U.S. policy."
Kushner has repeatedly faced criticism and questions about his work in the White House and lack of experience. Like his father-in-law, Kushner came from the world of real estate and his only political experience prior to entering the West Wing was working on Trump's campaign.
Still, the president has granted Kushner a wide portfolio of responsibilities, including foreign policy.
Reports have indicated White House Chief of Staff John Kelly might agree with McCaffrey's assessment. Also a retired general, Kelly reportedly "would not be upset" if Kushner and his wife, Ivanka Trump, exited their full-time jobs, according to a recent report from The Washington Post.
Kelly downgraded Kushner's security clearance last month, as well as the clearances of others working in the White House after concerns were raised about who had access to sensitive national intelligence.
Kushner and his family's company have dealt with bad headlines throughout the week. Kushner Companies was accused of falsifying documents filed to New York City in order to flip real estate properties for quicker profit, according to the Associated Press, and an investigation was launched by local authorities Thursday.