Former Secretary of State Rex Tillerson was reportedly aggrieved at Jared Kushner for what he and other senior White House officials perceived as the president's son-in-law conducting U.S. foreign policy with little consultation or supervision.
Related: Jared Kushner to Meet Mexico President Despite Losing Top-Secret Security Clearance
"Who is secretary of state here?" Tillerson once told staff before President Donald Trump removed him from his position last week, people familiar with the situation told The Washington Post in a report published Monday.
Apart from Tillerson, whom Trump said was "not really thinking the same" as he was, national security adviser H.R. McMaster was said to have worried early on about Kushner's unconventional approach to foreign policy. McMaster had concerns about the lack of official records detailing the contents of Kushner's phone calls, which senior officials often only found out about after they took place, sources told The Post.
Kushner's supposed freelancing was reported to have particularly concerned some White House officials in relation to his close relationship with Saudi Arabia's Crown Prince Mohammed bin Salman, who is visiting Washington, D.C., this week, the report states.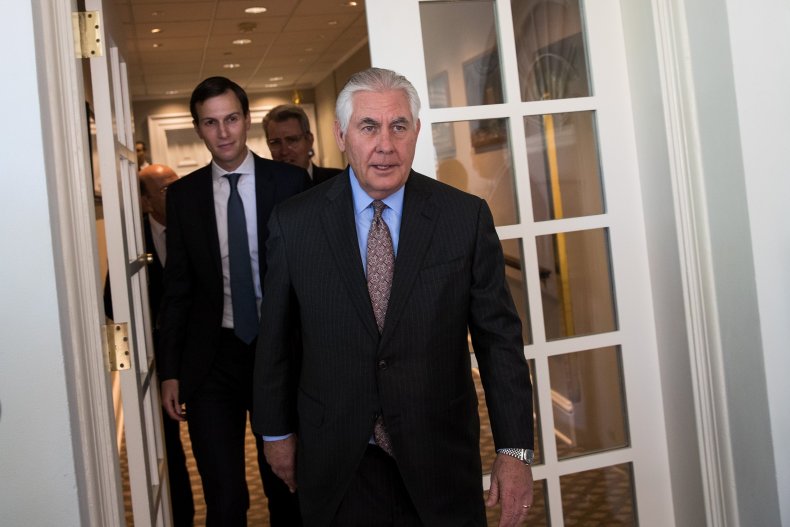 A White House spokesperson for Kushner did not immediately respond to a request for comment on Tuesday morning. On Monday, however, the spokesperson told Newsweek that Kushner would attend dinners that Mohammed is scheduled to have with White House officials.
A spokesperson for the State Department declined to comment.
Kushner's defenders contend that the senior adviser to the president does brief senior officials on his conversations—at least those he deems can be trusted with the information.
"The lack of leaks from or about Mr. Kushner's work—whether as part of the Middle East team, Mexico relations or prison reform—is a testament to the fact that he cares about results and not publicity and that he understands how to keep and share information with those in the Administration who should have it," Peter Mirijanian, a spokesman for Kushner's attorney Abbe Lowell, told The Post.
Kushner was scheduled to meet with Mohammed despite having his top security clearance downgraded late last month.