Jared Kushner Thought Trump's Access Hollywood Tape Wasn't 'All That Bad': Book Claims
Donald Trump's son-in-law Jared Kushner thought the Access Hollywood tape of then-candidate Donald Trump saying "Grab 'em by the pussy" wasn't "all that bad," according to a new book.
Kushner was sitting in on Trump's second presidential debate rehearsal at Trump Tower on October 7, 2016, along with Republican National Committee (RNC) Chairman Reince Priebus, campaign manager Kellyanne Conway, and deputy campaign manager David Bossie, among others, when they got a request from the Washington Post to comment on recorded remarks Trump made than a decade ago.
"When you're a star, they let you do it. You can do anything. Grab 'em by the pussy," Trump said about women to TV host Billy Bush. "You can do anything."
Looking at one line from Trump's remarks, Priebus said, "Wow, this isn't good. This is really, really bad."
Everyone in the room was silent, according to the book American Carnage: On the Front Lines of the Republican Civil War and the Rise of President Trump by Politico Magazine chief political correspondent Timothy Alberta, to be published on July 16.
Then Kushner said: "You know, I don't think it's all that bad."
Priebus buried his head in his hands.
"Jared, what are you talking about?" the RNC chairman said. "This is as bad as it gets."
Trump heard Kushner's remark but speaking to no one in particular, said again, "This doesn't sound like me," according to the book excerpt published by Politico on Wednesday. But Bossie played the audio file The Post had sent on his iPad.
"Well," Trump said. "That's me."
The group was struck with silence.
Conway recounted that "it was a moment of humility and vulnerability" and that Trump "legitimately did not remember saying that."
The Access Hollywood tape turned out to be closer to "as bad as it gets" for Trump, as Priebus said, rather than not "all that bad," as Kushner saw it.
GOP leaders began withdrawing support for Trump and even calling for a replacement Republican nominee. They floated the idea of removing Trump and getting his running mate Mike Pence to go for president instead of vice president. Priebus pushed back and Trump apologized, wrote off the remark as "locker room banter," and claimed that Bill Clinton abused women and his wife and Democratic nominee Hillary Clinton attacked the victims.
Trump stood his ground and fired at Hillary Clinton during the presidential debate and Republicans stopped demanding that he withdraw from the race. Pence, who had disappeared and turned to prayer, returned to Trump's side.
"What were the odds? Like 50-50, will he show up?" Trump said in retrospect. "That debate won me the election."
The White House did not immediately respond to a request for comment from Newsweek Wednesday on Kushner's apparent comment that Trump's remark wasn't "all that bad."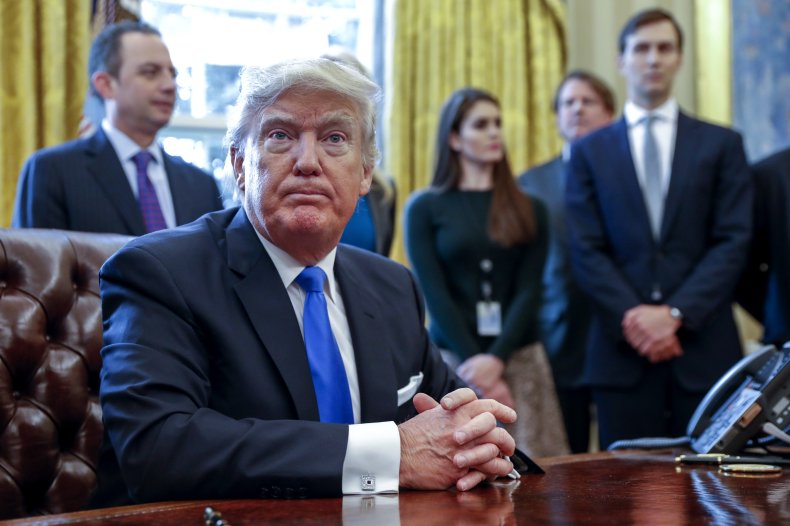 After winning the presidential election, Trump named Kushner an unpaid senior White House adviser. But Trump has not always trusted Kushner's judgments.
Kushner wanted Trump's 2020 reelection campaign kickoff to take place at Trump Tower "to return to the iconic beginning as a way of showcasing all Trump has accomplished in his first 2 1/2 years in office," a source told The Post in a report published last month.
But Trump went with other members of his campaign and chose Florida, a swing state that will be critical for him to win in 2020.