Jared Kushner Saw Trump Presidency As Chance to 'Dig Himself Out Of' Debt, Pushed Ivanka to Move to D.C.: Report
Jared Kushner reportedly saw his father-in-law Donald Trump becoming president as an opportunity to "dig himself out of the debt" he incurred from a bad real estate decision and pushed his wife Ivanka Trump who wanted to stay in New York to move to Washington, D.C.
When Donald Trump announced his bid for president, "Jared got to work on his own agenda: He wanted to dig himself out of the debt he'd acquired buying the massive office tower at 666 Fifth Avenue and figured a higher profile with government ties might do the trick," wrote journalist Vanessa Grigoriadis in a piece published by New York Magazine on Monday.
"With the Qatari government, it eventually did, and he also wanted to strengthen America's ties to Israel," wrote Grigoriadis, who had 60 interviews with Ivanka Trump's friends and colleagues and narrates the podcast "Tabloid: The Making of Ivanka Trump" which debuted Monday.
After Donald Trump won the 2016 presidential election, Ivanka Trump told her friends she wanted to remain in New York but Kushner "argued for D.C., saying they needed to protect her father, and, by the way, now anything — everything! — was theirs for the taking," according to Grigoriadis.
The couple quickly moved to the upscale Kalorama neighborhood of Washington, D.C., and have stayed in the West Wing while other top administration officials have come and gone.
Kushner's lawyer and the White House did not immediately respond to requests for comment from Newsweek on Monday.
Unlike Kushner, Ivanka Trump at the time was not sure what she wanted or what she would get from her father becoming president, and had been hoping to turn out profit from her namesake fashion brand. At one point before her father won the election, according to Grigoriadis, a pregnant Ivanka Trump told her consultant Elizabeth McLaughlin, "I'm exhausted. If I had my way, I would throw my television out the window, cancel my newspaper subscription, and turn off my phone, but they won't let me."
Kushner, a real estate businessman from New Jersey who sought success in New York including with the purchase of 666 Fifth Avenue in midtown Manhattan, would "do whatever it took to raise his profile," Grigoriadis wrote. Kushner bought the 41-story office tower hoping it would become the centerpiece of Kushner Companies, his real estate business, but the building accumulated more than $1 billion in debt and the company struck a deal to offload it.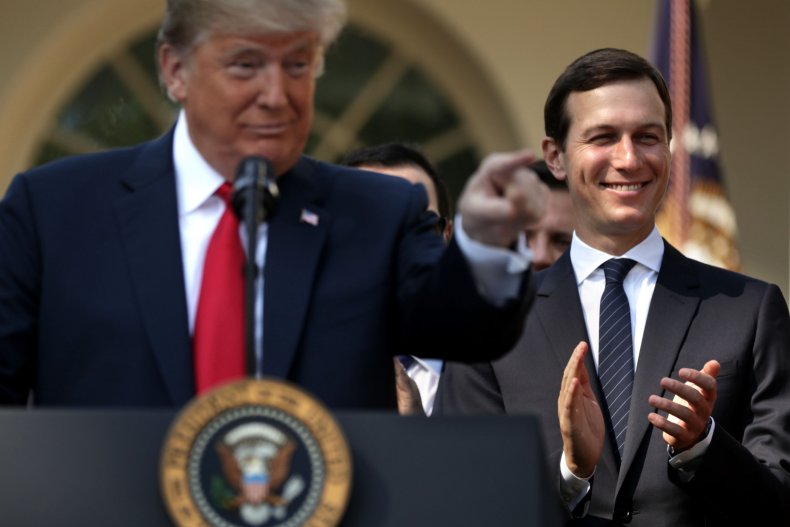 Grigoriadis also claims that a New York Post reporter would meet Kushner for lunch or coffee monthly for a couple years and that "he came off so deer-in-headlights" and wanted the reporter to tell him how power players and the media operate. Kushner and Ivanka Trump wanted to see themselves in the tabloid all the time but once they married, the reporter said Kushner didn't want stories about them attending parties and wanted them to be perceived as very serious people.