Who is Jared Kushner? 9 Facts About Ivanka Trump's Husband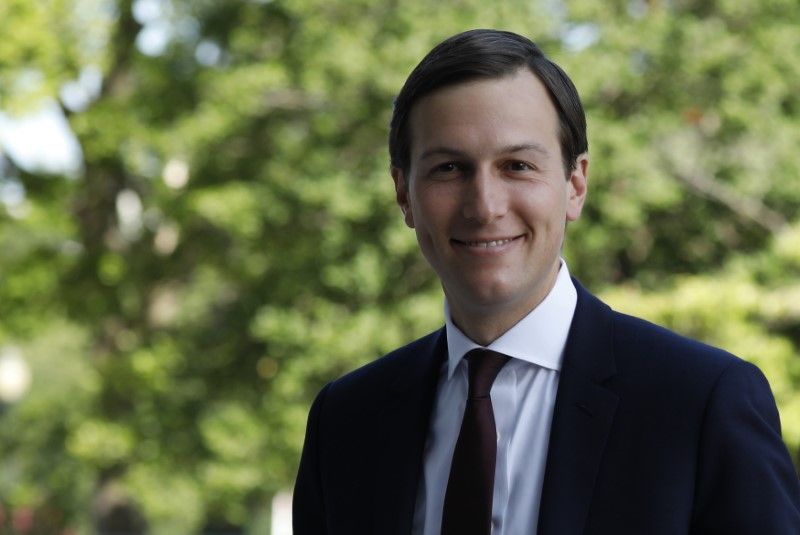 The center of an investigation into alleged links between President Donald Trump's campaign and Russia, Jared Kushner will tell the Senate Intelligence Committee Monday that he "did not collude" with any foreign government. Despite Kushner's prominence as senior adviser to Trump as well as being his son-in-law, almost half of Americans know nothing about the husband of Ivanka Trump.
Related: How did Jared Kushner and Ivanka Trump get so rich?
A massive 41 percent of voters responding to a Politico/Morning Consult poll last week said they had not heard of Kushner. In addition to being the least known member of the Trump family, he is also the least popular, with only 22 percent of voters saying they viewed him favorably.
For those with limited knowledge of the former real estate developer, here are some key facts.
His Story About Russian Contacts Has Changed—A Lot
When Kushner first submitted his security-clearance form, it did not list any contacts with foreign government officials. That was far from the full story. Kushner would update his form twice, first listing more than 100 contacts with foreign officials and later including what he claims were only two meetings with then-Russian ambassador Sergey Kislyak. The most recent update also detailed the now infamous June 2016 meeting at Trump Tower with a Russian government attorney.
What Happened at the June 2016 Meeting?
Emails released by Donald Trump Jr., on which Kushner was included, show that through an intermediary, he scheduled a meeting with a Russian attorney who, he was told, was a part of the Russian government's efforts to support Trump. Kushner and then-campaign boss Paul Manafort also attended the meeting, but the president's son-in-law says he was unaware that the topic of the meeting would be an attempt to discredit Hillary Clinton.
"That email was on top of a long back and forth that I did not read at the time," he said in his statement ahead of his interview with the Senate Intelligence Committee.
Russian Real Estate Links
One of the questions Kushner will be asked Monday, according to NBC News, is whether he attempted to set up a secret back channel with the Russians in order to try to find someone willing to purchase his family's Manhattan skyscraper. Kushner and his family's real estate firm bought the 41-story building at 666 Fifth Avenue for $1.8 billion in January 2007, and it has been losing money ever since. A report in May from The Washington Post stated that Kushner met with Kislyak and proposed setting up a secret line of communication.
Real Estate Empire
Like his father-in-law, Kushner inherited a real estate empire from his father. For Kushner, it happened unexpectedly early, when, in 2008, his father, Charles, was sent to prison for tax evasion, witness tampering and illegal campaign contributions.
Donated to Democrats
In another similarity with Trump, before being part of a Republican administration, Kushner, along with Ivanka Trump, donated considerable sums to campaigns for Democratic candidates. In 2013, Kushner and his wife even held a fundraiser at their Park Avenue home for then-Senate candidate Cory Booker. Despite this family history, Trump and his staff have sought to discredit Robert Mueller, the special counsel investigating links to Russia, for donating to Democrats.
Rarely in Front of a Camera
Kushner does, however, differ significantly from Trump in his approach to courting publicity. While the president appears to like nothing more than being in front of a camera, Kushner is rarely seen or heard from. Indeed, it caused a minor sensation online in June when Kushner finally gave a public speech in his role as the head of the Office of American invention.
He Once Ran a Newspaper
Despite his apparent shyness, Kushner was for a long time intensely involved with the media. In 2006, when he was just 25, he purchased the New York Observer newspaper. But anyone who thought it would make him a moderating voice in Trump's campaign against the media might want to think again. He had a rocky relationship with his editors at the Observer, with one former editor telling The New Yorker last year that Kushner "hates reporters and the press. Viscerally."
He Was the Orchestrator of Trump's Social-Media Campaign
While he may have disdain for traditional media, Kushner was reportedly hugely influential in crafting Trump's social-media campaign in 2016. Kushner has detailed how he reached out to people he knew in Silicon Valley to get assistance on how to specifically target voters on platforms like Facebook.
Trump Has Entrusted Him with One of the World's Great Problems
After helping him get elected, Trump entrusted Kushner with one of the toughest jobs going: to bring about peace between Israel and Palestine. "If you can't produce peace in the Middle East, nobody can," he told his son-in-law, an Orthodox Jew. So far, that confidence appears to have been misplaced. A meeting with Palestinian President Mahmoud Abbas last month reportedly became extremely tense, with Abbas less than pleased with Kushner's approach.
"They sounded like Netanyahu's advisers and not like fair arbiters," a senior Palestinian official said.