Jared Kushner Says Trump Is 'Totally Vindicated' by Senate Impeachment Trial Defense: 'He's Done Nothing Wrong'
Jared Kushner said the impeachment trial defense is "going great," and claimed his father-in-law President Donald Trump is "totally vindicated."
Kushner, a senior White House adviser on foreign policy, who is married to the president's eldest daughter Ivanka Trump, made the comments in an interview on CNN.
"The defense is going great. Honestly, I feel like, again, it's very easy to defend when they don't really have any legitimate accusations against you," Kushner told CNN's Christine Amanpour on Tuesday evening.
"So, we're very pleased with the defense, we feel like, again, the president's been totally vindicated, he's done nothing wrong here, and we're very excited to go back to trying to do the business of the American people."
Trump's impeachment trial in the Senate over the alleged Ukraine scheme is ongoing. Each side has given their arguments and now senators can ask questions.
Witnesses may yet be called, including the president's former national security advisor John Bolton, whose testimony is prized by the Democrats for his insider knowledge.
A manuscript of Bolton's unpublished book details the president's alleged wrongdoing towards Ukraine, according to The New York Times.
The president's legal team argues that Trump did nothing wrong or unconstitutional in his dealings with Ukraine and accuse the House managers of orchestrating a partisan, politically-motivated impeachment.
They also claim the House managers are attempting to overturn the 2016 election result by seeking Trump's removal.
"I ask you to defend our constitution, to defend fundamental fairness, to defend basic due process rights," Pat Cipollone, White House counsel, said in his closing argument on Tuesday, "but most importantly, most importantly, to respect and defend the sacred right of every American to vote and to choose their president."
"The election is only months away," Cipollone continued. "The American people are entitled to choose their president. Overturning the last election and massively interfering with the upcoming one would cause serious and lasting damage to the people of the United States and to our great country. The Senate cannot allow this to happen. It is time for this to end here and now."
But the House managers presented a case based on evidence collected during the impeachment inquiry, including testimony from officials inside the administration. The chart below, provided by Statista, shows the percent of U.S. adults who support additional witnesses at the Senate impeachment trial of President Trump.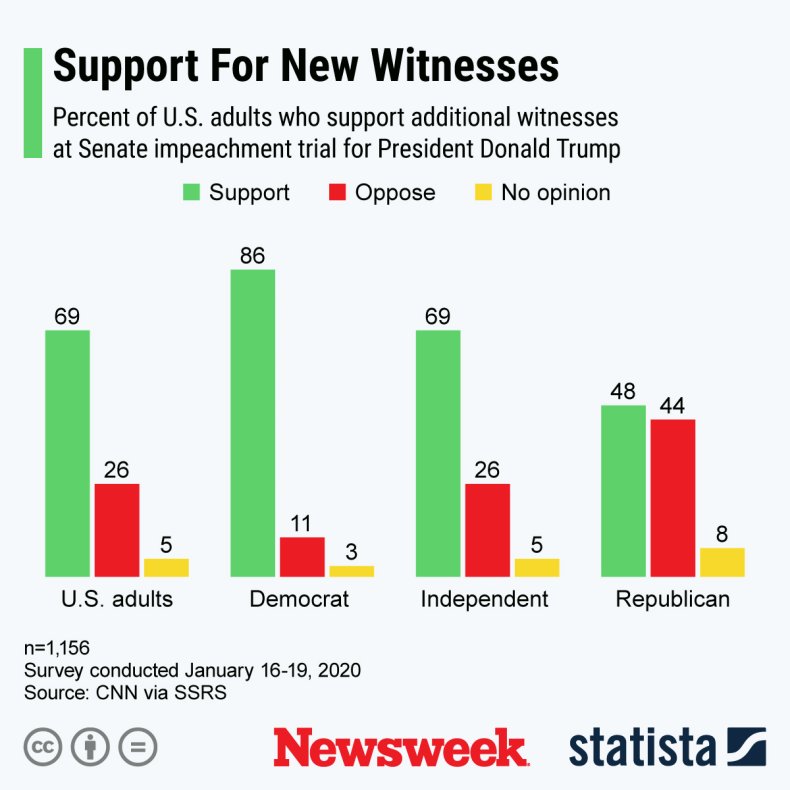 The House impeached Trump with two articles in December, one for abuse of power and the other for obstruction of Congress.
Trump stands accused of soliciting Ukraine's interference in the 2020 election to benefit his re-election campaign.
The president allegedly conditioned $391 million in military aid for Ukraine, which is fighting Russian-backed separatists in its east, and a White House visit for President Volodymyr Zelenskiy on Kyiv announcing unfounded investigations into a political rival.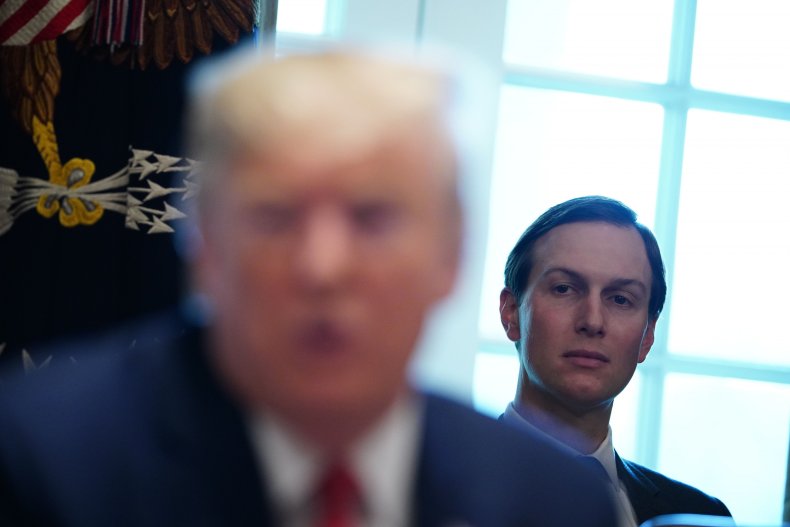 He allegedly wanted Ukraine to open a corruption investigation into former vice president Joe Biden, the frontrunner in the Democratic race for 2020.
The president is also accused of obstruction of Congress for asserting executive privilege to block testimony by witnesses and to prevent the release of documents to congressional investigators exploring the alleged Ukraine scheme.
Trump denies any wrongdoing and says he was legitimately pursuing concerns about corruption. The president also says he wanted nothing from Ukraine for the investigations and that the use of executive privilege is his right.
Jared Kushner Says Trump Is 'Totally Vindicated' by Senate Impeachment Trial Defense: 'He's Done Nothing Wrong' | Politics