Democrats to Authorize Subpoenas for Jared Kushner, Trump Associates in Probe of White House
House Democrats will vote Thursday to authorize the issuance of subpoenas to a dozen current and former Trump associates, as the party investigates the president for potential obstruction of justice, abuse of power and the administration's immigration policies, the Judiciary Committee revealed Tuesday.
The committee seeks to compel witness testimony and documents from several high-profile Trump associates and current and former officials, including the president's son-in-law and senior adviser Jared Kushner, a move that is likely to create more friction between Democrats and the White House.
The subpoenas, which are almost certain to be authorized by the Democratic-led panel, would require the current and former officials to provide information about the administration's "zero tolerance policy and other family separation policies and practices; detention of children and families; and discussions about or offers of presidential pardons to Department of Homeland Security officials or employees," according to the committee.
The subpoenas would also demand that the appropriate witnesses provide information regarding the committee's various ongoing probes that have been opened since Democrats took the House majority and in light of the Mueller report, which Democrats allege prove Trump committed obstruction of justice.
Thursday's committee vote will only authorize the subpoenas. The issuance of them will be left to Chairman Jerrold Nadler, a New York Democrat.
"For months, we have held hearings and sent letters to the agencies of jurisdiction involved with implementing a catastrophic and inhumane family separation policy at the Southern border. Many questions remain and it is past time for a full accounting of this policy and practice," Nadler said in a statement.
He further said that the panel will "move forward with our efforts to request information from critical witnesses as part of our ongoing investigation into obstruction, corruption and abuse of power by the President and his associates."
"As always," Nadler continued, "I remain open to reaching a reasonable accommodation and will not issue subpoenas if the information we are seeking is voluntarily provided. We will get answers one way or the other."
The 448-page Mueller report detailed at least 10 instances of potential obstruction of justice, including attempts to thwart the 22-month-long probe into Russian election interference by having the special counsel removed from his post. Mueller is slated to testify next week, a made-for-TV event that Democrats will seek to use as a way to reveal more details from the report that the general public may not be aware of while Republicans grill the former special counsel over the origins of the investigation.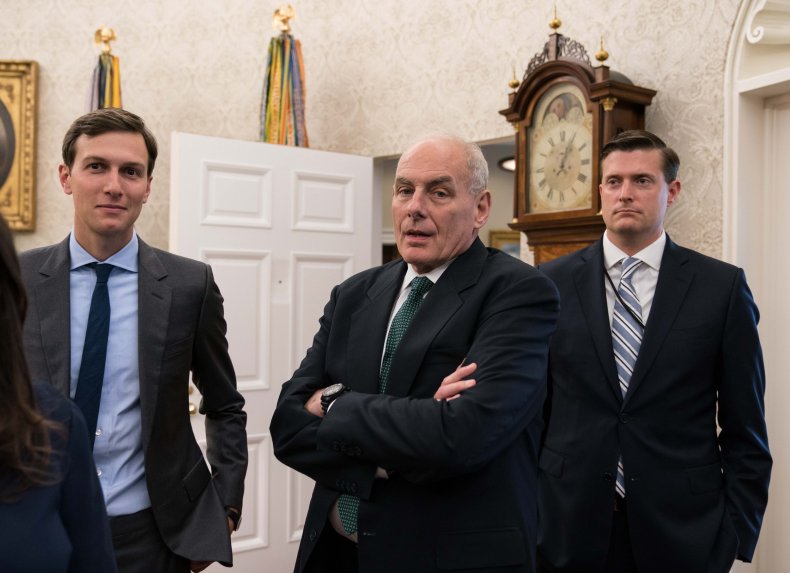 If authorized, the dozen current and former officials or associates who could receive subpoenas are:
- Rick Dearborn, former White House deputy chief of staff
Dearborn, referenced in the Mueller report more than two dozen times, refused to pass along Trump's requests for former Attorney General Jeff Sessions to make a public statement pushing back at the appointment of a special counsel.
- Michael Flynn, former national security adviser
Flynn is awaiting sentencing for lying to the FBI about his contacts with Russian officials during the Trump transition.
- Joseph "Jody" Hunt, Assistant attorney general for the Justice Department's Civil Division and former chief of staff for Sessions.
As the former attorney general's chief of staff, Hunt was at the department for the firing of former FBI Director James Comey and now handles legal matters involving the Trump administration's desire to add a citizenship question to the 2020 census.
- Jared Kushner, Trump's son-in-law, wife of eldest daughter Ivanka Trump and senior adviser
Kushner, referenced more than 250 times in the Mueller report, has been one of Trump's closest confidantes during various immigration policies, such as the "zero tolerance" policy that separated families, and was present for a Trump Tower meeting during the 2016 campaign to discuss potential foreign dirt on Hillary Clinton.
- John Kelly, former White House chief of staff
Kelly was chief of staff during the time in which the Mueller report stated Trump directed former White House counsel Don McGahn to have the special counsel removed.
- Corey Lewandowski, former Trump campaign manager
Lewandowski delivered a message to Dearborn from Trump to have Sessions publicly limit the scope of the Russia probe and to say it was "very unfair" for the president.
- Robert Porter, former White House staff secretary
Trump spoke with Porter about finding other senior Justice Department officials to oversee Mueller's investigation, a move that Porter believed was in an effort to have Mueller removed, according to the Mueller report.
- Rod Rosenstein, former deputy attorney general
Rosenstein appointed Mueller after the firing of Comey and oversaw much of the special counsel's investigation.
- Jeff Sessions, former attorney general
Sessions was fired by Trump in November, capping off his rocky tenure under the president for having recused himself from the Russia probe. He was present at DOJ for much of the investigation.
- Keith Davidson, former Stormy Daniels and Karen McDougal attorney
Davidson was the former attorney for two women who orchestrated hush-money payments from Trump to two women in the run-up to the 2016 election for allegedly having extra-marital affairs. Part of former Trump attorney Michael Cohen's 3-year prison sentence that he's currently serving is for campaign finance violations and lying to investigators about the payments.
- David Pecker, Trump associate and CEO of American Media
Pecker, a longtime Trump associate whose company runs the National Enquirer, admitted to working with the Trump campaign in 2016 to make hush-money payments to Daniels and McDougal.
- Dylan Howard, editorial director of American Media Inc.
Howard was a top employee under Pecker and was allegedly aware of the hush-money payments.