Jared Kushner's Story About Trump Tower Meeting Is Contradicted By Multiple Witnesses
Jared Kushner's account of showing little interest in an infamous Trump Tower meeting with a Kremlin-connected Russian lawyer promising "dirt" on Hillary Clinton was contradicted by multiple witnesses who also attended the June 2016 meeting. Kushner, President Donald Trump's son-in-law and senior adviser, told the Senate Judiciary Committee that he arrived to the meeting late and left early after he determined that "my time was not well spent at the meeting."
Related: Donald Trump Jr. Didn't 'Love' Hillary Clinton Dirt, According to his Senate Testimony
Other attendees of the meeting provided a very different account of Kushner's role, however, according to transcripts of interviews released by the Senate Judiciary Committee Wednesday. While four of the people who attended largely backed up Kushner's account, two others—British publicist Rob Goldstone, who arranged the meeting in emails with Donald Trump Jr., and Russian businessman Ike Kaveladze—said Kushner was there throughout.
"To the best of my knowledge, he was [there throughout]," Goldstone said of Kushner. "He may have entered a minute or so after we all entered, but I believe he was. And the reason for that is because of the seating. They worked out who should sit where, and I sat next to Mr. Kushner. There was only he and I sat at this side of the table."
Indeed, rather than being puzzled and disinterested by the meeting, as Kushner had suggested, Goldstone described the husband of Ivanka Trump as being animated by what he heard from Russian lawyer Natalia Veselnitskaya.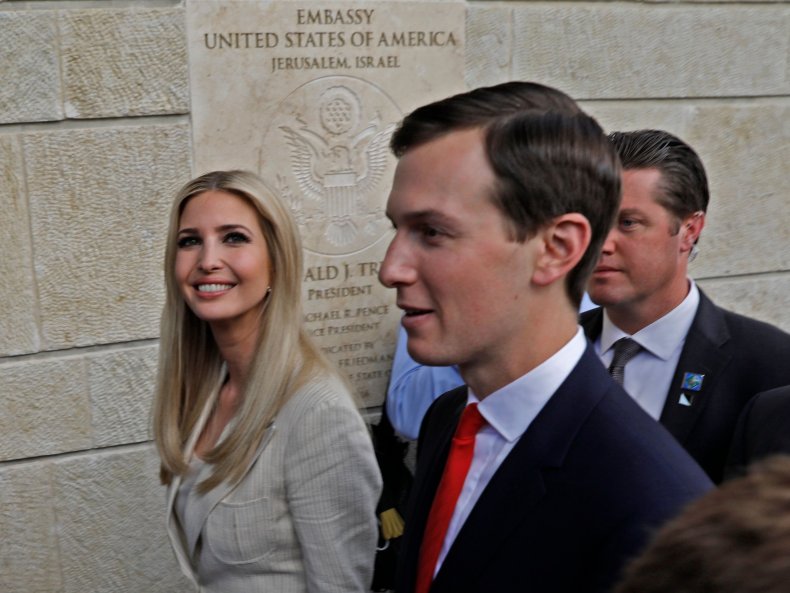 "After a few minutes of this labored presentation, Jared Kushner, who is sitting next to me, appeared somewhat agitated by this and said, 'I really have no idea what you're talking about. Could you please focus a bit more and maybe just start again?'" Goldstone recalled. "And I recall that she began the presentation exactly where she had begun it last time, almost word for word, which seemed, by his body language, to infuriate him even more."
The meeting has become a key focus of Special Counsel Robert Mueller's investigation into Russian interference in the 2016 election. Mueller is also reported to be probing the White House response to the meeting, focusing on an initial misleading statement. In his Senate testimony, Donald Trump Jr. said he did not know whether his father, the president, had a role in drafting the statement.