Jared Kushner Still Doesn't Have Security Clearance After a Year At the White House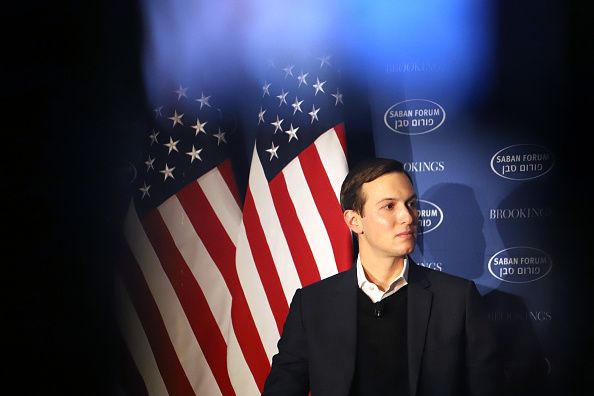 It's been one year since Jared Kushner, senior adviser and son-in-law to the president, assumed office, but he's yet to receive full security clearance for his role in the White House.
The unprecedented delay in clearance represents a violation of security norms and suggests that Kushner continues to receive special treatment due to his relationship to President Donald Trump, according to legal experts familiar with the process.
The White House has maintained that the delay is "completely normal," and that there is extra scrutiny for advisers like Kushner who need the highest level of clearance. A White House official said that the process can take around 300 days: it's now been 362.
"It's not normal," Jordan Libowitz, communications director at Citizens for Responsibility and Ethics in Washington told Newsweek. "Jared has had issues with accuracy, both in his security clearance forms and financial disclosures. He's had to amend his forms to add quite a few contacts with Russians, and he's amended his financial disclosures 39 times. One or two times, no one would bat an eye, but this is unprecedented."
It's doubtful that Kushner would be allowed to keep his job in the White House if it weren't for his close familial relationship with the president, says Libowitz.
Kushner currently works under an interim security clearance, which is a temporary fix that allows him to work with sensitive materials on issues like brokering peace in the Israeli-Palestinian conflict, criminal justice reform and the opioid crisis in the U.S. Even while investigators look into Kushner's involvement with his family's real estate developments, he continues to be allowed access to classified information that requires clearance, something that some experts say is concerning. His stake in a New York City building development is enough of an issue to possibly warrant suspension of his interim clearance.
"If Jared Kushner was working for any other department in the U.S. government and these issues arose…about falsifying a clearance or omitting information…his access would be first suspended. And then if there's no other position he could hold, he'd be out of work without pay. He'd be off the job," Joseph Kaplan, founding principal attorney at Passman & Kaplan, P.C., told Newsweek last month. "If he was anybody else, his security clearance would have already been denied."
Legal experts specializing in security clearance law told Newsweek that Kushner's clearance should be suspended until investigators can determine whether his failures to include dozens of Russian contacts on his forms constitutes an intentional false statement—a chargeable offense.
"People need to be asking: Would the president accept this from anyone else?" said Libowitz. "If not, then why does he accept it from Jared?"