Republican Who Wanted People Killed Over Election Fraud Loses Primary
Republican candidate Jarome Bell, who has called for the execution of anyone involved with election fraud in the 2020 presidential election, lost Tuesday's Republican primary for a U.S. House seat in Virginia.
Bell only received 27 percent of the GOP vote at the time the race was called for frontrunner and state Senator Jen Kiggans by the Associated Press. Kiggans will go on to November's general election, where she will seek to unseat incumbent Democratic Representative Elaine Luria.
Bell was also up against Air Force veteran Tommy Altman and former prosecutor Andy Baan in the Republican primary.
Although former President Donald Trump has not weighed in on Virginia's 2nd District race, Bell had aligned himself with the top GOP figure and angled for Trump's MAGA base.
The far-right Navy veteran branded himself as the "America first" candidate and launched his campaign by declaring that "the first step to taking back Virginia is to demand an audit of the November 3, 2020, election."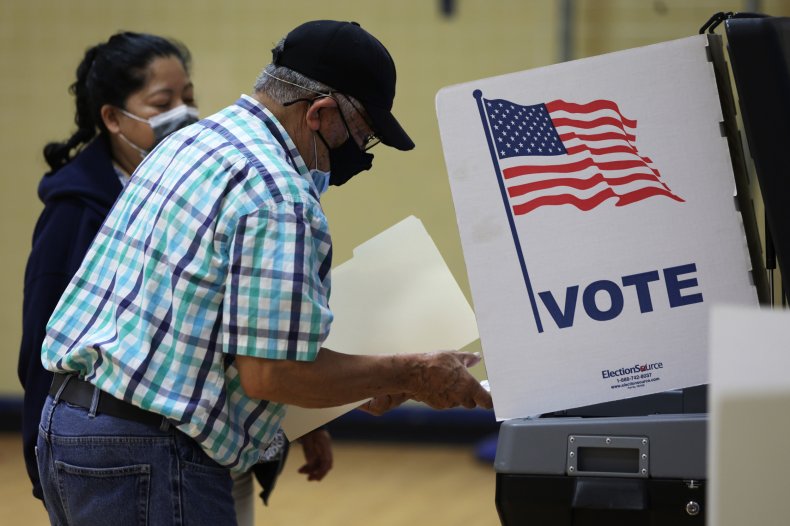 Bell went even further on his election fraud stance in September, when he tweeted, "Audit all 50 states. Arrest all involved. Try all involved. Convict all involved. Execute all involved. #MaricopaCountyFraud."
The Arizona audit ultimately did not find evidence of widespread fraud and reaffirmed President Joe Biden's win in Maricopa County.
Twitter later suspended Bell's account, which remained suspended when accessed by Newsweek on Tuesday morning.
Despite criticism of his statement, Bell defended those remarks to The Washington Post, saying, "If there was voter fraud that took down the duly elected president of the United States, that's treason. That's a coup. That is within the code of jurisdiction of, let's say, death, by treason."
Bell had also made controversial comments in regards to Russia's invasion of Ukraine, attacking Kiggans for expressing support for Ukraine while calling Ukraine the aggressor in the war and likening the country's corruption to "Hillary's deep state and Biden's regime that stole the election in 2020," the Post reported.
The 2nd District is one of the most closely watched House races in this year's midterms as Republicans are hoping to oust a vulnerable Democratic incumbent in a district that voted for both Biden in 2020 and Republican Governor Glenn Youngkin in 2021. The GOP has indicated that the district is key to its plan to take back the House, the Post added.
Virginia Democrats had played up Bell's MAGA campaign, sending mailers that claimed the candidate "would do whatever President Trump wants." In the mailers, the Virginia Democratic Party also described him as "a copy of Trump" and "a MAGA Republican who believes the Big Lie that the 2020 election was stolen."
Although Bell wasn't officially endorsed by Trump, the Republican was invited up to the stage by the former president at Mar-a-Lago last month.
Trump notably lost Virginia by 10 points in 2020 so his decision to stay clear of the race could be to the GOP's benefit.