Jarrett Guarantano Developing into QB Tennessee Vols Expected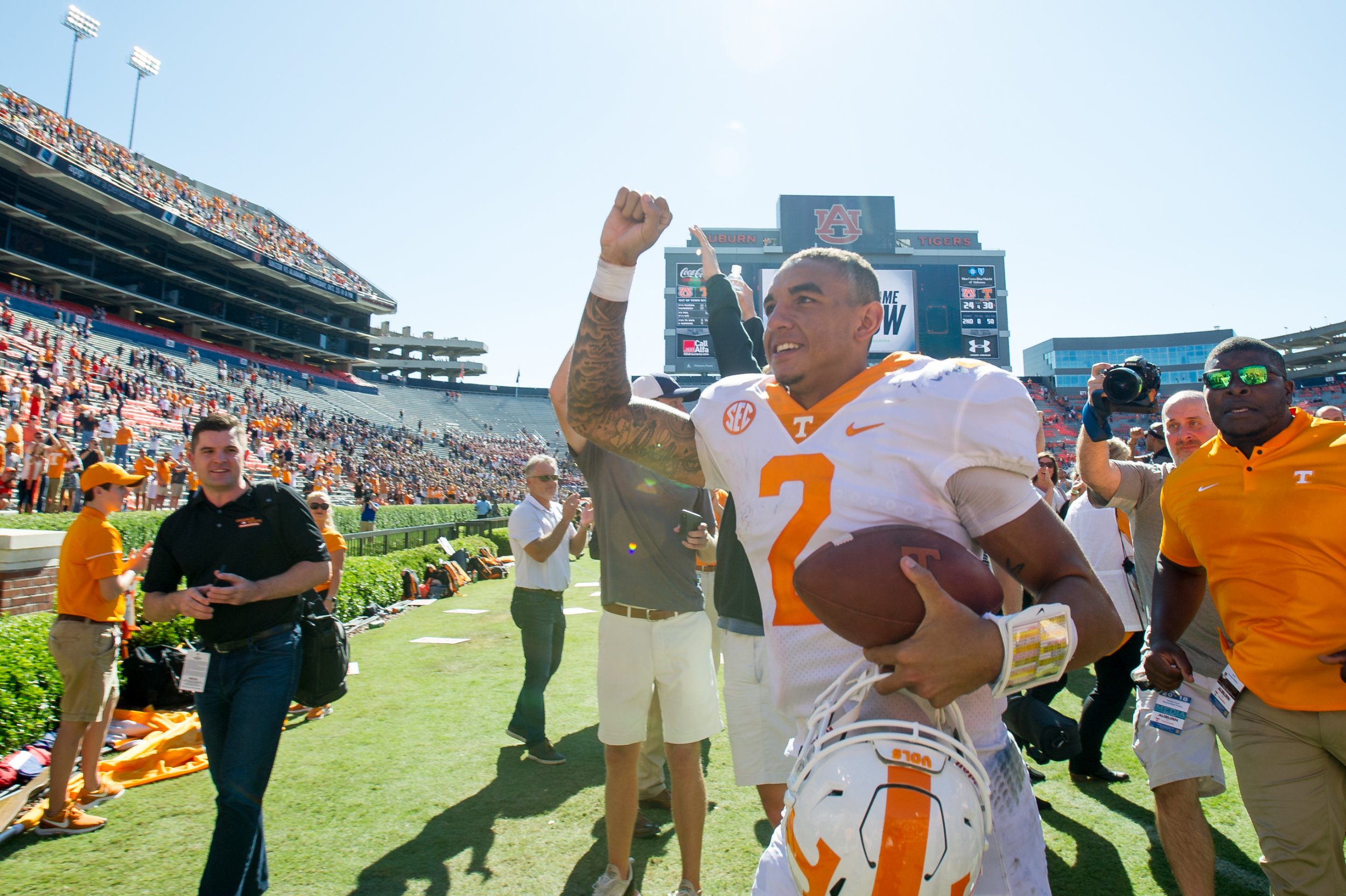 Expectations of a high recruiting ranking are difficult to meet, let alone at the quarterback position.
Blue chip prospects are under the microscope of college football fanbases even before taking their first snap. Tennessee's Jarrett Guarantano was no exception as the top-ranked dual-threat quarterback from the 2016 national recruiting cycle.
The New Jersey native was one of the Vols' highest-ranking signees in recent memory and is starting to live up to lofty expectations during a breakout redshirt sophomore campaign in 2018.
But it's hardly been an easy road for the former 4-star prospect.
Newsweek subscription offers >
Guarantano spent his first season in Knoxville redshirting behind four-year starter Joshua Dobbs and competed with Quinten Dormady for the starting quarterback role the following offseason. Dormady won the job in preseason but suffered a season-ending shoulder injury in the Vols' fifth game.
Guarantano took over and remained the starter during a season that had to be exhausting both physically and mentally. The Vols finished with a 4-8 overall record, their worst in program history and went winless against SEC opponents.
Head coach Butch Jones was fired on Nov. 12 following his third blowout loss of the season -- a 50-17 drubbing at Missouri -- and Tennessee lost its final two games by more than 20 points each.
Guarantano showed glimpses of potential, but was constantly pressured as the Vols allowed 35.0 total sacks (2.92 per game), ranking 12th among SEC teams.
Newsweek subscription offers >
That wasn't enough to guarantee the starting role in 2018 as Tennessee had a new coach in former Alabama defensive coordinator Jeremy Pruitt and added former Stanford starter Keller Chryst as a graduate transfer.
Pruitt held an open competition between Guarantano and Chryst throughout the offseason before officially announcing the redshirt sophomore as the Vols' starting quarterback on Sept. 1.
Since then, Guarantano has validated his coach's trust with the best season of his career.
The redshirt sophomore has thrown for 1,768 yards, 11 touchdowns and two interceptions on 140 of 215 passing, which includes a 149.21 passer rating and 65.1 completion percentage through 10 games. Guarantano also set the school record for consecutive passes without an interception with 146 attempts last Saturday.
While his passing yards haven't been gaudy, the former 4-star prospect has been efficient all season and stepped up in clutch situations.
Guarantano threw for a career-best 328 yards in the Vols' upset win against Auburn last month and connected on a Hail Mary to put Tennessee ahead 17-0 at halftime during an eventual win against Kentucky last week -- both of which were against ranked opponents.
After Saturday's win, Pruitt praised his starting quarterback for developing the confidence needed to lead Tennessee's offense.
"I think Jarrett has become more comfortable with what we're trying to do offensively," Pruitt said after Saturday's win. "I think when you gain knowledge of what you're trying to do, it develops confidence. I think as the season has went on, we've got a few more skill players back that have also gained a little confidence in what we're trying to do.
"I think he's improved every week, and he works hard to do that and we're counting on him continuing to do that."
Additionally, Guarantano has excelled behind an offensive line that's still going through growing pains. The Vols have improved to seventh among SEC teams in sacks allowed (19.0), but the redshirt sophomore has still taken numerous shots throughout the season, including a big hit by Kentucky linebacker Josh Allen during Saturday's win.
"There's no hit that's going to take me out," Guarantano said he told Allen after the hit via the Knoxville Sentinel.
That's the kind of quarterback you want leading your team, especially through yet another rebuilding process. Fittingly, Guarantano finds himself in a similar situation to Dobbs during his sophomore season.
Both quarterbacks entered their college careers with high recruiting rankings and were put into pressure situations during new coaching regimes.
Dobbs was a starter during the final four games of his freshman season but took over full-time toward the final stretch of his sophomore campaign -- also due to a season-ending injury to then-starter Justin Worley -- and helped the Vols win four of their last five games and earn their first bowl game appearance in four seasons.
Guarantano looks to find that same magic in his final two regular season games. The Vols need one win to earn bowl eligibility, which would be a huge step for Pruitt during his first season as head coach, especially given last season's historically bad finish.
If Guaratano can lead this team to a bowl game, it would solidify him as the quarterback Tennessee expected during his recruitment and could give the program the momentum it needs to finally get through it's decade-long rebuilding process.
Finally, the former top-ranked dual-threat quarterback will have some stability entering his next season on Rocky Top with the confidence of his head coach and the experience to justify his early hype.
Guarantano has proven that he's an efficient quarterback who is willing to take a few shots and bounce back. He's managed to show steady improvement and continue to develop into a special player.
Things are starting to look brighter on Rocky Top and Guarantano is at the center of the Vols' rebuilding project. That should be enough to validate the hype.
Jarrett Guarantano Developing into QB Tennessee Vols Expected | Sports