Jarring Active Shooter Kindergarten Rhyme Resurfaces After Texas Shooting
A photo of a poster containing a kindergarten "lockdown" nursery rhyme has resurfaced in light of the school shooting in Uvalde, Texas, showing that little has changed in the United States over the years regarding school gun violence.
The rhyme was originally published on June 6, 2018, as part of a tweet by a parent named Georgy Cohen, of Somerville, Massachusetts. "This should not be hanging in my soon-to-be kindergartener's classroom," said the tweet which has 78,700 likes and 35,700 retweets.
The rhyme in question reads: "Lockdown, lockdown, lock the door; shut the lights off, say no more. Go behind the desk and hide; wait until it's safe inside."
Arguably the most jarring aspect is the rhyme's final two lines, which read that after lockdown is done "it's time to have some fun." One Twitter user wrote in 2018 that the image mirrored something that would be found in a "dystopian hell novel."
"The school is doing exactly what they need to be doing, and I am glad for it," Cohen added to her original tweet. "My issue is with the political and cultural factors that brought us to this sad state. Please talk to your legislators about the need for gun reform."
CBS News reported about the tweet and the nursery rhyme in 2018, saying it was hung up in a classroom at Arthur D. Healey Elementary School in Somerville.
At the time the city mayor and school superintendent issued a joint statement regarding the rhyme, as well as the prevalence of school shootings.
"As much as we would prefer that school lockdowns not be a part of the educational experience, unfortunately, this is the world we live in," the statement read. "It is jarring—it's jarring for students, for educators, and for families. This poem is an example of how one of our educators used a rhyme to help her young students stay calm and remember the key steps they would need to follow during a drill or real emergency."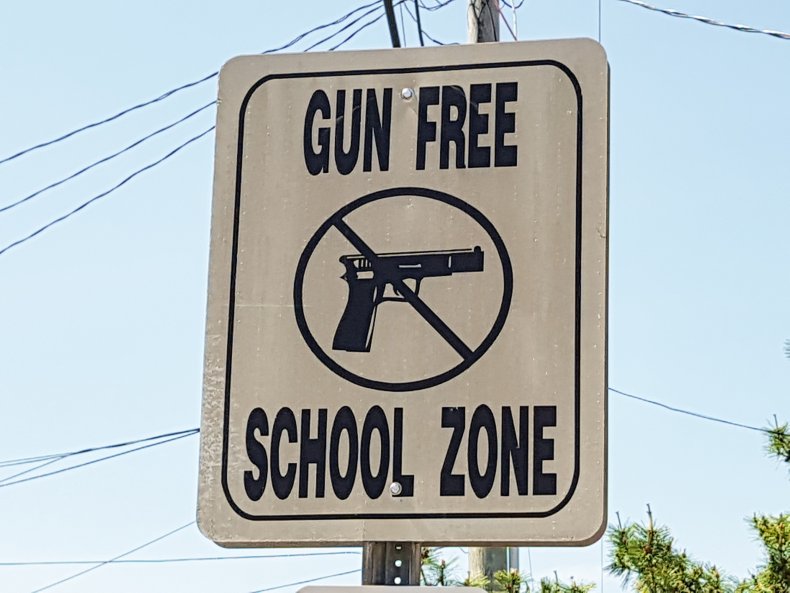 Shooting drills are still quite relevant.
News 8 WROC reported today that school officials in Rochester, New York, are requesting for local schools to implement "run, hide and fight" plans—and to assure that such drills are as "real world" as possible.
Everytown reported that active shooter drills take place in over 95 percent of American K–12 schools. The toll of such drills on students remains partly unknown. Evidence suggests negative outcomes, however.
"While there is limited proof of the effectiveness of these drills, anecdotal evidence, including many online conversations, increasingly suggests that active shooter drills may be harmful to mental health," Everytown reported.
Their study reported a 39 percent increase in depression due to active shooter drills, including a 42 percent uptick in stress and anxiety. Even children as young as 5 are included in the 23 percent increase in physiological problems.
Death concerns have easily jumped 22 percent, predicated by trigger words like "blood, pain, clinics and pills" appearing in social media posts in the 90 days after a drill.
A study published in Nature in December 2021 on the drills' psychological impact on American K-12 students stated that, after analyzing 54 million social media posts pre- and post-drills in 114 schools across 33 states, anxiety, stress and depression increased between 39 and 42 percent.
The kindergarten nursery rhyme has gone viral again on sites like Reddit, where one post has been upvoted 14,000 times and drawn comments of criticism of American life—even from people who don't live in the U.S.
"I have dual citizenship and have been drawn to the idea of moving to the US several times for work," one Reddit user commented. "But also haven't gone for the same reason. I don't want my kids to grow up in that world."
"My favorite part of being an educator is trying to decide whether to save other people's kids or to save myself for my own kid," commented another user, referencing the arming of teachers. "Exactly what I signed up for."
In 2019 former presidential candidate Andrew Yang proposed ending active shooter drills due to the trauma and anxiety it causes students.