Who is Jason Calacanis? Tech Investor Who 'Rang Fire Alarm' on SVB Crisis
"This is DEFCON 1," Jason Calacanis tweeted on Friday, the first of a string of tweets about Silicon Valley Bank (SVB). SVB failed later that day, becoming the second-largest banking collapse in U.S. history.
"Hundreds of startups are going to miss payroll if SVB doesn't find a buyer this weekend, or if the government doesn't backstop it," the venture capitalist and host of the All-In podcast later wrote. "This is very serious."
Within 48 hours, the New York-based Signature Bank had been seized by regulators—the third largest collapse in U.S. history, after Washington Mutual in the 2008 financial crash. The Biden administration stepped in and guaranteed all deposits at the two banks, in a bid to prevent damage to the wider economy.
SVB had primarily served technology companies and start-ups, and there were many big brands with billions tied up in deposits: from gaming firm Roblox to streaming giant Roku, media outlet Buzzfeed and financial tech company Circle.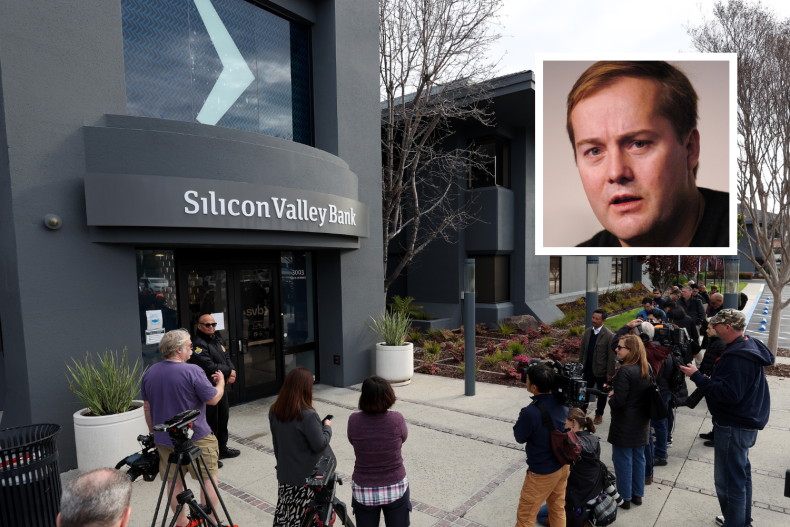 While some have praised Calacanis for raising the alarm before SVB's failure and providing advice for the many other small businesses which relied on deposits for payroll, others have said he caused undue panic and may have contributed to the run on the bank that ultimately hastened its failure.
"1,000+ STARTUPS JUST LIKE THIS ARE ABOUT TO IMPLODE," he told his near-700,000 followers on Saturday, citing a start-up CEO who had warned her company was at risk of collapse, while adopting a trademark all-caps style which has since become the subject of memes. "THE CONTAGION HAS ALREADY STARTED—YOU JUST CAN'T SEE IT YET."
"YOU SHOULD BE ABSOLUTELY TERRIFIED RIGHT NOW—THAT IS THE PROPER REACTION TO A BANK RUN & CONTAGION," he tweeted on Sunday morning, adding that President Joe Biden and Treasury Secretary Janet Yellen should publicly guarantee all deposits.
Later that day they did just that. "Americans can have confidence that the banking system is safe," Biden said during some remarks at the White House. "Your deposits will be there when you need them."
Calacanis' alarmed delivery swiftly led to claims that he had helped fan the flames of the crisis.
Kim-Mai Cutler, a partner at tech venture capital firm Initialized, argued that Calacanis and David Sacks, a venture capitalist and co-host of All In, had been "screaming histrionically on Twitter" while "lots of other great folks" were working to "push the urgency of the situation" with lawmakers.
However, Matt Ocko, another venture capitalist, responded that, as one of the people working behind the scenes, "without the publicity and sense of urgency" that Calacanis and others had created, "the powers that be may very well have stayed asleep and f'ed up the country."
Sacks, meanwhile, pointed out that he had not passed comment about SVB until it was already in receivership.
"Taking an undeserved lap for irresponsibly panic screaming and all-caps pants pissing is a novel approach," wrote Kara Swisher, a tech journalist, in response to Calacanis saying he was one of those who "rang the fire alarm."
"But I would doubt anyone in real power in D.C. paid mind to one bit of the Ozymandias, King of Kings—Look on my Works, ye Mighty, and despair—nonsense of some tech bros," Swisher added.
On Monday, the Financial Times said Calacanis had "saved the financial system."
Calacanis shared his own thoughts on the subject, saying that it was possible "our discussion had a very modest impact." On Monday evening, he pondered: "Did we ever consider that maybe a tweet or news story shouldn't be able to create a bank run?"
In response to criticism of his social media posts, he told the Daily Beast: "I come from a family of NYC firefighters and was taught that if you see a fire, you pull the fire alarm."
Calacanis's rise to prominence began in the dot com boom of the early noughties, when he founded a series of tech startups that were subsequently sold to larger companies.
He then moved into venture capital, and according to the New York Times was one of the early investors in ride-hailing app Uber, sowing $25,000 that by 2017 was worth $100 million. Since then, he has started two podcasts about start-ups and business.