Jason Hyland, Man Who Allegedly Chartered Private Plane to Transport Rioters to D.C., Charged
Texas resident Jason Hyland was charged by the U.S. Department in January for allegedly chartering a private plane to Washington, D.C. to take people to the riot at the U.S. Capitol.
More than 170 individuals have been charged in connection with the Capitol riot which left five people dead. Supporters of former President Donald Trump breached the Capitol building as Congress prepared to certify President Joe Biden's victory in the Electoral College.
Many of the rioters announced their presence at the Capitol building on social media with some live-streaming the event as it happened. According to a criminal complaint filed in D.C. United States District Court, Hyland sent a group text message to people he believed would be interested in going to the Capitol on January 5, the day before the riot happened.
Under the subject heading "Patriot flight," Hyland allegedly texted, "Thanks for joining me to DC to stand up for America. This will be historic—no matter the outcome." Hyland encouraged people to arrive at the Denton, Texas airport "15 minutes early."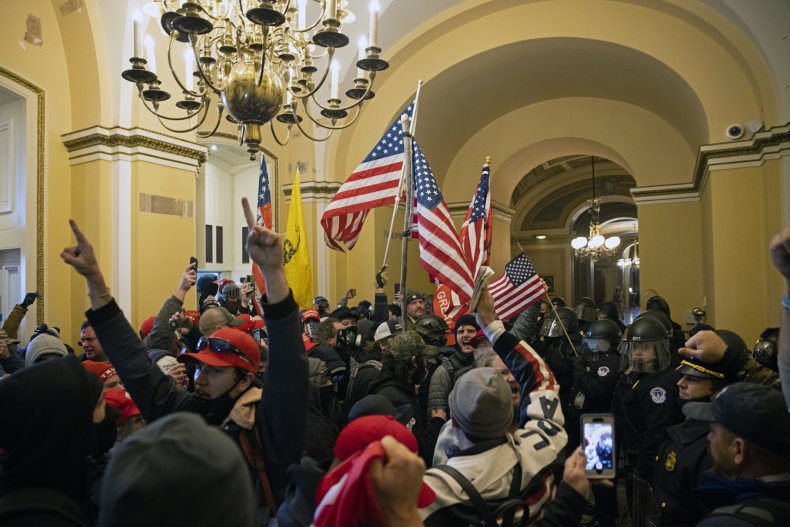 Before takeoff, Hyland allegedly posted a photo of the group and himself preparing to leave in the private plane. Hyland also allegedly posted a photo to a Facebook page upon the group's arrival at Manassas Regional Airport in Virginia.
On the day of the riot, group member Jenna Ryan allegedly posted a Facebook Live video showing Hyland and other members of the group making their way toward the Capitol building. Hyland can be seen in surveillance video inside the Capitol.
During a January interview with FBI agents, Hyland said that he did arrange the flight but "did not know any of the travelers prior to the trip". When Hyland and the group first arrived at the Capitol, "there was one food truck and no stage." Hyland and some other members of the group briefly returned to their hotel.
When Hyland returned to the Capitol building, he told investigators there were "already people inside." Hyland said he asked a Capitol police officer if he could go into the building, to which the officer allegedly replied, "Everyone else is."
According to the court documents, Hyland stayed in the Capitol building a short while but left after he heard a noise similar to a flash bang grenade.
Information from the D.C. United States Attorney's Office said Hyland was arrested on Tuesday. According to local news outlet WFAA, Hyland appeared in court on Tuesday but was not detained. Newsweek reached out to the United States District Court of the District of Columbia for further comment.