Jason Isbell, Charli XCX and More Release New Music: What You Should Listen to Today
There's a staggering amount of new music released every Friday—so much so that it can be overwhelming to try and keep up. Luckily, we're here to help. Every week, Newsweek will highlight a handful of albums that are hitting streaming services, so you can always be up to date on the most exciting new releases.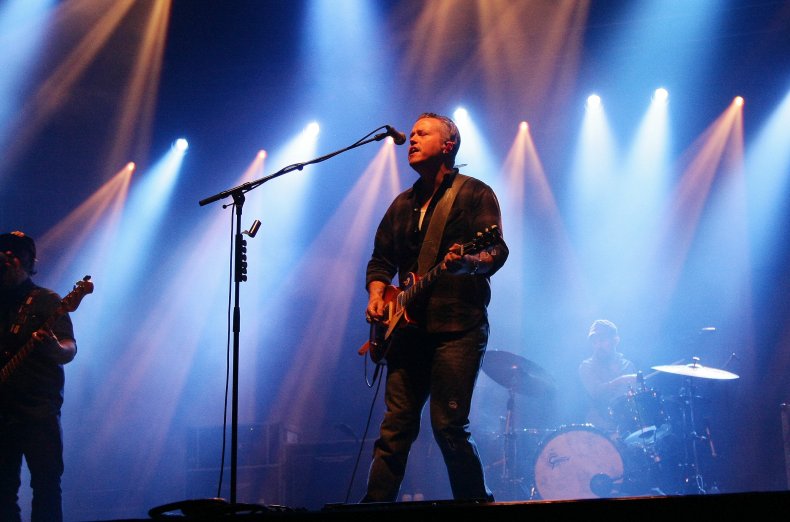 Jason Isbell & the 400 Unit, Reunions (Southeastern)
Jason Isbell's follow-up to 2017's The Nashville Sound was released early for independent record stores, but it's now available on streaming services. The singer-songwriter's newest album further cements his place as one of the best storytellers in modern country. While songs like "Only Children" and "Dreamsicle" have southern-gothic tendencies about a dead friend and missing an absent father respectively, the most hard-hitting singles have been album-opener "What I've Done to Help" and "Be Afraid." On "What I've Done to Help," the narrator examines decisions he's made and wonders what he could've done better for others and himself. "The world's on fire and we just climb higher 'til we're no longer bothered by the smoke and sound," he sings. And on "Be Afraid," Isbell takes aim at musicians and superstars who don't use their platform to enact change. Even though it may be frightening, Isbell calls on others to "Tell the truth. You'll find it rhymes with everything."
Listen to Reunions on Spotify.
Charli XCX, How I'm Feeling Now (Warner)
Written and recorded in quarantine, Charli XCX's latest album is an abrasive and experimental take on pop music. Songs like "claws," which was produced by Dylan Brady of 100 gecs, and "Forever" feature Charli drenched in auto-tune and with instrumentals that are much less polished than one would expect from a pop star—but, then again, Charli isn't like every other pop star. The singer also included fans' input along the way, by writing verses to songs on Instagram Live, releasing stems for fans to remix the songs and including fans in the "Forever" music video. In a note posted on Twitter, XCX said that she was grateful that this process has opened her up to new work.
Listen to How I'm Feeling Now on Spotify.
Moses Sumney, græ (Jagjaguwar)
With the release of the second half of Sumney's sophomore album, the singer shares soulful meditations on love and relationships. On the standout track from the first half of the double album, "In Bloom," Sumney laments trying to piece a friendship back together after an unrequited crush. And on the mournful "Me in 20 Years," the singer wonders whether he will still be alone in the distant future.
Perfume Genius, Set My Heart on Fire Immediately (Matador)
With his fifth album, Mike Hadreas shapes songs into compositions that are vast yet ethereal. Songs drift seamlessly through different genres like the bouncy, upbeat pop of "On the Floor" or the trudging, distorted guitars on "Describe." Hadreas melds minimalism and grandiosity throughout the record: Even songs that begin to sound sparse like "Jason" and "Moonbend" grow into sweeping, emotional epochs about sexual encounters, the first regretful and the latter romantic.
Listen to Set My Heart on Fire Immediately on Spotify.
Retirement Party, Runaway Dog (Counter Intuitive)
On the Chicago three-piece's sophomore album, vocalist Avery Springer narrates young-adult malaise over lively power-pop. The record's opening title-track, finds Springer likening career struggles and the depression that comes with them to a dog running away. On "No Tide," she sings about how one can feel lost, even when things seem to be going better. "I'm getting lost in this irregular maze as opposed to the ones I aced at the age of five," she sings. Even as the album takes uncomfortable directions, it finds a satisfying—even if it's still discomforted—finale on "Wild Boyz."
Listen to Runaway Dog on Spotify.
ACxDC, Satan is King (Prosthetic)
Betcha didn't expect to see a grindcore album called Satan is King here did ya? But, this album rips. Taking aim at political establishments with crushing chaotic songs like "Copsucker" and "Gorged," ACxDC take no prisoners in letting listeners know exactly where they stand on issues like corporate greed and police brutality through their shocking and blunt lyrics.