Who is Jason Lewis? Republican Congressman Can't Believe Men Can't Call Women 'Sluts' Anymore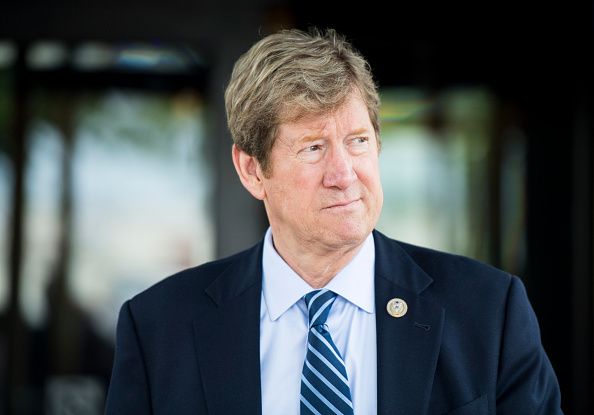 Republican congressman Jason Lewis, who is up for re-election in the state of Minnesota, once said in a 2012 radio talk show that he couldn't believe it wasn't acceptable to call women "sluts" anymore.
"Well, the thing is, can we call anybody a slut?" Lewis said on the Jason Lewis Show. "But it used to be that women were held to a little bit of a higher standard. We required modesty from women. Now, are we beyond those days where a woman can behave as a slut, but you can't call her a slut?"
Lewis seemed to lament the fact that today, as opposed to 30 or 40 years ago, calling a woman by that term is "too politically incorrect."
According to a report by CNN, that statement is just one of many Lewis made about women during his five years hosting the radio program from 2009 to 2014. In other shows, he reportedly argued that young women who wanted coverage for contraceptives had no brains and weren't even human beings in his eyes.
Lewis's campaign manager Becky Alery defended the comments to CNN, telling the news outlet that it was simply Lewis's job to "be provocative while on the radio."
Lewis was first elected to be a U.S. representative in 2017 in a narrow win over Democrat Angie Craig. During his time in office so far, Lewis has voted to ban abortions for women who are over 20 weeks pregnant and voted to repeal government funds to qualified health centers that perform abortions.
The congressman has also voted against providing disaster relief for Puerto Rico after Hurricane Maria and aligned himself with lawmakers who wanted to penalize states that have "sanctuary" laws on immigration. His support of Medicaid cuts prompted a liberal advocacy group to protest outside of his Twin Cities home last August.
His voting record has caused some outlets to call Lewis the "Mini-Trump."
This year he is up for re-election in Minnesota's 2nd District and he told a local CBS affiliate that he is confident that we will be elected again in November. But Democrats see his seat as being vulnerable, as Lewis just barely beat out their chosen candidate in 2017 and the district Lewis currently represents went to Barack Obama during the 2012 election.
His comments on women that have resurfaced this week have sparked criticism from public figures like comedian Chelsea Handler, who tweeted that people in Lewis's district should get out and vote for his opponent to "kick this sexist out of office."