Is 'SNL' on Tonight? Watch Jason Momoa Host 'Saturday Night Live'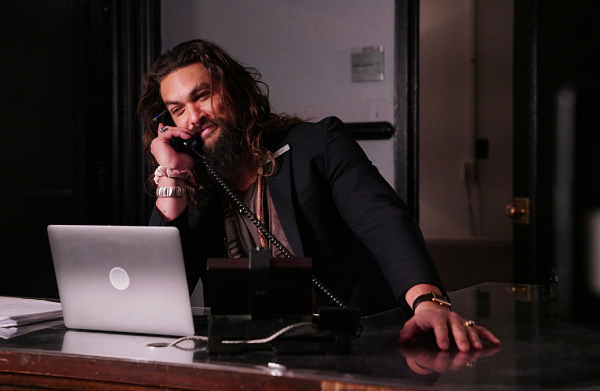 Jason Momoa is making his hosting debut on Saturday Night Live, and from the looks of it, he couldn't be more excited for the opportunity.
The star of the upcoming Aquaman movie is set to take over SNL on Saturday. Since the show announced his hosting position, Momoa has flooded his Instagram with all things SNL and even teased a few sketches he may appear in, including a bit that required grooming—something the 39-year-old noted he doesn't do often.
Been missing his Game of Thrones character Khal Drogo? No worries—fans may get to see the Dothraki chieftain one last time before the HBO series ends on SNL. In a video shared on the Pride of Gypsies' Instagram, Momoa teased his reprisal of the great Khal, writing in the caption: "#DROGOISCOMING."
Momoa is clearly up for the job. In fact, he's so ready for his first big appearance on SNL that he even worked the SNL security post and served as an NBC pageboy. Check out his promo—during which he manned the NBC phones and danced his way through laser beams—and find out everything else to know about the upcoming episode of SNL below.
Who will perform: Mumford & Sons will perform on SNL. The Season 44 episode marks the British band's third appearance on the sketch comedy show following their 2012 and 2015 performances. The bluegrass band will likely sing tracks from their 2018 release, Delta.
When: Momoa's hosting gig is set to start at SNL's usual timeslot at 11:30 p.m. ET.
Where: SNL will air on NBC.
Can it be live streamed: If you can't watch Aquaman kill it on SNL via television, then you can catch his performance on the NBC website or the NBC app's live stream. Of course, you'll need a cable provider login to access the stream. Hulu subscribers can also stream the episode there. Highlights and the best clips of the night will be available for viewing on SNL's YouTube shortly after the show airs. Also, fans can keep up with all the SNL chatter by following the hashtag #SNL on social media.