SXSW Film Review: Jason Schwartzman Is Charmingly Inept in '7 Chinese Brothers'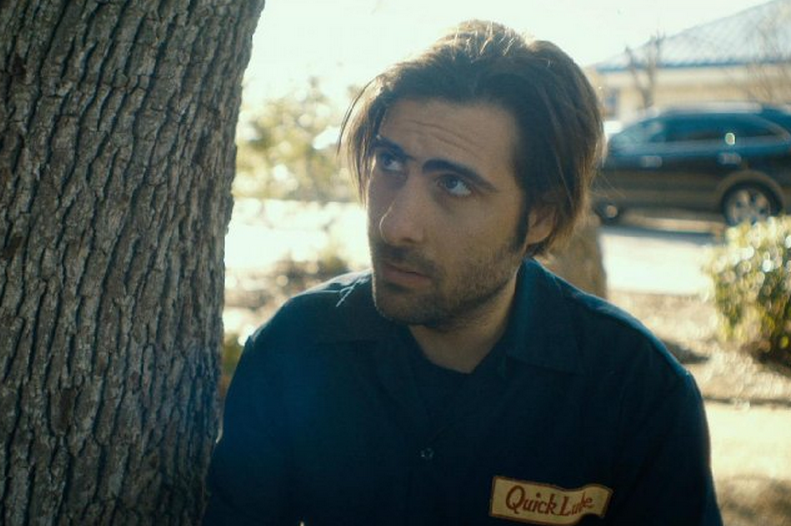 This review of the film 7 Chinese Brothers, which screened earlier this month at South by Southwest, contains some minor spoilers.
"I'm a confused human being right now," Larry says midway through 7 Chinese Brothers.
We can tell. In Bob Byington's strange, drifting indie comedy, a "confused human being" is Larry's constant state of being. Played by Jason Schwartzman (known for Rushmore, Moonrise Kingdom and a host of other Wes Anderson films), he's an eager Quick Lube employee who has a debilitating crush on his boss and an awkward habit of alienating everybody around him. A previous generation might have called him a slacker. His last employer, a chain restaurant, catches him stealing liquor and fires him. We meet him as he's on his way out, taking the news with equal parts tantrum and sad-sack acceptance.
It's not that Larry is entirely alone. He spends hours talking to his lethargic French Bulldog, Arrow, perhaps because the dog is the only one in his life who never gets fed up with him or talks back. He also has Norwood, an orderly at the assisted living home where his grandmother lives. Played by Tunde Adebimpe (who you'll likely recognize either from the art-rock band TV on the Radio or from Rachel Getting Married), Norwood's cool demeanor is the foil to Larry's jittery aggression. They go clubbing together, and Larry winds up fidgeting on the couch to the rhythmic lurches of Norwood having sex.
And, of course, he has his grandma. She's loving, but ornery. Would you like it, she asks, if someone only visited you when they wanted money? "Yeah," Larry replies, deadpan, "because it would mean I had money."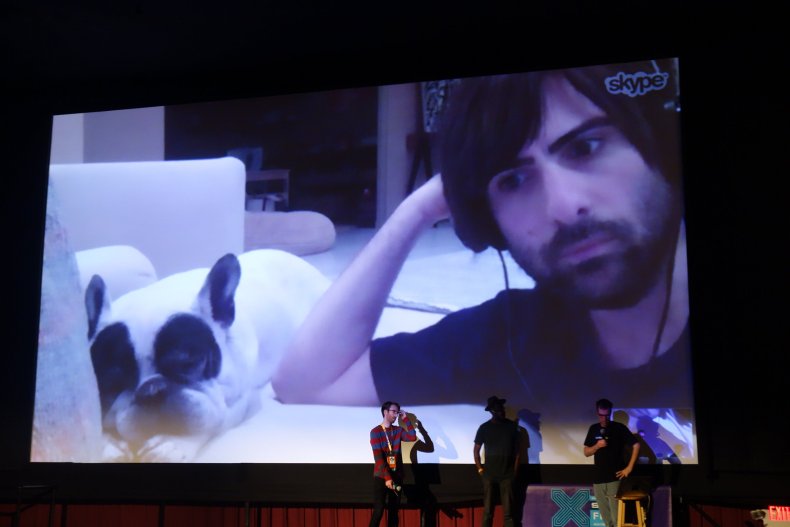 Byington, who directed the prevous SXSW entry Somebody Up There Likes Me (2012), among others, says he's had this script floating around since 2001. On paper, it might have seemed stagnant. The less-than-secret weapon is Schwartzman, whose mastery of physical comedy brings the character amusingly to life. Not in a slapstick sense—this is subtler than that. It's the reaction shots, the confusion in between the dialogue. It's a quality that lives in Schwartzman's physical and facial exertions when Larry is throwing hats at passing cars, making the character's motions just pathetic enough to warrant some sympathy but also comical enough not to strain our patience. (The film's primary music, a chirpy organ score, adds to the silent-comedy effect. The titular R.E.M. song plays over the end credits, but its significance goes unexplained.)
That's key, because Schwartzman's scraggly face and solid blue jumpsuits dominate the film's clean visual expanse. Larry seems to be in nearly all of the camera's shots. By effect, his flailing ineptitude becomes as inescapable for the viewer as it is for him. With Schwartzman's performance, a funeral can at once be the film's funniest and its most moving scene. The downside is that the film's supporting characters—the grandma, Norwood—are never as rich or fully fleshed out. Of course, there is a twist involving all three of them. It's a bit predictable, as is the film's slightly ambiguous, open-ended closing. But the emotional weight it accrues is not. Like its primary character, 7 Chinese Brothers is charming but can't always figure out what it wants to be.
At the South by Southwest screening, Byington and Adebimpe (who had a TV on the Radio gig just an hour or two later) were on hand to take questions. Schwartzman called in from Los Angeles via Skype, though he kept tilting the laptop screen so we could only see Arrow, his real-life dog. (It's not all acting: Arrow really does enjoy sleeping.) Byington spoke about the writing and casting process, though he grew a bit evasive when the topic turned to specific plot points. One moviegoer asked about the nuances of the ending. "You gotta see it again, I guess," the director shot back.