Jason Schwartzman Talks Netflix's 'Klaus,' a Santa Origin Story That's Now His Daughter's Favorite Movie
"I got to be very careful with my words because I have three children and I can't start to debunk Santa Claus too publicly," Jason Schwartzman tells Newsweek, after dancing around a question about the mythical origins of Saint Nicolas.
In the vast majority of traditional depictions, Santa Claus is portrayed as a portly, jolly, white-bearded man who bring gifts to well-behaved children on the night before Christmas. The legend goes that Santa crafts intricate toys throughout the year with the help of his elves at the North Pole, before then delivering the gifts through chimney service to each house on December 24 with the help of his flying reindeer.
But have you wondered where it all began? How these myths came to be? Klaus, Netflix's first original animated feature, explores an alternate Santa origin story⁠—one that moves away from the mystical and towards the deeply-human by reverse engineering the Christmas tale.
"I feel like the movie takes kids seriously. I like the take on it, that it was evolving out of something very practical and somewhat selfish," Schwartzman says, as he recalls watching the film with his eight-year-old daughter. "It was a big moment for me because it was the first time I really shared with her what I do."
"When it was over, I asked her what she thought, and she started crying. She goes, 'It's my favorite movie ever.'"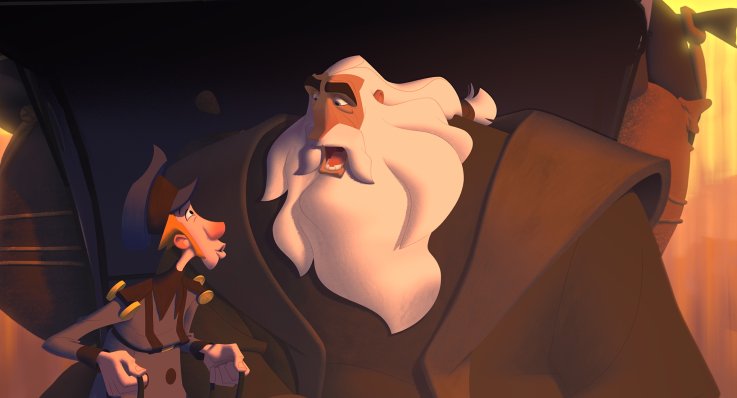 Created by Sergio Pablos (Despicable Me), Klaus is far from your typical Christmas classic. In fact, Santa isn't even the main character. The story follows Jesper (Schwartzman), a student flunking at a postal academy, as he's exiled by his father to Smeerensburg, a grim, remote frozen backwater town, to revive its post office. There, he forms an alliance with Klaus (J.K. Simmons), a stolid, reclusive and vaguely familiar toymaker, to bring joy to the monochrome town's neglected children.
"It was really interesting, my daughter was very focused while watching the movie. Usually, when I watch things with her, the kids are loud," Schwartzman continues. "I'm used to experiencing movies with her where she's singing along or laughing. When she watched this movie, she smiled but she never went crazy."
"I've never seen her watch a movie like an adult would watch a movie. It was rather intense. I felt like it didn't try to entertain her like most children's content. It went at its own pace and told its own story."
Klaus isn't Schwartzman's first voice performance for an animated production. The actor, most famous for his roles in Wes Anderson's classics, voiced the character Ash for the director's Fantastic Mr. Fox and mostly recently, starred in Ezra Koenig's Neo Yokio series as Arcangelo Corelli. But unlike Klaus, those works were directed more towards an adult audience.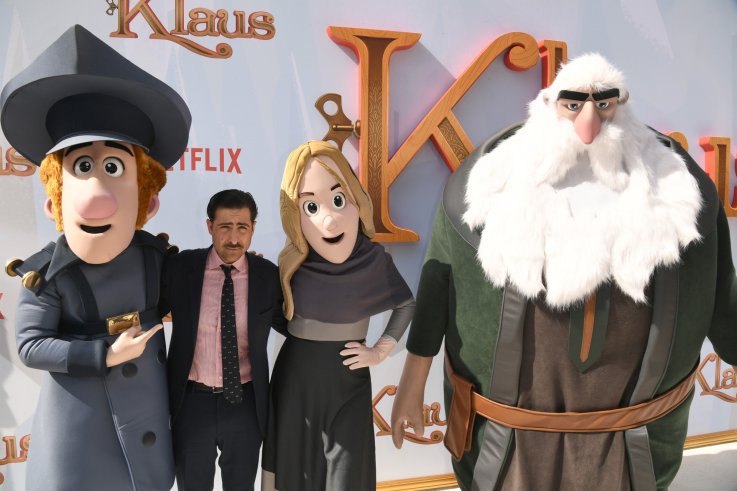 Schwartzman explains that all his animated endeavors have yielded different experiences. "Wes Anderson gets all the [voice] actors together in one room," he says. "We all interact and talk over each other, even some of the scenes in Fantastic Mr. Fox we did outside on a farm. We're digging in the ground for real. There's a person running around with a microphone chasing us. Typically with an animated movie, there's working on the script side of things and it takes years to do it. With Wes' movies, it takes a day or two because the script is done."
The script for Klaus, however, took years to develop. "I do love the elongated process because you get to find things in a way that would be very hard to do with a live action movie. New things lead to new things which lead to new things. You don't feel the same pressure as you when do filming onsite. There's not like 50 people looking at you," Schwartzman says, Klaus "kept unwinding as we were making it. You're always discovering what works and what doesn't."
In the early stages, it was Pablo's visuals that drew Schwartzman to the project. "He had it all in his head," the actor recalls. "When we met for the first time, I remember he answered a question I had by drawing it. It was just so beautiful."
"Sergio also explained that we were going to do the majority of this movie by hand, before it all gets computerized," Schwartzman says, the early visual style "looked new to me but there was a feeling of nostalgia, through the hand drawn elements. It was like new nostalgia. It seemed magical but also had that practical, earthy, quality to it. The landscape is very stark. There's a human feeling that you long for, the animations incorporated that well."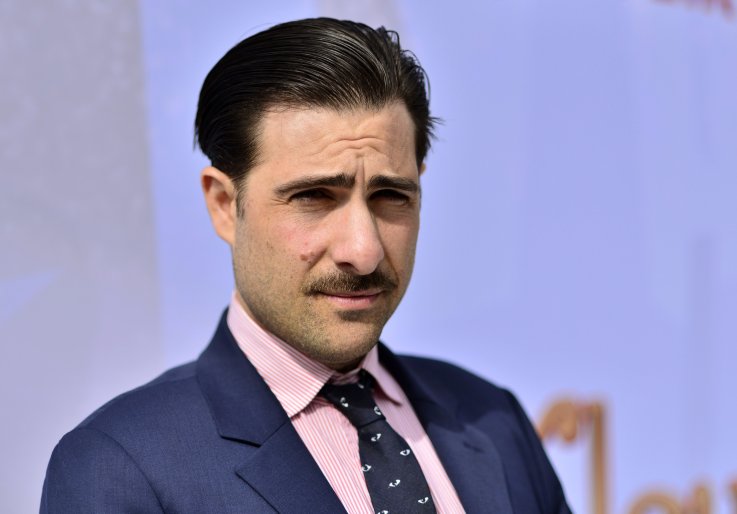 Though Schwartzman has little in common with his character Jesper, the actor is used to playing quirky, intellectual protagonists, like in Moonrise Kingdom, Rushmore and Bored to Death, much like his own public persona. But he admits that despite growing up in a prominent movie-making family—his uncle, Francis Ford Coppola, directed The Godfather series, he's cousins with Sofia Coppola and Nicolas Cage—developing a brand in the film industry wasn't something he had ever expected to happen.
Growing up, Schwartzman's aspirations revolved around music. In his early teens, he drummed for the band Phantom Planet, who created the famous opening credits theme song for The O.C. Throughout the years, as he gravitated towards filmmaking, Schwartzman has continued to work on soundtracks for various projects, including James Franco's Palo Alto, Bored to Death and Dreamland, a movie directed by his brother Robert Schwartzman who fronts his own band, Rooney.
These days, Schwartzman, who's increasingly busy with raising three children, still draws on music for inspiration for his creative projects. "I'm excited for Tame Impala's new album. I love Frank Ocean," he says. "There's this Australian label called Efficient Space, they reissue all this Australian music, I've been listening to this sampler that I bought from them."
"I've been spending a lot of time listening to The Beach Boys, they put out all these reissues and oftentimes they'll have a whole disk of session highlights. It's like 50 minutes long and just them in the studio starting, stopping and talking. You already know what the songs are going to be, but it's fun to listen to them recording it. They keep the tape rolling like an audio documentary and you hear them figuring it out and trying different things to form the final song."
"Klaus," Netflix's first original animated feature, arrives in theaters November 8 and is available for streaming on Netflix November 15.
Jason Schwartzman Talks Netflix's 'Klaus,' a Santa Origin Story That's Now His Daughter's Favorite Movie | Culture