Georgia lawmakers have denounced state representative Jason Spencer in the wake of his appearance on Sacha Baron Cohen's show Sunday night that saw him use racial slurs and expose himself as part of a prank.
"Representative Spencer has disgraced himself and should resign immediately," Georgia House Speaker David Ralston told The Atlanta Journal-Constitution after the segment aired on Cohen's show, Who Is America? "Georgia is better than this."
Governor Nathan Deal called Spencer's actions "appalling and offensive." and added, "there is no excuse for this type of behavior, ever, and I am saddened and disgusted by it."
The premise of Who Is America?, which premiered last week on Showtime, is to trick unsuspecting politicians, or regular citizens, into scenarios where they say controversial or embarrassing things. In the segment Spencer was featured in Sunday night, Cohen had disguised himself as an Israeli anti-terrorism expert who convinces Spencer to partake in an anti-terrorism training video.
Spencer repeatedly yelled the "N-word" and attacked Cohen with his pants pulled down while shouting "USA, Motherf*****!" as part of Cohen's suggested training techniques to ward off Muslim attackers.
Spencer also appeared in a post-credits sequence where he looked into the camera to say "all you damn sand-n*ggers over in the Middle East, we are tired of you coming to America and we are tired of you trying to threaten us."
"We will cut off your dick, you understand?" he added. "We will take your dick and we will shove it in your mouth."
Before the segment was released, Spencer told The Journal-Constitution that the show had taken advantage of "my fears that I would be attacked by someone" and that "they exploited my state of mind for profit and notoriety. This media company's deceptive and fraudulent behavior is exactly why President Donald Trump was elected."
Spencer did not immediately respond to Newsweek's request for comment on whether he would resign from his position, but told the Washington Post he would remain in his role until his term ends in five months.
"I deeply regret the language I used at his request as well as my participation in the "class" in general," he said. "If I had not been so distracted by my fears, I never would have agreed to participate in the first place."
Spencer lost his GOP primary in May to stay in his current role beyond November.
In last week's premiere of Who Is America?, Cohen tricked multiple GOP congressmen into supporting a fake initiative called "Kinderguardians" that aimed to arm toddlers in schools in an effort to prevent school shootings.
Former Governor of Alaska Sarah Palin and failed Alabama Senate candidate Roy Moore have both put out statements to say they were tricked into participating in the show in segments that have yet to air.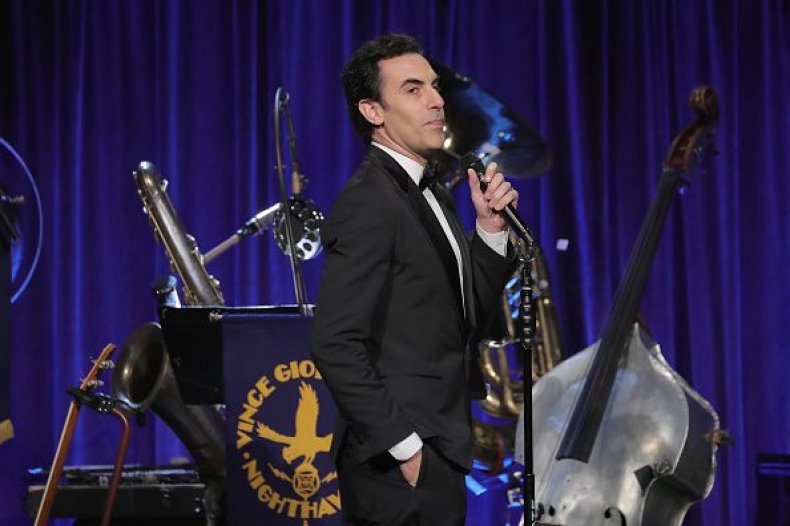 "Yup—we were duped. Ya' got me, Sacha, Feel better now?" Palin posted on Facebook before the show premiered. "I join a long list of American public personalities who have fallen victim to the evil, exploitive sick 'humor' of the British 'comedian' Sacha Baron Cohen, enabled and sponsored by CBS/Showtime."
David Nevins, the CEO of Showtime has defended Cohen as "the premier provocateur of our time, but not for the sake of 'gotcha moments.'
"Behind the elaborate set up is a genuine quest for the truth about people, places and politics."