Jason Stockley: Riots in Streets of St Louis After White Police Officer Acquittal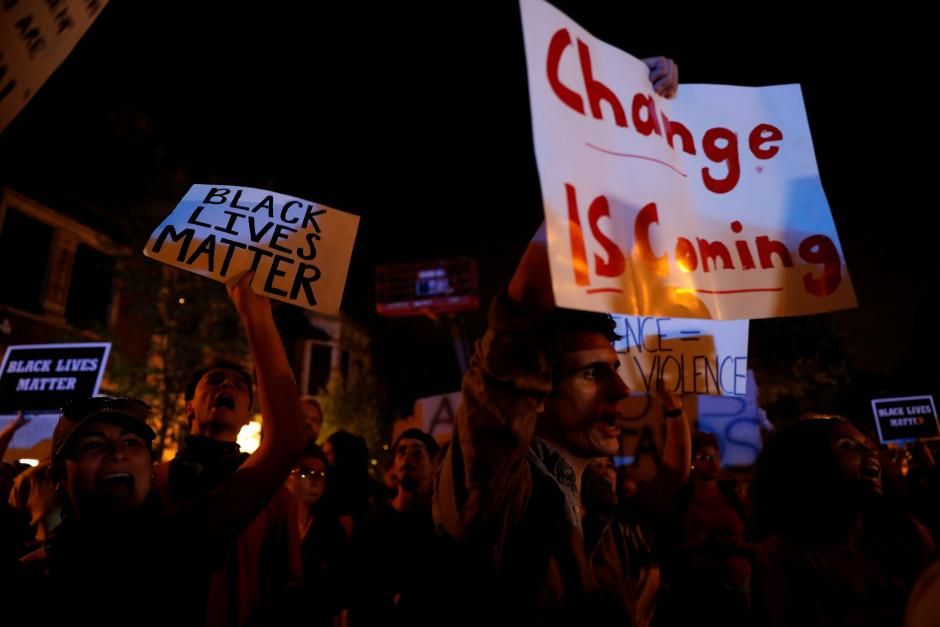 Police using tear gas and rubber bullets clashed with demonstrators in St Louis in the early hours of Saturday after a white former policeman was acquitted of murdering a black suspect.
A peaceful protest over Friday's not guilty verdict turned violent after police confronted a small group of demonstrators, three years after the police shooting of another black suspect in the nearby suburb of Ferguson stirred nationwide anger and debate.
Officers fired tear gas as people broke windows at a library, a restaurant and a home and threw bricks and water bottles at officers. Eight officers were injured, police said.
Former city policeman Jason Stockley, 36, was found not guilty of the first-degree murder of Anthony Lamar Smith, 24, shot to death on December 20, 2011.
After the ruling, around 600 protesters marched from the courthouse through downtown St. Louis, chanting "No justice, no peace" and "Hey hey! Ho ho! These killer cops have got to go!" Some held "Black Lives Matter" signs.
"I'm sad, I'm hurt, I'm mad," the Reverend Clinton Stancil of the Wayman AME Church in St. Louis said by telephone. "We haven't made any progress since Ferguson, that's clear. Cops can still kill us with impunity."
Ferguson became the focal point of a national debate on race relations after white officer Darren Wilson shot dead black teenager Michael Brown on August 9, 2014. Protests and clashes broke out after a grand jury cleared the officer, giving rise to the Black Lives Matter movement.
After Friday's verdict, one group of demonstrators tried to climb onto Interstate 40 but was blocked by police. Another group blocked an intersection by sitting down in the street for six minutes of silence.
After most protesters drifted away, a smaller group of people police described as "agitators" lingered on the streets taunting officers who arrived in riot gear by the busload.
"Reports of bricks thrown at police. That's not protest. That's a crime. We stand behind our officers. This violence won't be tolerated," Missouri Governor Eric Greitens said on Twitter.
Smith was shot five times in his car after trying to flee Stockley and his partner, following an alleged drug deal, authorities said.
Prosecutors said that during the pursuit, Stockley could be heard saying on an internal police car video he was going to kill Smith.
At Stockley's direction, his partner, who was driving, slammed the police cruiser into Smith's vehicle and they came to a stop. Stockley then approached Smith's car and opened fire with his service weapon, court documents said.
The former policeman believed Smith was armed, defense attorneys said, and a gun was found in the car. But prosecutors argued Stockley planted the weapon and that the gun had only Stockley's DNA on it.
Stockley's attorney, Neil Bruntrager, said his client was relieved at the verdict. "It's been a long road for him," Bruntrager said.