Police Officer Jason Stockley Not Guilty in Anthony Smith Shooting Death in St. Louis
Updated | The city of St. Louis was bracing for protests Friday, hours after a judge found a white police officer not guilty of the fatal 2011 shooting of a black man despite evidence showing the officer's DNA on a gun he allegedly planted after the shooting.
In his ruling, Judge Timothy Wilson said state prosecutors had "failed" to prove the case against the officer, Jason Stockley, who had been facing a first-degree murder charge for killing Anthony Lamar Smith, 24, inside his car after a chase.
"I'm disappointed with the court's finding," said Kim Gardner, a local judge whose office investigates all police-involved shootings in the city of St. Louis. "I know there are better ways we can do this if we join together to make the system work for us all."
Shortly after the verdict, protesters blocked a highway ramp and a popular intersection in downtown St. Louis, at Market Street and Tucker Boulevard near the courthouse where the trial took place, as they moved through the city.
The initial protests brought to mind the rallies after the fatal police shooting of Michael Brown in nearby Ferguson in 2014, a case that led to a nationwide debate about police practices.
Many local activists believe the Stockley shooting is more egregious than the killing of Brown because of the allegation that Stockley planted a gun in Smith's car.
The acquittal "does not change the facts: Anthony Lamar Smith died unnecessarily, another casualty of excessive and deadly force by police against people of color," the ACLU of Missouri said in a statement.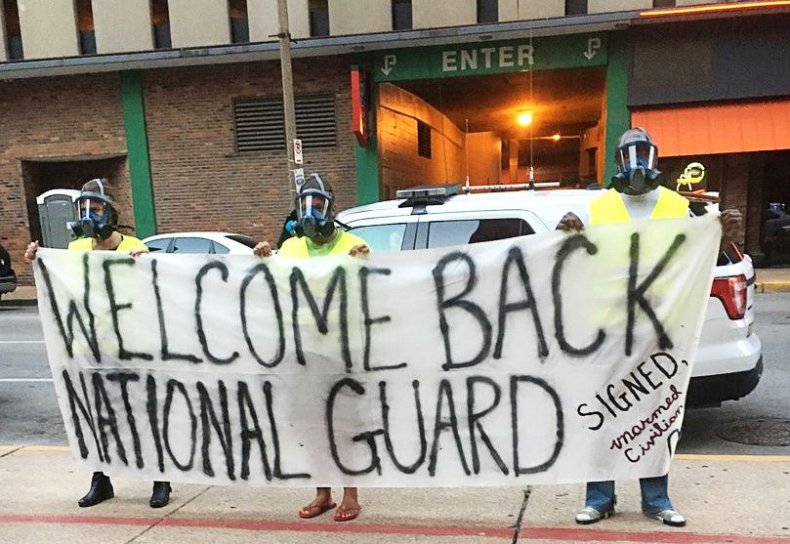 The city prepared for the worst in the three weeks since the trial ended. The judge in July granted the defense's motion for a waiver of jury trial. Governor Eric Greitens activated the state's National Guard on Thursday, and the St. Louis Metropolitan Police Department announced that its officers would be working 12-hour shifts in case of unrest in the aftermath. Some schools in the Ferguson-Florissant School District were closed on Friday.
Mayor Lyda Krewson said she was "appalled" in a statement.
Lawrence O'Toole, interim chief of police, said the community "must respect the judicial process" in a release. "While we know emotions are running high, our number one priority is protecting and serving our citizens."
Smith's family is set to hold a press conference later Friday.
Protesters had gathered in the city prior to the verdict and vowed that "there will be unrest" if Stockley was deemed not guilty.
"We might not get what we want," said Christina Wilson, fiancée of Anthony Lamar Smith, at a press conference with the governor on Thursday. "But however it goes, I ask for peace on behalf of my daughter, on Anthony's loved ones, and if you feel like you want to speak out, speak how you feel. Just do it in a peaceful way."
Governor Greitens, standing next to Wilson at the podium, urged peace in the city. "I want every Missourian to listen to Christina's words," he said. "We know that people will feel pain and hurt. But please, for Christina's sake, and for her daughter's sake, do not turn that pain into violence."
What Happened?
In 2011, Jason Stockley, 36, fatally shot Anthony Lamar Smith, 24, after a car chase following what Stockley said was a drug transaction. Just before he shot Smith, Stockley said, "We're killing this [expletive deleted], don't you know," according to dashboard camera video cited in the trial.
According to prosecutors, Stockley planted a gun in Smith's car that day. Stockley's DNA was found on the gun, according to court documents, and Smith's was not.
The court did not set a public date for its verdict, and Stockley waived his right to trial by jury. New evidence reopened the case in May 2016 despite a $900,000 settlement the police department paid the Smith family in 2013, one of the largest police department settlements in city history.
This article has been updated with comments from local politicians.