Jason Sudeikis is becoming more like his inspirational character Ted Lasso, as he proved at the premiere of Season 2 in Los Angeles.
He walked the blue carpet wearing clothing in support of a group of young black English soccer players who have been the victims of racial abuse online. His black sweater read in white letters: "Jadon & Marcus & Bukayo."
The rest of the Emmy-nominated cast joined him for the launch of Ted Lasso Season 2 ahead of its release on Apple TV+ next week.
Who Is Jason Sudeikis Supporting and Why?
The names on Jason's shirt, "Jadon & Marcus & Bukayo," refer to three players in the England men's national soccer team: 21-year-old Jadon Sancho, 23-year-old Marcus Rashford and 19-year-old Bukayo Saka.
Recently England reached the final of the European Championships where they faced Italy. The game finished 1-1 and went to penalty kicks to decide the winner. Unfortunately Rashford, Sancho and Saka missed their spot kicks, meaning Italy won.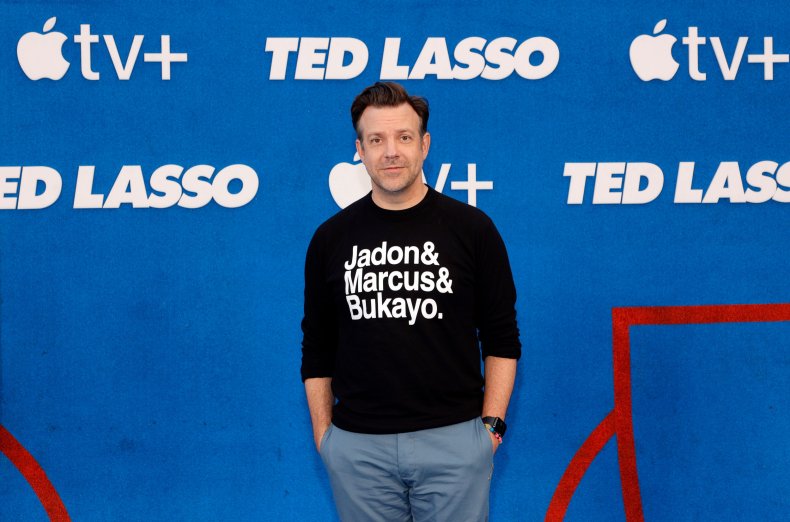 Afterwards all three players received a torrent of racist abuse online on social media. UK police have so far arrested five people in connection with the posts.
The England men's soccer team manager Gareth Southgate said the racist abuse aimed at his players is "unforgivable," while Prime Minister Boris Johnson promised to ban people found guilty of sending racist abuse to footballers from matches.
The Duke of Cambridge, Prince William, wrote on Twitter: "It is totally unacceptable that players have to endure this abhorrent behavior. It must stop now and all those involved should be held accountable."
Rashford, who was honored by the queen last year after campaigning to feed millions of children during the pandemic, had a mural featuring him in Manchester vandalized.
However an outpouring of support from the local community changed things and they covered up the graffiti with messages of love and support.
Online Reaction to Jason Sudeikis' Sweater
Sudeikis received near universal praise for his gesture at the premiere of Ted Lasso Season 2.
Roger Bennett, one of the Men In Blazers on NBC, said the sweatshirt: "Shows that like his character, he truly understands that football in his heart, is all about human goodness."
Film director Matthew A. Cherry applauded Sudeikis' stance, retweeting an image of him at the event and writing: "Man @jasonsudeikis really is Ted Lasso in real life. Much respect."
Many more people commented online — @jamiesont called him "a class act," @TooManyEmmas echoed that sentiment and wrote: "He IS Ted Lasso," while @jeeveswilliams called his clothing decision: "BRILLIANT."
When Is Ted Lasso Season 2 Out?
The second season of Ted Lasso drops on Apple TV+ on Friday July 23, 2021.
The episodes, which are generally 35-minutes in length, air weekly on the streaming service every Friday.
Ted Lasso received an impressive 20 Emmy nominations this week. Jason Sudeikis got nominations for his performance as Ted Lasso and two more for outstanding writing for a comedy series for two of the episodes from Season 1.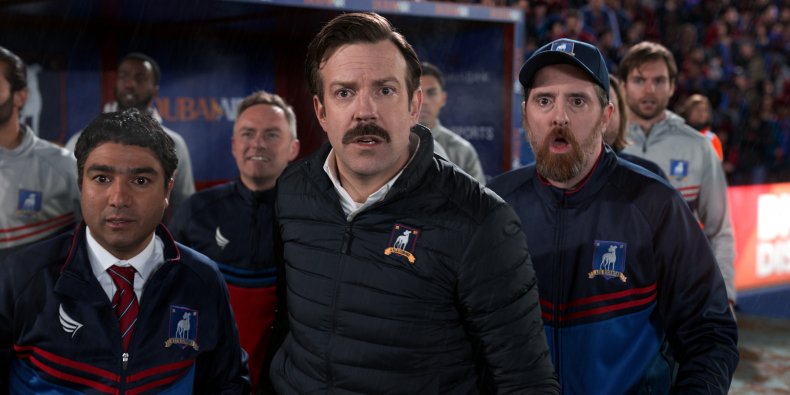 Brett Goldstein (Roy), Brendant Hunt (Coach Beard), Nick Mohammed (Nathan) and Jeremy Swift (Higgins) all received Primetime Emmy Award nominations for outstanding supporting actor in a comedy series, while Juno Temple (Keely) and Hannah Waddingham (Rebecca) were recognized in the outstanding supporting actress in a comedy series category.
Three directors, Zach Braff (Scrubs), Declan Lowney and MJ Delaney, were nominated for outstanding directing for a comedy series.
Marcus Mumford, a member of the band Mumford and Sons, also received an Emmy nomination for outstanding original main title theme music.