Jason Van Dyke Verdict: Chicago Officer Guilty of Murder in Laquan McDonald Shooting Death
On Friday, a jury found Chicago police officer Jason Van Dyke guilty in the fatal shooting of Laquan McDonald.
Jurors deliberated fewer than eight hours before reaching a verdict, which was read by Judge Vincent Gaughan on Friday afternoon. Van Dyke was charged with first-degree murder, official misconduct and 16 counts of aggravated battery.
"I don't want anyone second-guessing them," Gaughan said to the courtroom before the reading of the verdict. "Look into your hearts and control your emotions."
Gaughan added that outbursts would not be tolerated in his courtroom and that anyone who spoke out of turn would be held in contempt of court. He advised anyone who couldn't handle the results of the verdict to leave the courtroom.
Ultimately, the jury found Van Dyke guilty of all 16 counts of aggravated battery with a firearm.
Instead of first-degree murder, the jury found Van Dyke guilty of second-degree murder, which Gaughan provided to them as an option. To be found guilty of second-degree murder, Gaughan explained that the prosecution had to prove first-degree murder and should not be looked at as a lesser charge.
On October 20, 2014, officers received reports of a young black man who was allegedly attempting to break into vehicles. Officers responded to the scene and reported that McDonald had a knife in his hand. Van Dyke stepped out of his vehicle and within 15 seconds shot the 17-year-old 16 times.
Van Dyke claimed McDonald was acting aggressive, which other officers on the scene corroborated. However, Van Dyke's perception of the events that transpired was called into question after dashboard camera footage was released in November 2015.
Footage showed the 17-year-old running down the street with his back to the camera when officers arrived. When officers exited their vehicle, McDonald slowed down to a walk and took several steps away from officers. Then the fatal shots were fired.
Around 9:15 a.m. CDT on Friday, the jury arrived at Leighton Criminal Court in Chicago to resume deliberations. Shortly before 11 a.m., the jury submitted a question to Gaughan, according to the Chicago Tribune. The jury asked if the 16 counts of aggravated battery with a firearm should be considered as "how the shots are numbered on the medical examiner's chart" or "the simple number of shots fired."
Gaughan ruled that jurors should consider the 16 counts of aggravated battery as the simple number of shots fired, siding with prosecutors.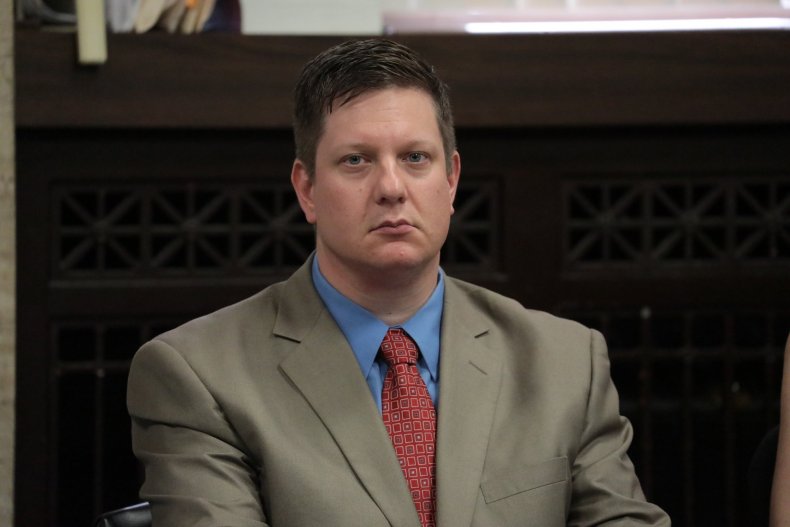 Van Dyke's trial began September 5, and the jury began deliberating on Thursday afternoon. The defense argued that given the threat Van Dyke thought he was facing, the amount of force he used was justified. Contrastingly, Assistant Special Prosecutor Jody Gleason said Van Dyke was "hiding behind the police shield," according to USA Today. Gleason argued that Van Dyke shot too early and too often.
"I might be looking at the possibility of spending the rest of my life in prison for doing my job as I was trained as a Chicago police officer," Van Dyke told the Chicago Tribune ahead of the trial.
The fatal shooting sparked widespread protests and criticism of the police department for its perceived racism, which Van Dyke denied having played any factor at all. He called claims that he's racist a "false narrative" and "slander."
In preparation for the verdict, the Chicago Police Department bolstered the force by up to 4,000 officers by canceling days off and putting officers on 12-hour shifts. The department made plans for the quick deployment of large numbers of officers, however, unlike during the 2012 North Atlantic Trade Organization (NATO) Summit, officers won't be dressed in riot gear. Instead, they'll be in uniform with bulletproof vests and helmets.
"Let's say you see cops standing out on every corner in riot gear with rifles. What does that say to people? That we're ready for a fight. And that's not simply the fact," Police Superintendent Eddie Johnson told the Chicago Sun-Times.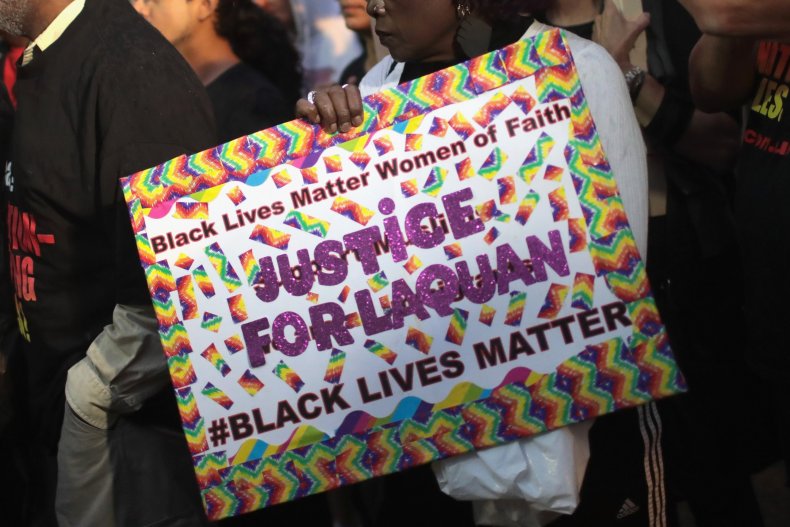 While the department has prepared for protests following the verdict, Johnson told the Chicago Sun-Times that he expects the city to rise above emotions.
"But this is our city that we call home. And there are ways to voice your concerns in a peaceful manner," Johnson said. "And that's what I expect from the citizens of this city."
Protesters gathered at the courthouse steps ahead of the verdict and Lenyea Williams told WGN-TV that "it could get real ugly out here."
"I feel like a lot of people here is angry and we've seen a lot of officers get away, and this is one officer that we feel should be convicted," Williams added.
On Friday, Chicago police arrested someone for making several threats against "police officers and public officials." Police Department spokesman Anthony Guglielmi has not identified the person who was taken into custody because charges hadn't been filed.
The charge of second-degree murder has a penalty of up to 20 years in prison, while each of the 16 charges he faces for aggravated battery carry up to 30 years. If given the maximum sentences and ordered to serve them consecutively, Van Dyke would spend the rest of his life in prison. As the verdict was read, Van Dyke stared stoically ahead at the judge. Gaughan ordered Van Dyke's bail to be revoked following the verdict. He is due back in court on October 31.