Javier Bardem Won't Stop Defending Woody Allen
Javier Bardem has labeled child sexual abuse allegations against Woody Allen as "just gossip" as he continues to staunchly defend the director.
The No Country for Old Men star defended Allen in a recent interview with The Guardian.
"Pointing fingers at someone is very dangerous if it hasn't been legally proven," he said.
"Beyond that, it's just gossip."
Bardem starred in Woody Allen's 2008 film, Vicky Cristina Barcelona alongside Penelope Cruz and Scarlett Johansson.
Allen has faced controversy over the years, with his adopted daughter, Dylan Farrow, accusing him of sexually abusing her as a child.
The allegations were detailed in the HBO documentary Allen v. Farrow. The famous director has never been charged or prosecuted and denies the allegations.
The Annie Hall filmmaker described the allegations as a "complete fabrication" in a memoir in 2020.
In Apropos of Nothing, published in March 2020, Allen wrote: "I never laid a finger on Dylan, never did anything to her that could be even misconstrued as abusing her; it was a total fabrication from start to finish, every subatomic particle of it."
He also wrote: "It makes no sense why a fifty-seven-year-old man who has never been accused of a single impropriety in his life, while in the midst of a contentious and very public custody fight, drives up to the hostile environment of the country home belonging to the woman who hates him most, and in a house full of people sympathetic to her, this man, who is thrilled as he has just recently found the serious love of his life, a woman he'd go on to marry and have a family with, would suddenly choose that time and place to become a child molester and abuse his seven-year-old daughter whom he loved.
"It defied simple common sense. Especially since I had been alone with Dylan many times in my apartment over the years, and if I were actually fiend, I had ample opportunities to act like one.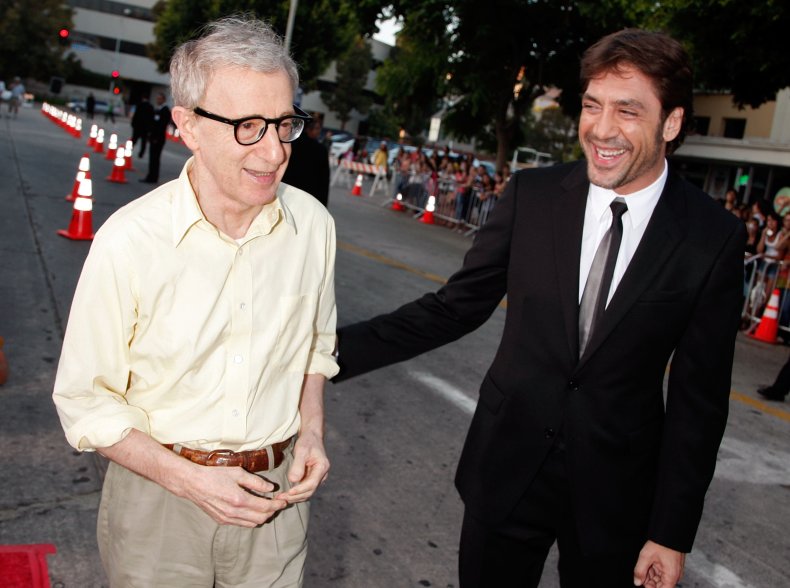 Bardem has vehemently defended his creative collaborator in the past.
In 2018 he admitted he was "shocked" by Allen's treatment as he faced renewed criticism in light of the #MeToo movement.
"If there was evidence that Woody Allen was guilty, then yes, I would have stopped working with him, but I have doubts," Bardem said in an interview with French weekly Paris Match at the time.
"I am very shocked by this sudden treatment," Bardem said. "Judgments in the states of New York and Connecticut found him innocent. The legal situation today is the same as in 2007."
Bardem is currently starring in Being the Ricardos alongside Nicole Kidman.