Javier Maradiaga's Deportation Halted After Outrage Over ICE Ignoring Biden's Order
The deportation of a New York man who was scheduled to be put on a flight to Honduras early Monday morning has been halted, his attorney confirmed to Newsweek.
Javier Castillo Maradiaga, 27, who arrived in the U.S. aged seven, was arrested for a pedestrian violation in 2019.
The charge was later dismissed, The New York Daily News reported, but Maradiaga was taken into custody by Immigration and Customs Enforcement (ICE).
His attorney Rebecca Press, the Legal Director of UnLocal, a nonprofit that offers free representation to New York City's immigrant communities, said he was in a federal detention center in Louisiana on Sunday and expected to be put on a plane at 2 a.m. on Monday.
The move sparked outrage because advocates said it defied President Joe Biden's 100-day pause on deportations for some undocumented immigrants.
Press said that officials in New York's ICE field office told her that Maradiaga should not be deported because of the order—but ICE officials in Louisiana told her they planned to deport him anyway.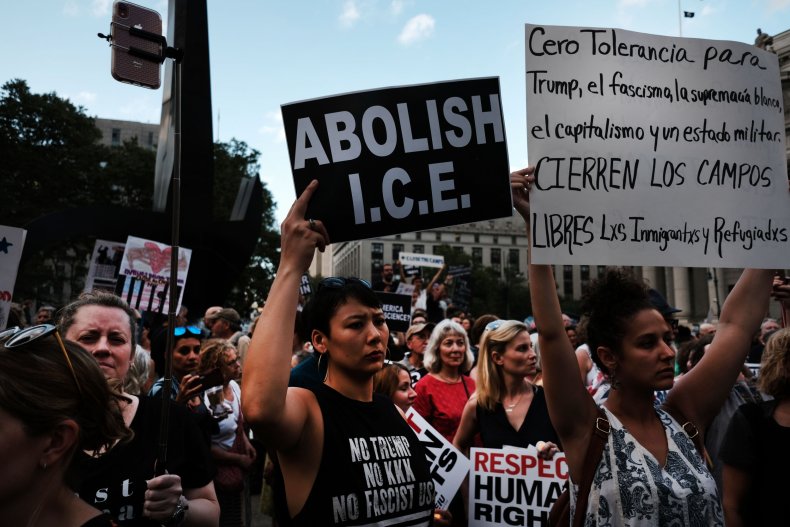 Maradiaga's plight made headlines and drew protesters to Manhattan's Foley Square on Sunday.
"The only crime that he had committed was the crime to live a dignified life," his mother Alma Maradiago said, according to the Daily News.
"The 14 months that he's been detained, I've been an essential worker in the hospitals cleaning, doing everything I can do for my child."
Press told Newsweek that later in the evening, she received word that he would not be deported.
"We received information [Sunday] evening that Javier was not to be deported," Press said. "Javier called a while later and confirmed he had been told the same. I am waiting to hear from him today, and also to be able to call ICE and confirm."
A spokesperson for ICE told Newsweek that officials were "still looking into the case to determine what we can share."
In a statement, the agency said it has initiated a 100-day pause on "certain removals" effective January 22 following the memo issued by the Department of Homeland Security.
"The pause on removals applies to those present in the U.S. with a final order of removal, with certain exceptions as described in the memo. The pause on removals does not apply to individuals who entered the United States on or after November 1, 2020," the statement said.
In a tweet on Sunday, New York Rep. Ritchie Torres, a Democrat, thanked lawmakers including Senate Majority Leader Chuck Schumer for "pressuring" ICE into halting Maradiaga's deportation.
Torres had earlier written to ICE Acting Director Tae Johnson, demanding the man be allowed to remain in the U.S.
"The deportation is illegal and should be stopped immediately," Torres tweeted Sunday. In another tweet, he said he had notified the Biden Administration that ICE is "threatening deportations in blatant defiance of a presidential order."
In the letter to Johnson, Torres noted that none of the exceptions to Biden's order apply to Maradiaga and "reports suggest the South Louisiana facility is not complying with the new directive."
Torres also noted that Maradiaga was previously protected by the Deferred Action for Childhood Arrivals (DACA) program, but he didn't renew his application when it expired in 2019 "due to his fear of the Trump Administration."
"His parents reside in the U.S. lawfully with Temporary Protected Status, and his siblings are also DACA recipients," Torres added.
"Javier should never have been issued a final order of removal and certainly should not be deported to Honduras, a country that is not his home."
In a statement to Newsweek, Torres said: "The deportation machine of ICE is a violent assault on one of FDR's four freedoms: freedom from fear. Only comprehensive immigration reform will set immigrants and their families free from the sheer terror of deportation."
This article has been updated with a statement from Rep. Torres.