Jawan M. Jackson Casts a Spell on Broadway with 'Ain't Too Proud'
Jawan M. Jackson possesses a smile as wide as the Detroit River. As the Temptation's Melvin Franklin in Broadway's Ain't Too Proud—The Life and Times of the Temptations, Jackson's distinct basso wraps itself around the theater and back.
The actor, 32, not only shares a strong vocal and physical resemblance to the real-life Franklin, but he also inhabits the singer's spirit, generosity and commitment—in character and in person. He even constantly carries Franklin's old Motown I.D card, a gift from Franklin's wife Kim English.
Ain't Too Proud is up for 12 Tony Awards, including best musical, best book of a musical (by playwright Dominique Morisseau, the 2018 MacArthur Foundation "Genius Grant" winner), best direction of a musical (Des McAnuff), best choreography (Sergio Trujillo), best performance by an actor in a leading role in a musical (Derrick Baskin, as Temptations founder Otis Williams) and best performance by an actor in a featured role in a musical (Ephraim Sykes, as the acrobatic David Ruffin, and Jeremy Pope, as Eddie Kendricks).
The show, based on Williams' book, The Temptations, follows the journey of the longest-running No. 1 R&B group, from young talents on the Detroit streets to the legends they became on the stages, TV sets and airwaves of America. It also charts the band's rise through Motown under the vision, and often strong arm, of famed label founder and executive producer Berry Gordy, and the Temptations' electric intersections with legends Smoky Robinson, Diana Ross, the Supremes and Tammi Terrell, among so many others.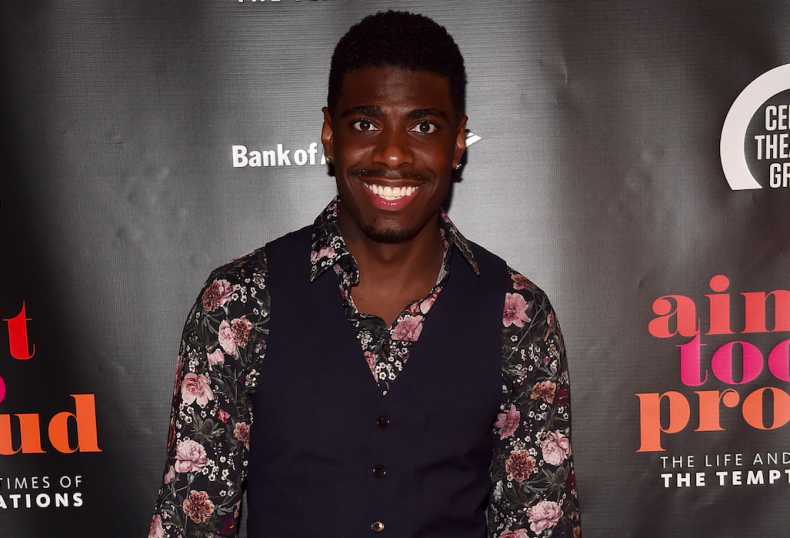 The Temptations' often easy harmonies belied tempestuous times—civil rights unrest, assassinations, addiction and heartache. The musical's title is not only shared with the early Temptations hit "Ain't Too Proud to Beg" but it also reflects the Temptations' compromises and sacrifice in having to tone down their blackness and music to cross over to a "mainstream," white audience. Decked out in suave suits and with smooth moves and just a hint of sex appeal, the Temptations, under Gordy's molding, were made just safe enough to be beamed into white living rooms. Their songs and success opened the doors for countless others—but came with a high personal price. Sitting amid today's largely white Broadway theater audiences, one is struck by the duality of the black actors portraying these bursting-with-talent black performers who were committed to their music and vision and yet were fully aware of the game they must play, the toll that would take on them both as artists and men—and the splitting of selves it all involved, not only for the original musicians but for the actors as well. "You never know who was hating you and singing along to your record," muses Williams in the musical. It's a powerful line that resonates on multiple levels.
The musical is also a reminder of the rise and impact of television, the centerpiece of 1960s American homes, and how shows like Soul Train and American Bandstand facilitated the Temptations' and other bands' popularity and white crossover.
The Temptations had a driving and uplifting sound that was propelled upside and sideways by the likes of Ruffin, Kendricks, and Dennis Edwards, among other leads. The band survived life upheavals, dissent, divorce, deaths, several incarnations and 20-some members. Williams and Franklin were not only founding members in the late '50s but they were also the two remaining originals in the '90s.
The son of a preacher, Franklin was a 15-year-old street singer who knew Williams from school when Williams personally asked Franklin's stern mother if he could sing with his group. Franklin inevitably sacrificed all for the band, even his body: He retired in the early 1990s due to complications from rheumatoid arthritis exacerbated by the rigors of performing.
Jackson, like Franklin, had the church in his blood. The grandson of a pastor, he knew he wanted to act since age 12. He was a tenor in the church choir before his voice broke and turned "ugly."
"I was just singing in church and my voice dropped, and I thought it was just ugly. I thought this was just the ugliest thing I ever heard, and I didn't know what I'm going to do with it," said the actor. But Jackson worked with his choir director and took inspiration from bass singers like Franklin, Barry White and Lou Rawls. After his first church solo with his newfound voice, he said, "I loved the response from the crowd—they were actually receiving me. Once I got confident, I realized no one is doing what I was doing. Especially in popular music." Jackson developed his "chords of steel" and onstage sustained baritone by singing every Sunday and successive church services, sometimes three to four in a row. For his role as Franklin, he "copied" his grandfather's rich, deep baritone.
Jackson studied biology and biochemistry at Eastern Michigan University before switching to and graduating from its theater arts department. He worked as a theater teacher to middle and high schoolers (and is now involved with Rosie's Theater Kids) as well as a radio personality before acting in Sparkle (where he had a fateful encounter with Whitney Houston), The Get Down and Motown: The Musical—his first stint as Melvin Franklin. Jackson, who didn't have an agent, pushed for an audition with Ain't Too Proud but couldn't land one. When he was called in for the second round of auditions—his current castmates had rallied for him—it was undeniable he was perfect for the role. Once signed, Once signed, Jackson spent an intensive six weeks, 9 to 5, learning the complex choreography.
Jackson had long had a connection to the famed Motor City sound. His grandmother had an undying and outspoken love for Marvin Gaye. His cousin, Jackson learned, had dated Melvin Franklin. "The Motown sound was always part of my life," explains Jackson. "Detroiters, any time a party comes on, we do this thing called a ballroom dance. It's kind of like a hustle.... I happened to be on the dance floor dancing, and Martha Reeves just happened to be there, and we just started dancing. She became my unofficial dancing partner out there. So I have connections all the way, through and through Motown, directly and indirectly."
Like Motown's, the Temptations' impact is as far-reaching as it is long-lived. Two of their songs were covered by the Rolling Stones: "My Girl" appeared on 1967's Flowers; "Ain't Too Proud to Beg," the 1966 no. 1 R&B hit with Ruffin as lead, was released by the Stones as a single from It's Only Rock 'n' Roll (1974); and "Just My Imagination (Running Away With Me)" featured on 1978's Some Girls." It's not much of a leap to see Mick Jagger singing the covers, with his strutting and fly outfits, to be reminded of the strong influence the Temptations had on the longest-running rock band—and their "melding Motown with their Muscle Shoals," as Rolling Stone magazine noted.
Jackson hopes that with the success of the largely black Ain't Too Proud, and its array of talent, we begin seeing more diversity on Broadway. The actor added, "Before this, the five of us could have never done a show together. We would have been competing for the one and only role.... It's such a powerful and inspiring moment for me. I oftentimes look back and I get fooled: I get to be onstage with my brothers, and we're playing strong men, positive men, people who are icons.... But the music was colorblind. The music was the thing that brought everyone together."
"Don't nothing rewind but a song" is Williams' refrain and lament, but Ain't Too Proud comes as close to a rewind as possible. One can sit back to enjoy on the songs and choreography and to reminisce, but the fraught music industry and racial dynamics, with all their implications, are also all there if one wants to go deeper. There is, as they say, something for everyone. Ain't Too Proud is at its essence the story of talents shaped by their Southern origins and church upbringings yet impacted by hardscrabble Motor City urban life and the expectations and trials of being black men in America, of men who were driven not only by their love of the music but also their love of each other. Watching Ain't Too Proud one can't help but be aware of what a well-integrated machine the Temptations were and how all the parts—all the performers, onstage and in life—worked in service of the whole. Said Jackson, "Art is meant to be shared. When you come see our show, we're sharing the love of the music, the love of these men, and you can feel it through and through."