Jay Cutler Spent His Night Tracking Down A Chicken Serial Killer
Former Chicago Bears quarterback Jay Cutler is facing a peculiar mystery, and it all has to do with his chickens. The NFL star let his Instagram followers in on his search to find out what—or who—is killing his chickens.
Cutler's Instagram stories beginning on Wednesday explained the confusing situation. "We've got a chicken serial killer on the loose," he started. "We've lost quite a few. Tonight, we're gonna set up a trail camera—see if it's a coyote, bobcat, I don't know, raccoon. It could be anything."
The NFL player keeps a number of chickens in his backyard, he showed. Though the area appears to be fenced in, an unknown predator has been wreaking havoc. Cutler didn't give specific details about how he was led to believe there was a "serial killer" hunting the chickens. It's unclear how many he's lost, and if they've gone missing or have been found dead.
In his initial explanation, Cutler also joked that the chicken murders could be an "inside job." He pointed to his own cat, Thelma, as a suspect. "There's one other possibility. It could be an inside job," he said. "Thelma over there, while she looks nice and sweet, she's a savage with loose morals."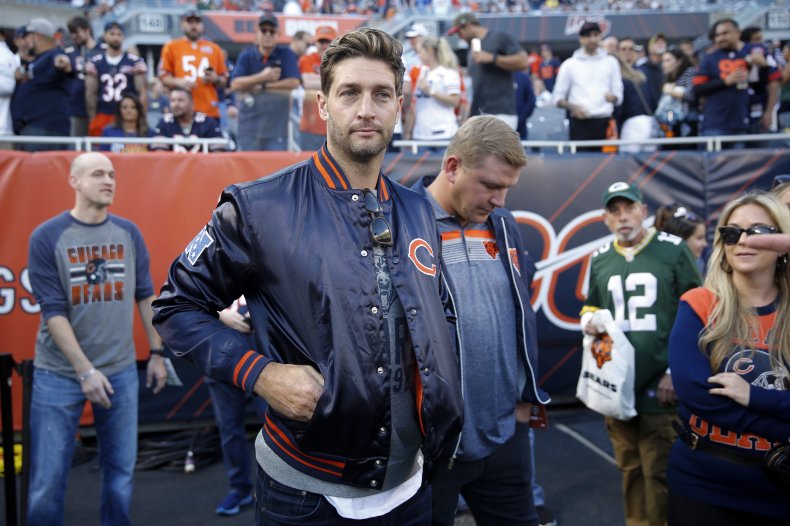 Thelma was declared not guilty in a post on Cutler's feed Thursday. "To the cat: while I'm not sorry you were accused of these vicious acts, I will be the bigger persona and admit I was wrong," he wrote. "You are not the suspect we are looking for."
Later on, Cutler revealed he'd welcomed home even more chickens to replace the ones that were lost to the predator. His plan to stake out the chicken killer didn't go as he's hoped, though.
On Wednesday evening, Cutler showed a storm rolling in. He explained it was unclear if he'd be able to film, and if the chicken killer would even venture out in the rain. So, those waiting to see what happens with Cutler's chickens will just have to wait for another day.
And there are lots of people invested in the chicken saga. Twitter users expressed concern and dedication to the story after Cutler's initial Instagram story.
Newsweek reached out to Cutler for further comment on the chickens but didn't hear back at the time of publication.
Cutler is pretty new to Instagram, but the general public already loves his social media presence. His account is titled @ifJayhadInstagram and was formerly run by his ex-wife Kristin Cavallari. In their pending divorce, Cavallari apparently handed the account over to Cutler, who now really does have an Instagram.
Despite their split, Cavallari sent a sweet Father's Day note to Cutler on Instagram. A photo of their three children was captioned with the note. "Saved the best for last....happy (late) Father's Day to Jay," she posted on Tuesday.
"We had a beautiful day together yesterday at my new house. Modern family? Co-parenting? Whatever you want to call it, we are navigating it the best way we know how. And what I do know is, our 3 kids are lucky to have him as their daddy. Hopefully they all 3 get a smidge of that heart of gold."