Jay Leno Cracks Joke About What Caused Burn Incident
Jay Leno opened up on his health and joked about it after suffering severe burns in a massive fire in the garage of his home in November.
Leno, 72, was treated for third-degree burns on his face, hands and chest after a fire broke out in his home in Burbank, California. He was in his garage working on a vintage car when the blaze started.
The comedian spoke to Kelly Clarkson on her eponymous talk show about what happened to him.
"You've had a couple of accidents recently," Clarkson asked him in a short clip posted to Twitter.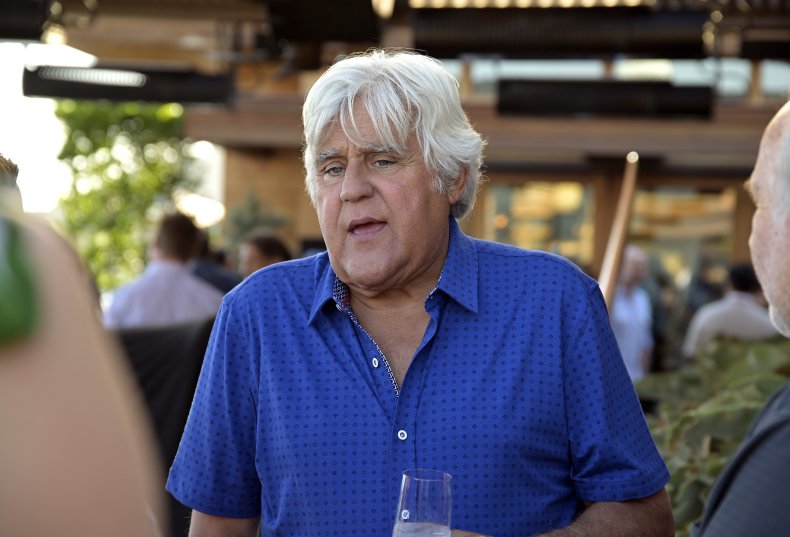 "I was working on a car and I got a face full of gas and it caught fire, I'd been eating a flaming hot Dorito," Leno joked.
Clarkson then complimented Leno saying he looked great after undergoing a surgical excision and grafting procedure to his face, chest and hands.
"This is a brand new face. Only for the second time in my career am I the new face of comedy," Leno replied as he kept the jokes rolling in.
Clarkson quipped back: "Nothing like a great encore."
Leno then turned his attention to "the tabloids" who had "got it all wrong."
"The fact I have smoother skin, poutier lips and a tighter butt has nothing to do with being in the hospital," he joked.
It has been a rough few months for the You Bet Your Life host, who was involved in a vehicle collision with a police car just days after being discharged from the hospital following the garage fire.
Leno was driving to his comeback show at The Comedy & Magic Club in Hermosa Beach, California with his wife Mavis in late November when the tire of his Tesla clipped a police jeep.
Police at the scene brushed off the incident as "no big deal."
But then on January 17, the former late night talk show host was involved in a serious motorcycle accident.
"I got knocked off my motorcycle. So I've got a broken collarbone. I've got two broken ribs. I've got two cracked kneecaps," he told the Las Vegas Review Journal in January.
He told the news site he had been testing a 1940 Indian motorcycle and noticed he could smell leaking gas and thought he should pull over to check it out.
"So I turned down a side street and cut through a parking lot, and unbeknownst to me, some guy had a wire strung across the parking lot but with no flag hanging from it," Leno said. "So, you know, I didn't see it until it was too late. It just clotheslined me and, boom, knocked me off the bike.
"The bike kept going, and you know how that works out."
Following his string of accidents, Leno also learned that CNBC had canceled his long-running series, Jay Leno's Garage.
He had hosted the show since 2015, which featured him showing off his huge car collection and interviewing celebrity guests, including President Joe Biden and Tesla CEO Elon Musk.