Jay Leno Explains Why Woodward Avenue and Gas Cars Still Matter
Woodward Avenue, a main trunk road that runs north from Detroit to Pontiac, Michigan was one of the first paved roads in the country. Because it connected the Motor City to the suburbs it was dubbed "the road that put the world on wheels" by US Secretary of Transportation Norman Mineta. The street name has been and continues to be synonymous with cruising.
It's no wonder that since 1995 most of the stretch has been home to the annual Woodward Dream Cruise, the biggest one-day car gathering in the world now drawing about 1.5 million people. And even though the same week hosts the luxury Pebble Beach Concours d'Elegance car show/auctions across the country in California, it's still the most important Saturday in the automotive world.
It started as a charity event to fix up a soccer field, and this year the Dream Cruise, on August 20, will bring in about 40,000 cruisers from across the country and world. A lot of enthusiasts from the eastern seaboard head over, as well as fans from New Zealand, Australia, Japan and more.
There are no rules on the cars that participate, just that the ones cruising stay in the outside two lanes. Onlookers set up chairs, tents and barbecues on the grassy boulevards on both sides of the divided four-lane highway.
Those fans will see a ton of classic muscle cars from the '60s and '70s, pre-war antiques, modern exotics and even Radwood-era '80s and '90s cars that are coming back into fashion as Gen Xers get older and more financially sound. The best part is that fans get to sit still, the cars come to them.
Automakers see the importance of the annual event, especially, but not limited to the ones that call Detroit home. Over the years a number of big reveals have happened, and this August is no different.
Dodge has made the new M1 Concourse racetrack in Pontiac its home for the week of the cruise. It started with Roadkill Nights, legally drag racing on a small portion of Woodward the weekend before the cruise. On Monday it introduced the last Dodge Charger and Challenger. On Tuesday it revealed the new Dodge Hornet crossover and on Wednesday the new EV era of muscle cars began for the company.
Ford, one of the main sponsors of the cruise, always has a few tricks in store for the event. It usually sponsors Mustang Alley, a grouping of Ford ponycars at 9 Mile Road at the southern end of the cruise. It also rents out a restaurant along the path, showing off the latest Ford Bronco Heritage Edition, Mustang or even a special edition of the Ford GT supercar.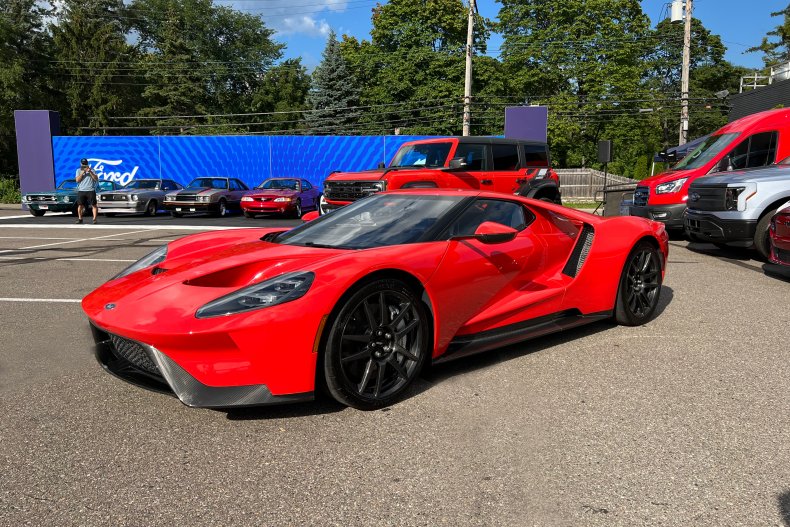 "Absolutely it still matters. It's the biggest car cruise in the country. And it's a display of the love and the passion of cars through the decades," Mark Gruber, Ford Enthusiast Marketing Manager, told Newsweek. "It doesn't matter if it's a 1950s or '60s or a modern vehicle. People just share that love and it's a great celebration of what the cars mean to everybody,"
Funny man, ex-Tonight Show host and current CNBC host Jay Leno skipped Pebble Beach this year to make a pilgrimage to Detroit for the cruise. He's attended both events, multiple times. And even though Monterey, California, where they hold the Pebble Beach Concours, is basically in his backyard, Detroit holds a special place in his heart.
"I like it because, you go to [Pebble Beach] and guys own a lot of cars. You come to the Woodward Dream Cruise, and you meet a lot of people that have one car. Maybe it's a family car or passed down from way back, but they cherish it, take care of it," Leno told Newsweek.
"That's what's fun. It's nice to look at Ferraris and Lamborghinis but there's something I really like about seeing a '68 Dodge Dart. The car scene is different here. Guys still have the Chevelle from high school, and now that their kid is going to college, they have time to work on it. Everything is a project in flux. And I like that sort of egalitarian blue-collar aspect. It's fun to look at the exotic stuff, but in the real world these cars are more like what real people have," he said.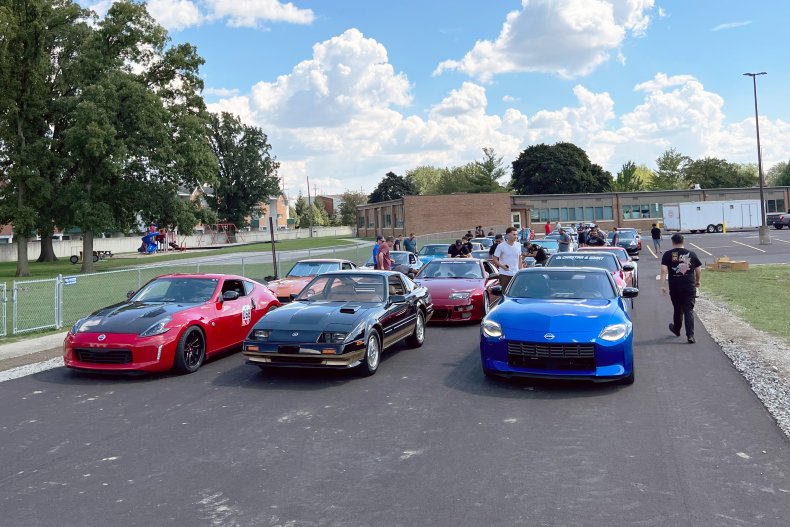 Nissan is using the opportunity to bring out its latest Z sports coupe. The brand will held a gathering of significant historical Z cars, followed by a one-make cruise up Woodward Ave. with a police escort. But even without the meet up, all manner and age of Zs would be cruising anyway.
Xavier Owens has a 1990 Nissan 300ZX and his wife Brianne has a 1975 Datsun. They both came out for the Nissan event, where they got to drive down Woodward behind a police escort.
"The Dream Cruise is a great time to get everyone in the community out in the same area. Whether you're parked on the side enjoying the show or you're in it and driving the road," Owens told Newsweek. "Everyone's out to have a good time and enjoy something that we all share in common, which is our love of cars. It's the joy of either being able to either build your car or buy a car that you really wanted for a long time.
For Michael Lary, President of the Woodward Dream Cruise and Ferndale resident, it's all about of talent of both the designers and the home builders. He likes most of the wild and wacky stuff.
"It started in Ferndale with a local resident who wanted to raise money. Here we are in 2022, we never thought it would grow into what is today," Lary told Newsweek. "It evolved and now after 27 years there's a new audience."
"When it comes to the talented people that rebuild and restore, they have creative ideas on what these vehicles should be. They might take it in a way that some guys might not like. But everyone has a right to do it how they see fit. It's going to be a diverse and eclectic-looking cruise and that's okay. There's a wire frame Beetle out there, how long did that take? What creative vision. That's what it's about. Originals and customs, hot rods and the unique and the outlandish, that's what it's about.