Ring of Honor's Jay Lethal Talks Upcoming Match with Will Ospreay at Death Before Dishonor and All In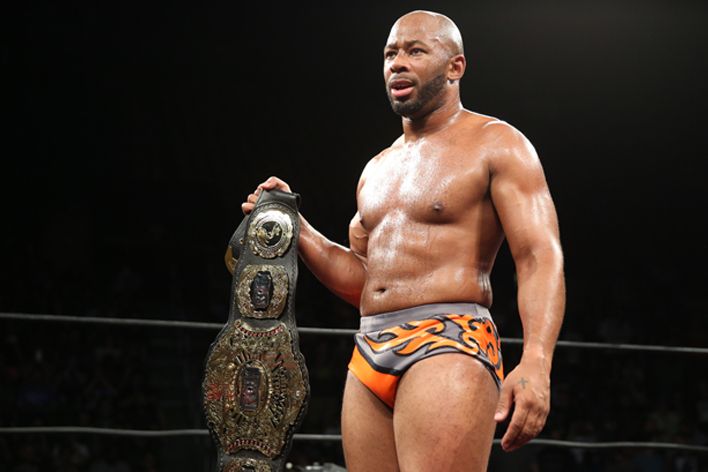 There are more options for wrestling fans to get their fix than ever before. And in the middle of this current boon of wrestling is Ring of Honor World Champion Jay Lethal. Not only does the 17-year veteran hold the top title for the Baltimore-based promotion, he continues to anchor its deep roster as he goes up against some of the best wrestlers from companies around the world. His next challenge is U.K. high-flyer Will Ospreay at the Death Before Dishonor pay-per-view in Las Vegas, where he'll his title on the line.
Newsweek spoke with Lethal ahead of his match at Death Before Dishonor about his time at Ring of Honor, the state of wrestling today and his memorable performance at All In.
Editor's Note: This interview has been lightly edited for clarity and length
What's it been like working for Ring of Honor, and what are your thoughts on the rise of independent wrestling?
I love working for Ring of Honor. I'm the world champion right now, and I've been at ROH for years. I don't know many people are aware, but I was at Ring of Honor from 2003 to 2006. Then I went away for a while, and this is my second run. I came back to ROH in about 2011, and ROH has been amazing ever since.
What's cool about ROH is it's always had—and, of course, this is my opinion, but it's an opinion most fans share—one of the best rosters. No matter what era, you compare Ring of Honor's roster to anyone else's, ROH wins hands-down, every time.
We've had in the past—Bryan Danielson, CM Punk, Samoa Joe, Nigel McGuinness, Austin Aries, AJ Styles, Seth Rollins. Look at all the champions in all the other companies, past and present. Most of them came from ROH. The proof is in the pudding. ROH's roster has always been amazing. That's the coolest part about ROH.
Also, we're breaking down walls. A lot of people know Ring of Honor sold out Madison Square Garden. Many people—especially the wrestlers—believe that the only way to work at MSG, which is on every wrestler's bucket list, would be to work for the WWE. But times have changed, and history is about to be made because Ring of Honor, which many consider to be an independent promotion. It's much more than that. It's an exciting time, not just for ROH but for wrestling in general. We got a lot of companies working together. We're working with New Japan.
One of the crazy parts about wrestling is if you want your promotion to do the best it possibly can, you kind of have to be selfish, you know? You gotta want to only have your wrestlers seen, only your product to be shown or featured. Only your champion talked about. But when you can put that aside, so the fans can get something special, then the fans and wrestling as a whole just flourishes. So ROH and NJPW have joined forces.
It's also started other companies to join forces and put on matches fans didn't know they wanted to see or would get to see. So it's a win-win for everybody. As a professional wrestler, I love it when the fans get it. They react better, they feel it more when you're in the ring. Professional wrestling as a whole is doing pretty darn good.
The fans get to enjoy those cross-promotional matches, but how does it feel as a professional wrestler to match up with people you never thought you would?
It's amazing. Before Shinsuke Nakamura went to WWE, I got to work with him. I've been a fan of his and was like, "Man, I don't think I'll ever get to work with him." Then all of a sudden New Japan does a show with Ring of Honor, and I'm on with him. It was unreal to me.
So not only do fans get to enjoy it, but the fan inside every professional wrestler—the thing that made them want to join in the first place—they get to win as well.
I feel like I've won the lottery with my wrestling career. I've gotten to do things where I don't have to set a goal or have a list of what I want to do. I've been at the right place at the right time and the talent to keep me in that spot. I got to do so many things, wrestle so many people that I only dreamed I would wrestle. It's been a wild ride.
You're the current World Champion, and ROH recently posted something about your having a 500-plus day combined reign. That's crazy.
I saw that, and I was like "no way!" That's amazing. Ever since I started at ROH, I remember the days when I "seconded" Samoa Joe to the ring. Which means I came out, I held his towel, I watched his back. Not like his partner, I was much lower than that on the totem pole. But I can remember sitting ringside for the world champion Samoa Joe. Fast-forward and I'm the world champion. It's unreal.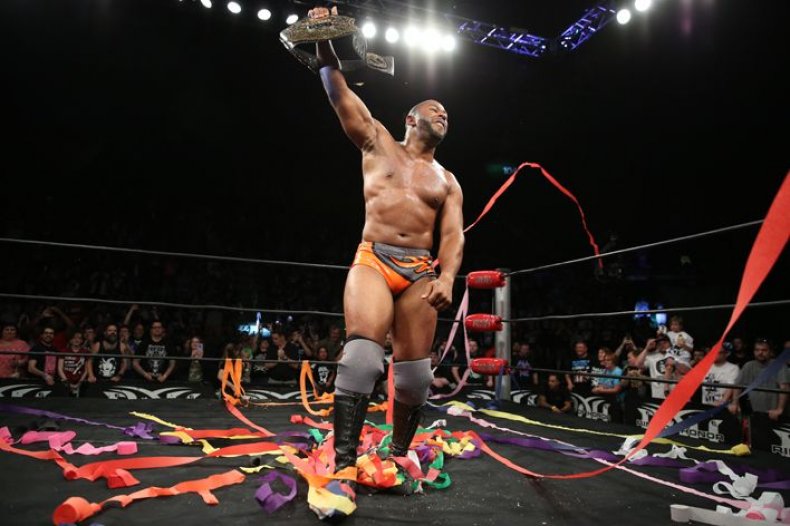 Is there an added pressure to be the face of the company?
One hundred percent added pressure. Not only from all the new eyes of people who have never heard of Ring of Honor, but now you are working and you have to hook and wow them so they can want to keep watching. Especially since we sold out MSG people are talking like "hey, what is this all about? Let's check this place out."
But more than that, you have a roster of the best wrestlers in the world and the world champion has to follow all of that. The pressure is UNREAL, but I welcome it. It makes me feel alive. It's something that makes me feel like I can keep pushing myself to stay at that top level. To keep pushing to be the best or one of the best. It's that ultimate motivation and I love it.
Do you think you're at your peak?
I thought I was at my peak when I first had my first world championship run. And I thought I was at my peak when I was in the ring with Shinsuke Nakamura, I said to myself "man I must be doing something right that they gave me a dream match."
And I thought I was at my peak when I wrestled Roderick Strong and we had a match that went for one hour and went to a time-limit draw. And I think I'm at my peak now. So what I'm trying to say is that I have no idea [laughs]. Part of me hopes that I am and the other part of me hopes that I'm not there yet.
How was it to be part of All In?
It was a history-making event. I'm just thankful that they wanted me to be a part of it. I'm thankful to not only be on the show but to represent Ring of Honor. And I'm still the world champion.
Just that weekend, there was an event before All In that lasted three days called Starcast where I got to meet fans from all over the world who came far and wide to be part of this history-making event. They wanted to be there because it was so special. This wasn't a conglomerate company, mass producing tickets. This was grassroots.
This was the indy wrestlers at their finest banding together and saying "we can do this and we have the fanbase to do it." And boy did they. They sold more than 10 thousand tickets in about 20 minutes which have never been done before. I don't believe there's any promotion, especially not in the US, to sell that many tix that fast in recent years. It was a really cool honor to be a part of such a special history-making event.
What was it like to go out there like the Macho Man and getting all of that together?
It was amazing. Here's a couple of reasons why: One, the ring jacket was a legit Macho Man Randy Savage jacket. I don't own the jacket, and I had to give it back, but it was his jacket. So that had a special feeling going into it. It was a day that would rarely be topped just from that.
Also, I got to come out with a good friend of mine who I've known for years, Lanny Poffo. Lanny got me to talk to the Macho Man before he passed away and I'll never forget that. So having Lanny out there with me that was something special. When the pomp and circumstance music went on, the crowd, man... the reaction was incredible.
Probably the number-one reason the event,was special for me is all the people on that show. Much like a Ring of Honor roster, from top to bottom, each wrestler dons a title as one of the best wrestlers in the world. That means every match is probably going to be one of the best anyone has ever seen. It had every different style, every different type of match on the show. Of course, I could try and have the best wrestling match possible, but that's what everyone else was going to do, so what could I do that no one else could bring to the table? That's how we decided to do the Machismo, to try my best to stand out. And I thought it worked.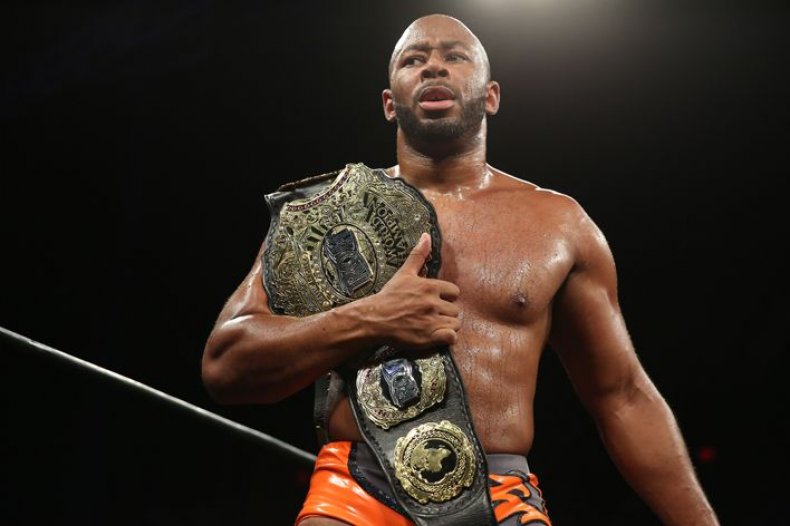 You have a title match at Death Before Dishonor with Will Ospreay. Can you talk about that?
Will is the greatest high-flyer of my generation, probably the greatest high-flyer I've ever seen. When we step in the ring, like we did once before, only once before, and it was just a brief match on a TV taping, but now we have the grand stage on pay-per-view.
The sky's the limit, no pun intended, because Will Ospreay loves to fly. But the sky's the limit to the type of match we will bring to the fans. Especially when something so important is on the line, like the Ring of Honor World Championship. Like I said, there's that added pressure when you're the ROH World Champion, you have to follow guys like the Young Bucks, or someone who I consider one of the best wrestlers who don't get the credit they deserves, Chris Sabin, who fights for the ROH Television Championship.
You have to follow two of the best women's wrestlers out there, Sumie Sakai versus Tenille Dashwood. You have to follow Jushin Thunder Liger versus Kenny King. There's Bullet Club, Marty Scurll and Cody with the Young Bucks versus Okada and Chaos.
Talk about pressure! [Laughs] The pressure is definitely on. But I look forward to it, and me versus Ospreay should be something special.
Do you get nervous working with wrestlers like Ospreay, who put their bodies on the line?
Someone like a Sabu, they have no regard for their own well-being. If it will entertain and it's high-flying, they'll try it. It's terrifying but I love it. The reason I'm terrified is because some new flip is created every day, every second. So how do you prepare? It's so wild.
Here's another thing, and I don't know if the fans can fully grasp, but some of those flips for the guys who can do them, when the crowd is wild and hyped... it's almost like it motivates them even more and it allows them to do two or three flips instead of just one. It's outrageous. One day, they really need to create some kind of well-made documentary about the ins and outs of wrestling from the eyes of a luchador or high-flyer like Will Ospreay. It would be amazing just to see some of his practice routines, what he does outside of wrestling to do what he does in the ring. It's so athletic, it's outrageous.
So yea, I'm a little worried for all those flips. I mean, I don't know how to prepare for them. [Laughs]
What do you say to wrestling fans who aren't familiar with ROH to encourage them to come check it out?
Quite simply, Ring of Honor is the best professional wrestling on the planet. If all you know is WWE, don't feel bad. I've been a fan of the WWE; they created my love for professional wrestling. I remember sitting at home and watching my favorite wrestlers—Macho Man Randy Savage, Ric Flair—on television. But when you fast-forward to the present and you look at the current and past champions—like AJ Styles, like Seth Rollins, Daniel Bryan, Samoa Joe,—all these top guys from WWE came from Ring of Honor, because ROH always had the best roster, always had the best wrestlers in the world. And other companies, alongside WWE, have constantly taken talent from Ring of Honor, because it does a great job of housing and having the best wrestlers in the world.
For the WWE fans: see where those guys came from. See what Ring of Honor is all about. We sold out Madison Square Garden, which most people thought was impossible. But times have changed. The wrestling business is changing. The Young Bucks and Cody Rhodes sold out the Sears Center, but the professional wrestling business is in a boom period, and live from Las Vegas Ring of Honor will put on the best wrestling show.
ROH Death Before Dishonor airs live on Friday, Sept. 28 at 9 p.m. EDT on traditional cable and satellite Pay-Per-View providers, and streaming free for HonorClub VIP, 50 percent off for HonorClub Standard members, and through FITE TV.