5 Things to Know About Jay Sekulow as Donald Trump Impeachment Trial Kicks Off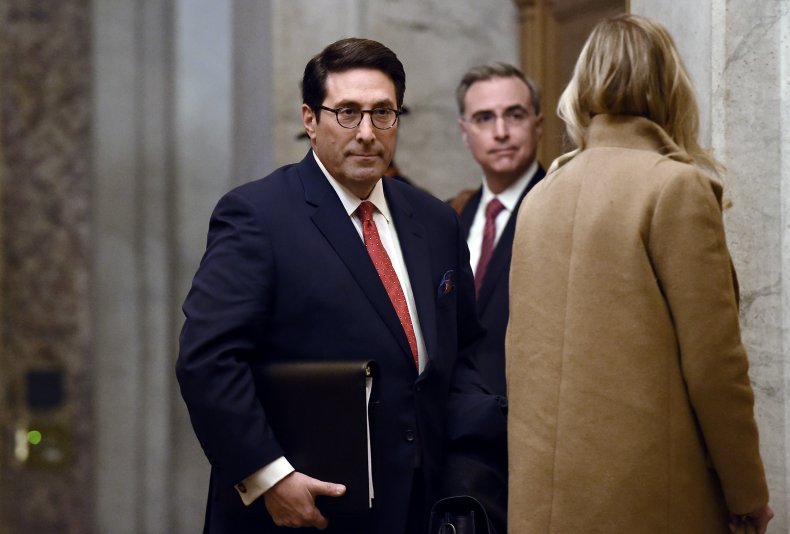 President Donald Trump has assembled a cast of attorneys to defend him during his impeachment trial that includes one of the most outspoken voices in conservative media.
Among the most prominent eight lawyers leading his defense—a joint presentation by the White House and the president's personal attorneys—are Ken Starr, the independent counsel who pursued the impeachment of President Bill Clinton, Alan Dershowitz, the controversial Harvard law professor who has advanced fringe constitutional theories about impeachment, and Jay Sekulow, the president's personal lawyer who is a well-known presence on the talk circuit.
Sekulow has advised President George W. Bush on judgeships in the past, as well as former Massachusetts Governor Mitt Romney on his presidential campaign.
He has a background in constitutional law, and his placement at the nexus of a high-profile media drama and a rarely invoked constitutional process may be well-suited to a president who prioritizes panache as much as credentials.
This is not the first time Sekulow has collaborated with the president, and his previous work may help illuminate how he intends to proceed with Trump's defense. Here are five things you need to know about Jay Sekulow as the impeachment trial begins in earnest.
He was a defender of the president during the Russia probe
Sekulow was among the members of the rotating legal crew tasked with defending the president's interests during special counsel Robert Mueller's investigation into election interference and later questions about the Trump campaign's participation.
While Sekulow has called Mueller "professional," he also slammed the probe and attempted to cast it as an illegitimate inquiry. Before the full, albeit redacted, report was unveiled to the public in April, Sekulow and Rudy Giuliani, also a private attorney for the president, were given permission to review copies for at least 10 hours at Justice Department headquarters.
Responding to a question about whether it would have been in the public's interest for Trump to sit for a live interview with Mueller's investigators, Sekulow demurred. He told National Public Radio that he would "completely disagree" with that proposition and emphasized that "there's no constitutional right to the interest of the public."
He is a noteworthy Christian lawyer advocating for religious causes
The American Center for Law and Justice (ACLJ) is a prominent conservative, Christian organization known for its advocacy on behalf of religious freedom. Sekulow serves as the organization's chief counsel and has appeared before the Supreme Court on its behalf in cases concerning religious expression.
Pat Robertson, the evangelical television personality, founded ACLJ in 1990 with the stated goal of stopping "the [American Civil Liberties Union] in court." According to the Southern Poverty Law Center, ACLJ "is one of the main U.S. religious-right legal powerhouses, and it has built partnerships with an array of Christian Right groups, including the rabidly anti-gay American Family Association."
The group works not only on domestic conservative, Christian causes but intervenes in cases around the world. The left-wing group Political Research Associates described ACLJ's work in Africa as "ensuring African constitutions and laws criminalize homosexuality."
He is an opponent of pro-abortion groups, both in and out of court
Sekulow has appeared in court as defense counsel for Operation Rescue, a hardline anti-abortion group, and has defended other abortion opponents. In 2016, Sekulow wrote on Twitter that "crisis pregnancy centers provide untold help to women in need." These centers are often criticized for misleading women into thinking they will receive abortion counseling while simultaneously steering them towards pro-birth options.
The Augusta Chronicle reported on comments he made at a crisis pregnancy center's 2014 banquet in which he compared the provision of abortion to terrorist groups such as ISIS, according to the paper.
After Trump floated the possibility of criminal penalties for women who seek abortions if the Supreme Court were to overturn Roe v. Wade, Sekulow came to the president's defense, noting that he would be legally correct to imply that states could set criminal penalties for women seeking abortions in a hypothetical scenario.
Sekulow did emphasize that he wasn't sure if this would be "the right policy," but in explaining how the country was not in the right place politically to enact these changes he added, "that may be shame on us in one sense."
Sekulow is a firebrand radio host and conservative pundit
On Jay Sekulow Live!, a daily radio broadcast, the conservative lawyer regularly comments on matters of critical importance to Trump and the Republican Party. He is known for echoing, and often pre-empting, grievances aired by the president about a range of issues. Often, this mirrors some of Trump's most inflammatory rhetoric.
For example, in a discussion with his son, who also appears on the broadcast and frequently hosts it, Sekulow called the actions of Andrew McCabe, formerly the FBI's deputy director, a "soft coup."
Sekulow has claimed that the show reaches more than 1.5 million listeners. About 1,000 stations across the United States carry Jay Sekulow Live!, and it is livestreamed on Periscope.
A professor who studies talk radio told the Los Angeles Times that Sekulow's format is one where he "expresses outrage and uses lots of vivid examples about how his side is persecuted, and tells his audience over and over again that they should be mad as hell, and they shouldn't take it anymore."
Other commentators have suggested that Sekulow uses the broadcast to augment a more formal defense of Trump proffered in less public spaces, such as in the courtroom.
"If it's in the news, I've got to cover it," he told the Times.
He plays Christian rock music with political overtones
Sekulow is the lead guitarist for the Jay Sekulow Band, a rock group that performs original material and covers of classic songs. John Elefante, the Christian rock musician and former lead singer for the group Kansas, is the band's lead vocalist.
The Jay Sekulow Band collaborated with country singer Lee Greenwood in a rendition of his most famous song, "God Bless the U.S.A."
The band's music often strays overtly into politics. One song, titled "Undemocratic," is about the former commissioner of the Internal Revenue Service, Lois Lerner.
5 Things to Know About Jay Sekulow as Donald Trump Impeachment Trial Kicks Off | Politics