Jay Z, Miguel and Others Protest Police Brutality With Song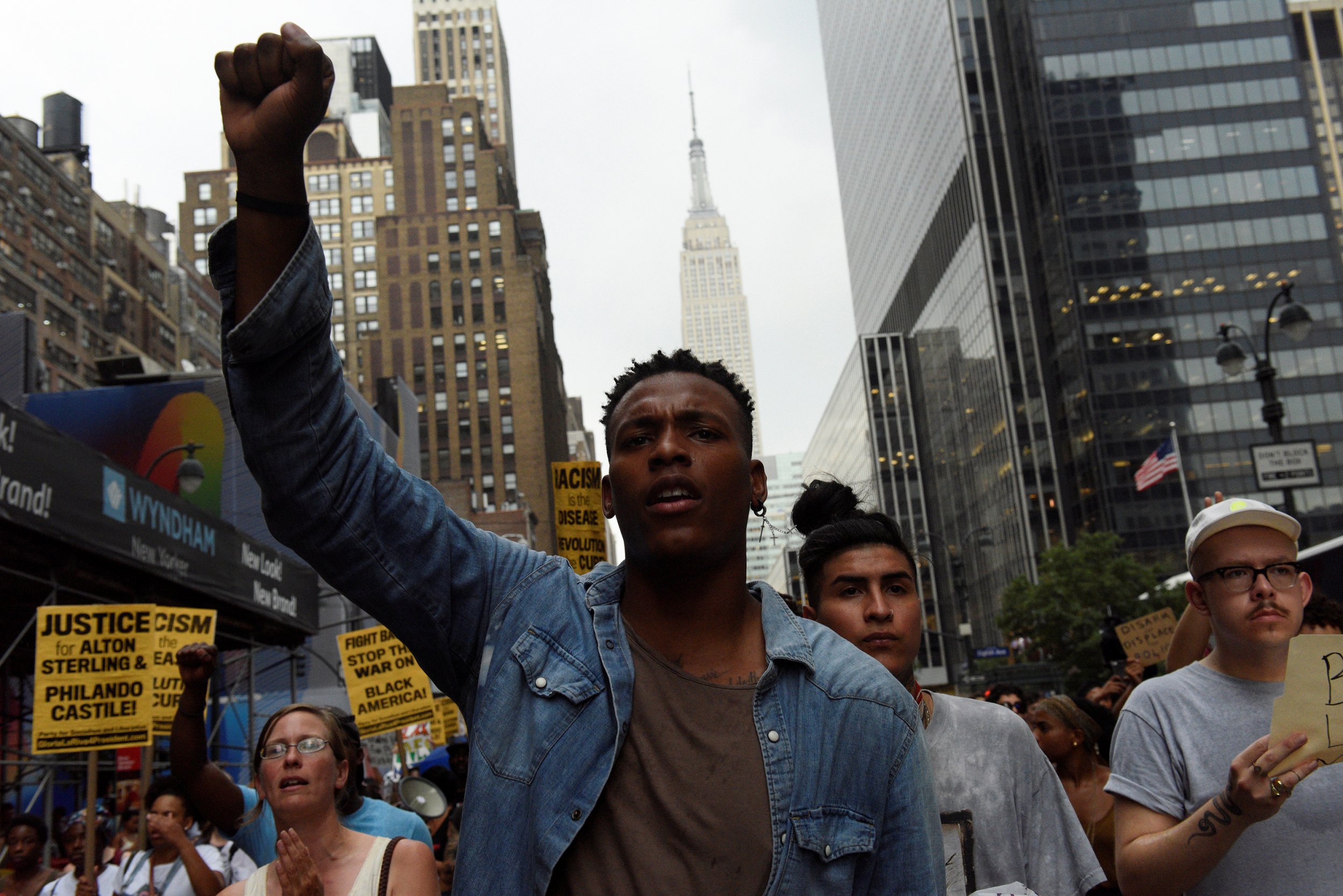 Hours after Beyoncé posted to her website a stark, black-and-white response to the killings of Alton Sterling and Philandro Castile, her husband, Jay Z, released a response of his own. Late Thursday night, just as the world was learning that five Dallas police officers had been shot and killed during a Black Lives Matter protest, Jay Z released a song called "spiritual."
In the song, Jay Z raps, "I am not poison/I am not poison/Just a boy from the hood that/Got my hands in the air/In the spirit don't shoot I/Just want to do good," before touching on themes of "trans-generational trauma," "scars that never healed" and other bigger-picture issues that come with being black in America.
Accompanying the song was a black-and-white message lamenting the lack of progress the country has made. "Punch (TDE) told me I should drop it when Mike Brown died, sadly I told him, 'this issue will always be relevant.' I'm hurt that I knew his death wouldn't be the last," he wrote.
The letter ended with a quote from Frederick Douglass:
"Where justice is denied, where poverty is enforced, where ignorance prevails, and where any one class is made to feel that society is an organized conspiracy to oppress, rob and degrade them, neither persons nor property will be safe."
Jay Z is one of several artists to release a song protesting police brutality. On Thursday, Swizz Beats posted to SoundCloud "Sad News," in which he takes a detailed, head-on approach to the specific type of police-on-black injustice that has become commonplace.
"The police not guilty/The police not guilty/Even if it was the wrong fucking guy/The police not guilty," Swizz Beats concludes after describing the types of scenarios that have typically resulted in unjust deaths of black Americans.
Controversial as he may be, Chris Brown has been active on social media in the wake of the shootings of Sterling and Castile, and on Thursday the singer shared a link to a new song, "My Friend."
"This song I released for free for anybody dealing with injustice or struggle in their lives," the wrote on Instagram.
Beyoncé's sister, Solange, also took to Instagram, posting a video of herself covering Syreeta's "Black Maybe."
"Been singing Syreeta's 'Black Maybe' over and over again trying to comfort my weary heart," she wrote. "But what is comfort when the images of slain black bodies left to bleed are sketched into your being...over and over again."
Young Buck responded with a little more aggression, releasing the hard-hitting "Riot" through XXL.
The song begins with a sample from 2Pac. "I would rather tell a young black male to educate his mind, arm yourself and defend yourself than just sit there and turn the other cheek," says the late rapper. "Whatever kind of message that sends, that's the message you need."
On Friday, Miguel joined the chorus, posing a new song called "How Many" to SoundCloud. "This version was started (written/recorded) here in London in my hotel room between the hours of 4 a.m. and around 7 a.m. when i passed out," Miguel wrote. "I'll update this song every week until its complete. Please feel free to share. #blacklivesmatter."
Even if they haven't released songs, the music community has been plenty vocal about their feelings. Drake posted a lengthy message on Instagram. Chance the Rapper over Twitter asked, "Is there any situation where police get arrested? Or convicted?" John Legend tweeted, "We should not have to jump through hoops to prove black people shouldn't be shot by police during routine traffic stops," while Ne-Yo wrote, simply, "Another day, another hashtag."
Erykah Badu, who is from Dallas, tweeted early Friday morning after news of the shootings in her hometown broke.
What more can be said?