Don't Look For Jay Z Songs on Spotify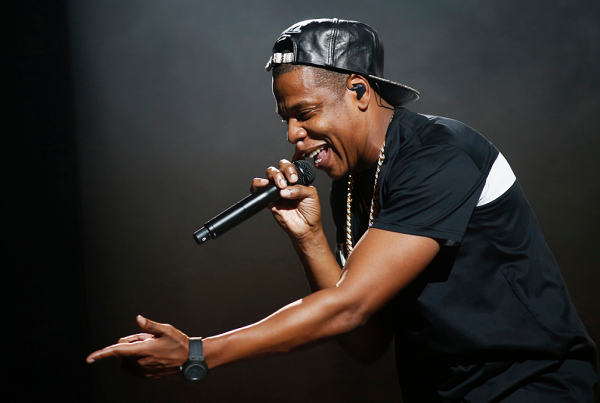 Spotify users will no longer be able to start their day off with Jay Z's inspirational 1996 anthem, "Can't Knock the Hustle," now that the hip-hop mogul has removed the majority of his catalog from the music and video streaming service.
As of Monday, only two of the Brooklyn-born rapper's albums remain on Spotify— 2004's "Unfinished Business" and 2002's "Best of Both Worlds"— both of which are collaborative projects with Chicago native, singer/songwriter R. Kelly. Five singles also are still available on Jay Z's Spotify page; however, of the tracks listed, he only appears as a feature.
It's unclear why Jay Z, whose wife Beyoncé also previously removed her catalog from the streaming service, pulled his music from Spotify. In a statement, reps from Spotify could only say "some of his catalog has been removed at the request of the artist."
The move leaves more than 50 million Spotify users without access to Jay Z's songs and albums, while listeners on Tidal, a music and video streaming service co-owned by Jay Z, will have unlimited access to his 16 studio albums and hundreds of songs and videos. Five of the 47-year-old artist's albums are still available on Apple Music, despite reports to the contrary, including "The Black Album," "Vol. 2… Hard Knock Life," "Vol. 3: Life and Times of S. Carter," "Kingdom Come" and "Magna Carta… Holy Grail."
Jay Z launched Tidal in 2015 along with 16 artist investors. Tidal's claim to fame is providing subscribers with more exclusive content including unreleased tracks, music videos and curated editorial content from big name music-heads and artists. Despite promises of fewer ads, exclusive artist content and mega-star support, Tidal has failed to lure in users compared to Spotify and Apple Music, which has more than 20 million subscribers. Tidal only has about 3 million subscribers.
In January, Jay Z sold 33 percent of Tidal to Sprint for $200 million in hopes to gain access to its 45 million customers.