Jay Z Has Been to Therapy, So We Should Go Too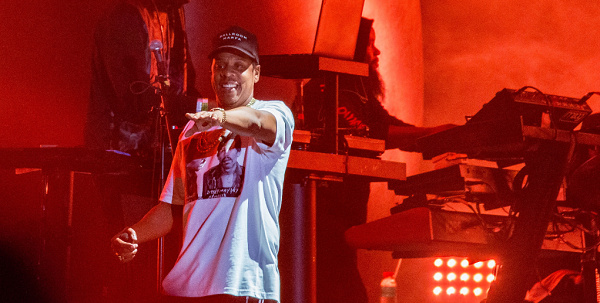 There are a lot of people who suffer from mental and emotional pain. More often than not, they don't feel comfortable enough to talk about it.
Jay Z knows this.
Yes, arguably the greatest rapper alive—and certainly one of the most successful—has had his share of stuff to deal with. And the husband of Beyonce, the father of three—Brooklyn-born Sean Carter—talked recently about how he's healed: with therapy.
Yes, people. Jay Z, "S-Dot-Carter," "H-to-the-Isso V-to-the-Issay," "Holaaaa Hovitoooo," "Jigga Jigga that N*gga Jigga" goes to a shrink. And not only does the 47-year-old rapper have a therapist, he thinks it has been essential for his emotional growth. In fact, there are aspects of his pain and suffering the may never have understand without the benefit of a therapist.
All was revealed in an interview with New York Times executive editor Dean Baquet, while chatting about Jay's chart-topping—and incredibly woke—album 4:44. When Bacquet observed that the album sounds like a therapy session, the 21-time Grammy winner responded with a simple, "Yeah, yeah."
When asked if he had ever been in therapy before, Jay Z again replied, "Yeah, yeah."
The rapper—who is worth about $810 million, according to Forbes—can certainly afford a therapist. And the person he chose to talk to was a referral from friends who have "been through a lot and, you know, come out on the other side as, like, whole individuals."
Jay Z, who said he "grew so much from the experience," summed up the most important thing he learned: "everything is connected," whether we realize it or not. "Being aware of it in everyday life puts you at such a ... you're at such an advantage. You know, you realize that if someone's racist toward you, it ain't about you. It's about their upbringing and what happened to them, and how that led them to this point," he said. "I understand.'"
Black Americans are 20 percent more likely to suffer from mental health issues than the general population, according to the Health and Human Services Office of Minority Health. Yet only a 25 percent are likely to seek help, compared to 40 percent of whites. The reality is that there is a stigma related to therapy among black Americans, and Jay Z detailing his own positive experience might help to change perceptions.
"You have to survive," said Jay Z. "So you go into survival mode, and when you go into survival mode what happens? You shut down all emotions. So even with women, you gonna shut down emotionally, so you can't connect. Just realizing that, oh my goodness, these young men coming from these ... they just in pain."
Jay Z was recently nominated for eight 2018 Grammys.