Jay-Z Urged To Move Oscar Party From Chateau Marmont Amid Protests
Jay-Z has been urged to move his post-Academy Awards party from Chateau Marmont, amid protests over the West Hollywood hotel's alleged treatment of workers.
The landmark facility has faced a barrage of criticism since 2020, when nearly 250 employees were allegedly let go at the start of the COVID-19 pandemic. The hotel has also denied allegations of racial discrimination and harassment.
With Jay-Z, real name Shawn Carter, set to host a star-studded Gold Party at the establishment after Sunday's Oscars, a union supporting the workers has assured that if the soirée does go ahead there, attendees will be crossing a picket line.
Unite Here Local 11 Union told Page Six in a statement that it was asking Jay-Z to "honor the boycott by choosing another venue for the famed afterparty."
Kurt Petersen, co-president of Unite Here Local 11, further told The Hollywood Reporter in a statement: "For Jay-Z to choose the Chateau Marmont for their Gold Party is shockingly insensitive.
"They must move their event and choose an afterparty hot spot that treats its workers, especially Black women, with dignity and respect. Jay-Z has a responsibility to do better."
Rapper and entrepreneur Jay-Z's party is all the more of a hot ticket event during awards season's biggest night, as his wife, Beyoncé, has been nominated for a Best Original Song Oscar for "Be Alive" from the biopic King Richard.
"Celebrities have a responsibility to lead by example. Jay-Z has the opportunity right now to do just that by listening to the stories of Chateau Marmont workers and move his event to a location that treats its workers with dignity and respect," Petersen told Page Six.
Newsweek has contacted representatives of Jay-Z and the Chateau Marmont for comment.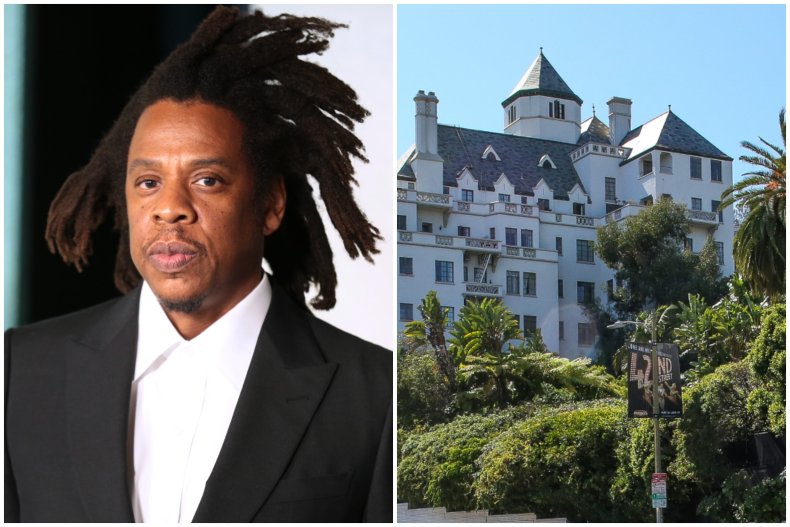 Musician Jay-Z had previously held his Gold Party Oscar party at Chateau Marmont in 2020, with guests including Rihanna, Reese Witherspoon, Kanye West, Kim Kardashian, Gabrielle Union, and Charlize Theron.
However, despite the hotel's status as one of Tinsel Town's most iconic celebrity haunts, a host of complaints have led to a few select stars boycotting the venue.
The Hollywood Reporter revealed in January that Chateau Marmont had been hit with multiple lawsuits the wake of allegations of racial discrimination, sexual harassment and retaliation.
Keisha Banks, who alleged to Page Six in 2020 that she had faced discrimination, told the publication of Jay-Z's party plans at Chateau Marmont: "We constantly see Black elites putting their fame and money before their fans.
"By now, Jay-Z and Beyonce must be aware that Chateau's workers have spoken out about being mistreated. They should be leveraging and moving their dollars elsewhere in solidarity with the people they claim to support and who are calling out for justice.
"At this point, the news on Chateau is out there, some celebs are willfully choosing to ignore it. The working class is sick of seeing the rich virtue signal."
When The Hollywood Reporter published the allegations from workers last September, Chateau Marmont owner André Balazs told the publication that he would make it his "moral obligation" to address any violations of the company policy.
He said that "the Chateau Marmont's 'Code of Conduct' in conjunction with the 'Employee Handbook' specifically prohibits, any unwanted sexual contact with, or any verbal or physical abuse of, anyone at any time."
He added: "If, for any reason, our exceedingly clear 'Code of Conduct'—which everyone must read and sign as a pre-condition of their employment—has been violated, it is my first, singular and moral obligation to correct it—and I will!"
A spokesperson for Chateau Marmont told Page Six: "These meritless allegations are all unproven for one simple reason: they were manufactured in lawsuits bought and paid for by Unite Here Local 11 as part of its targeted efforts to unionize Chateau Marmont.
"Contrary to the bogus claims in these already dismissed, union-backed sham filings, Chateau Marmont has a long and well-documented history of diversity and inclusion among both our employees and our guests."