Washington Man Arrested For Allegedly Vowing Sheriffs Who Oppose Gun Control Law 'Will Be Shot. By Me.'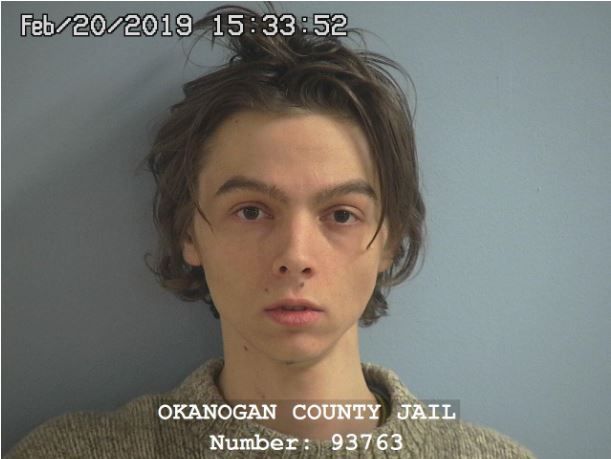 Around dinner time on Feb. 1, Jaydin Ledford's ultra-left leaning commentaries took a twisted turn. He went on the offensive and quickly landed himself on law enforcement's radar, and ultimately behind bars.
"I love how all my nightmares come true," a self-indulgent Ledford, 23, posted early in the day.
On that day and stretching until Feb. 4, the self-proclaimed Marxist (who also claims to "speak for the trees") teed up a series of deleterious threats aimed squarely at Washington State sheriffs.
The social media salvo came as Ledford's retribution for many of them waging a public declaration against the merits of a gun control bill called Initiative 1639. (The new law which passed in November, seeks to put more protections on gun ownership when it goes into effect in July.)
"I-1639 is law," read one of screeds composed by Ledford, whose Facebook profile photo features a headshot snap of a burly Karl Marx wearing a pair of Ray-Ban Wayfarers.
"sheriffs that are non compliant will be shot. by me."

Another post reads: "I really want to kill a police officer."
Ledford was taken into custody at his Omak, Washington home on Feb. 20 by Okanogan County Sheriff's Office deputies, Sheriff Tony Hawley told Newsweek. He was subsequently charged with harassment before being turned over to federal custody and booked into Spokane County Jail.
Newsweek's attempts to reach Ledford's relatives were unsuccessful and it's unclear if he's retained an attorney.
According to a spokeswoman at FBI's Seattle field office, agents had probable cause evidence on Ledford for the federal charge of cyberstalking.
According to the statute, cyberstalking includes "any course of conduct or series of acts taken by the perpetrator on the Internet that place the victim in reasonable fear of death or serious bodily injury, or causes, attempts to cause, or would be reasonably expected to cause substantial emotional distress to the victim or the victim's immediate family."
Hawley explained how a "concerned citizen" informed him about Ledford's alleged threatening social media posts immediately after they posted his account. He learned that they didn't just toss out fantasy blood lust, but actually named names.
At least one of Ledford's posts called out Spokane Sheriff Ozzie Knezovich.
"Ozzie Knezovich is gonna get a bullet in his skull," it read.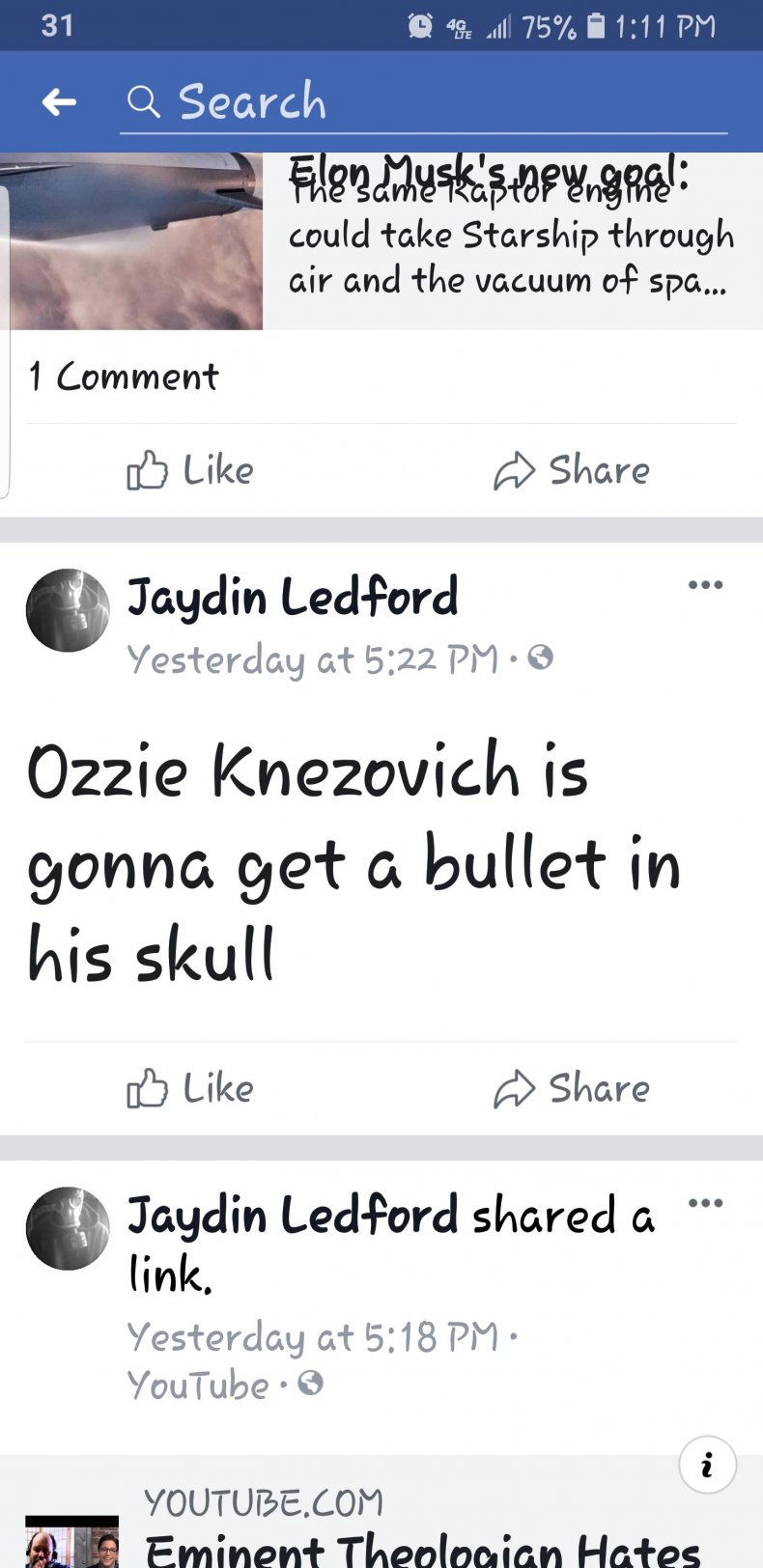 When Knezovich learned about the posts from Ledford (who hadn't been named yet) and that he allegedly "wanted to put a bullet in my brain" he explained that the tactic of "bullying" won't work and that the threat was actually one of many for the past few years.
"I've lived under multiple death threats," he said back on Feb. 5. "This individual needs to be located. This individual needs to be charged and held accountable.
"And maybe if we start doing that, maybe we will send a message to everybody across the board who wants to bully or [be] a keyboard warrior that you're not going to get away with it."
He also found Ledford's messaging to be quite "ironic."
"This is an individual who wants to ban guns -- except he wants to kill people," the puzzled sheriff said.
Hawley was haunted by the messaging and shared his findings with the FBI and other sheriffs in nearby counties.
"We started chatting amongst each other at first," he said, of the first couple of messages, some of which have been scrubbed from his account.
For Hawley, a seasoned officer with almost 30 years of service, he was concerned that Ledford was "upping his game."
He said he told fellow officers, "I said, 'Watch out for this guy, he may try something.' and 'Make sure you're on your toes.'"
To offset any chance of a deputy crossing paths with Ledford, Hawley said he pushed for deputies to go out on patrol in pairs, despite the depleted resources to cover the 40,000 population in sweeping 5,400 square mile radius.
The central cause for concern, he added, was the potential that Ledford could have been calling for it to be open season on "anyone with a badge."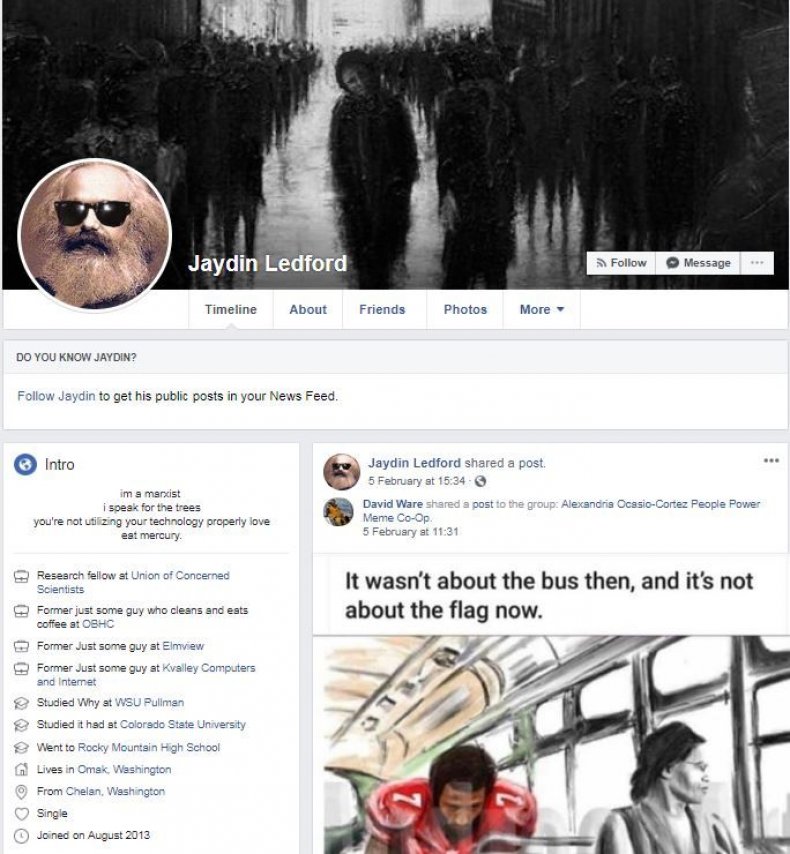 Since Feb. 5, the barrage of supercharged, fanatical posts quit.
Once Ledford was brought under arrest -- and no weapons were believed to be found, Hawley said, he seemed to be aware of the hoopla he'd caused. "He said he saw his name in the news," said Hawley, who also confirmed that the man who doesn't appear to have any priors.
Ledford's alleged beef started with several sheriffs crowing over Initiative 1639 which won a 60 percent voting victory last November.
The measure is specifically meant to implement background checks, storage requirements, waiting periods for semi-automatic rifles and upping the minimums age to buy them to 21-years-old, according to its language.
Federal lawsuits against the state of Washington and its Attorney General Bob Ferguson have already been filed in U.S. District Court in Seattle by both the National Rifle Association (NRA) and the Second Amendment Foundation (SAF) calling the checks on gun ownership to be unconstitutional.
On Feb. 4, Grant County Sheriff Tom Jones joined more than a dozen of his counterparts from around the state declining to enforce the initiative until it's cleared at the federal level.
"I am instructing my deputies not to enforce Initiative 1639 in Grant County while the constitutional validity remains in argument at the federal courts level," he stated in a release. "I swore an oath to defend our citizens and their constitutionally protected rights. I do not believe the popular vote overrules that."
If it does pass the federal threshold, Jones said he would partner with his prosecutor's office "to ensure the best plan moving forward."
"As long as I am Chief of Police, no Republic police officer will infringe on a citizen's right to keep and bear arms," said Republic Police Chief Loren Culp.
"Not only is 1639 unconstitutional there is NOTHING for law enforcement to enforce," Lincoln County Sheriff Wade Magers posted on its Facebook page on Feb. 4, accusing the law of mislabeling semi-automatic weapons as assault rifles, failing to specify how to store firearms safely, and limiting sales to only those who are at least 21-year-old with proper training.
"The Sheriff has no role in the sales of semi-automatic rifles, therefore I have nothing to enforce. In addition, we will not be going into people's houses to determine what safe storage means."
Hawley is also taking a stand against the law for what he perceives as a gun grab.
"The intentions are the same as ours -- they're after safety," he said of the bill's framers. "But a lot of things in the law are restricting law-abiding citizens.
"I have no issue in my profession of arresting criminals for crimes, but I'm not for creating criminals by the legislature. That doesn't fit anybody's needs."
This story has been updated to include Spokane County Sheriff Ozzie Knezovich's comments reacting to the threats prior to Ledford being arrested.