What Jayland Walker Footage Reveals About Shooting of Black Man in Ohio
More details have emerged following the shooting of an un-armed Black man by police in Akron, Ohio.
Protests erupted on Sunday after the release of police body-cam footage showing the events that followed an attempted traffic stop of Jayland Walker on June 27.
Police have said that they attempted to stop Walker for a traffic violation but a chase ensued when he failed to pull over.
In a statement on the incident, police have said officers "reported a firearm being discharged from the suspect vehicle."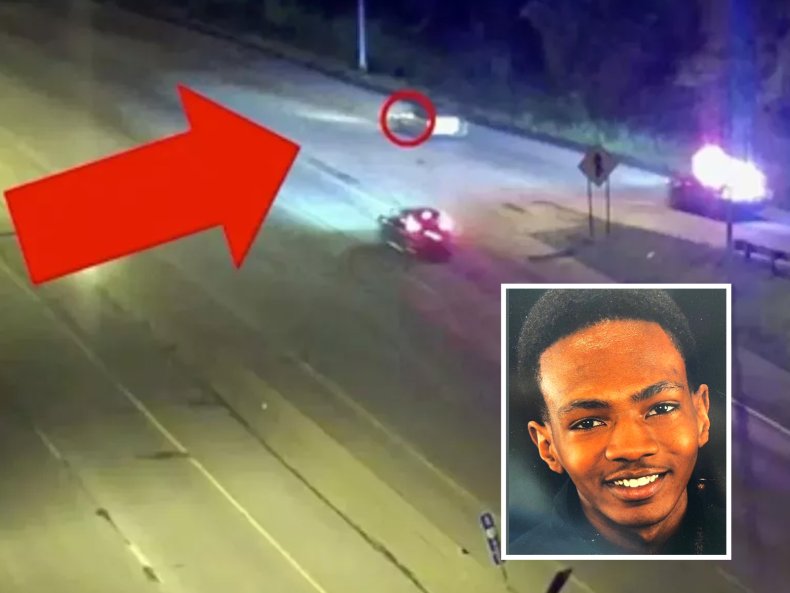 After several minutes, Walker allegedly attempted to flee his vehicle while wearing a ski mask. Police began a foot chase before officers discharged their firearms, fatally shooting him, after perceiving Walker to be a threat.
Following the incident, Akron Police Chief Stephen Mylett held a press conference and confirmed Walker was unarmed at the time of the shooting but police have said they found a gun in his car with a loaded magazine, according to a CBS News report.
"The officers have not been able to provide a statement yet. I am reserving any sort of judgment until we hear from them," he said.
"The EMS [emergency medical services] report indicates over 60 wounds to Mr. Walker's body."
The video footage released by the police shows multiple body cam vantage points of the shooting and the chase.
In the first body-cam footage, an officer can be heard explaining to dispatch the reason for the stop. At one point a sound consistent with a gunshot can be heard coming from Walker's car.
The officer then explained that the suspect had fired a shot out of his door.
Street camera footage, included in the Akron police's released video, showed the moment the suspect allegedly fired a gun and the flash that would accompany a gunshot.
A narrator on the Akron police video explained the car chase continued for a few minutes before multiple officers got out of their vehicles and demanded to see Walker's hands and that he not move. Walker is then seen exiting the vehicle and begins running.
During the foot chase, an officer can be seen taking out his taser and using it in an attempt to apprehend Walker.
This was unsuccessful and at one point Walker turns towards the police officers as he is running away.
Multiple officers then begin firing at Walker and continue firing as he lies on the ground.
Hauser professor of the practice of non-profit organizations and professor of the practice of public leadership and social justice at the Harvard Kennedy School, Cornell William Brooks shared a picture of Walker to his Twitter page and reflected on the reaction to the footage.
"After watching the latest police video of a Black person killed, I am always asked 'Will protests be non-violent?'" he tweeted.
"I am waiting for somebody to ask 'Will the police be non-violent whenever they can, so people won't have to protest at all?'"
In a follow-up tweet, he added: "The same police chiefs that praise traumatized protesters for their non-violence after police homicides COULD praise and train their officers for demonstrating non-violence and patience, making protests unnecessary. The police did that with the Buffalo killer."
In May, Payton Gendron, allegedly shot and killed 10 people in what police described as an attack that was "racially motivated [and] violent extremism" in Buffalo, New York.
Police were able to arrest the 18-year-old, considered armed and dangerous, without incident.
On Wednesday last week, Akron Mayor Dan Horrigan and police chief Mylett released a statement regarding the shooting.
"We know that no police officer ever wants to discharge their service weapon in the line of duty. And anytime they must, it's a dark day for our city, for the families of those involved, as well as for the officers," the statement read.
"Tragically, we are once again faced with a young man, with his life before him, gone too soon. Every single life is precious, and the loss of any life is absolutely devastating to our entire community.
"Our prayers are with Jayland Walker's loved ones, and we offer our sincere condolences to all those who knew him. Our thoughts are also with our Akron police officers and their families.
"We want to reassure our citizens that more information will be coming in the following days, including the body-worn camera footage that recorded this incident. We are keeping our promise to the community, understanding that there can be no trust without transparency and follow-through on commitment.
"We have every confidence in the Attorney General's Bureau of Criminal Investigation to conduct a thorough, fair, and honest investigation. We will cooperate fully with that investigation and have made it a top priority for our staffs. As a city, we are committed to this process and trust that it will yield a fuller understanding of this incident."
Newsweek has contacted the Akron Police Department for comment.
Update 07/05/22, 4:47 a.m. ET: This article was updated to include a tweet from professor Cornell William Brooks.