Jayme Closs Investigation Updates: How Did She Escape? Who Is Jake Thomas Patterson? Did She Know Her Abductor?
Following the arrest of Jake Thomas Patterson, questions surrounding the disappearance of Jayme Closs and the murder of her parents, James and Denise Closs, which plagued the Barron County Sheriff's Office, have been answered.
Jayme, 13, made national headlines in October when her parents were killed in their Barron County, Wisconsin, home and she was declared missing. A nationwide effort was launched to find the teenager, and the Barron County Sheriff's Office worked tirelessly with local and national law enforcement agencies to find Jayme and bring her home.
Although there were thousands of tips to sift through, the major breakthrough came when Jayme became the heroine of her own life.
"Jayme is the hero in this case, there's no question about it," Barron County Sheriff Chris Fitzgerald said. "She's the one who helped us break this case."
How Did Jayme Closs Escape?
After her parents were killed, Jayme was taken to a home in Gordon, Wisconsin, where she was allegedly told to take off her clothes so Patterson could get rid of the evidence. She was given pajamas to wear and instructed to keep her presence undetected from anyone who came over to the house.
When Patterson had guests over or if he left the house, Jayme was forced to crawl under his bed and was then "locked in" by plastic totes that had weights pushed against them to keep her from escaping. But on Thursday, while Patterson was out of the house, Jayme was able to push the bins and weights away and crawl out from underneath the bed.
She grabbed a pair of his shoes and made her way out of the house and down the street, where she ran into Jeanne Nutter, a neighbor of Patterson's. Jayme told Nutter her name and described the house where she had been held. Since Nutter's property touches Patterson's, she took Jayme to a neighbor's house that she thought would be safer, and the women called the police.
Who Is Jake Thomas Patterson?
After Jayme escaped her captor's home, Patterson was pulled over by police officers, who were working off a tip from Jayme that he was driving a red vehicle. At the time, Patterson allegedly told officers he knew why they were pulling him over and said, "I did it."
During conversations with law enforcement, as described in a criminal complaint, Patterson outlined several ways that he'd worked to conceal his identity. Before going to the Closs family home, he said he shaved his head and loaded the shotgun while wearing gloves so as to not leave DNA behind. He also removed the cord from the trunk that allows it to be opened from the inside, where he allegedly placed Jayme after taking her from her home.
The 21-year-old did not have a criminal history in Barron County or Wisconsin at the time of his arrest. He has since been charged with two counts of first-degree intentional homicide, kidnapping and armed burglary. If convicted, he faces life in prison. His next court hearing is on February 6.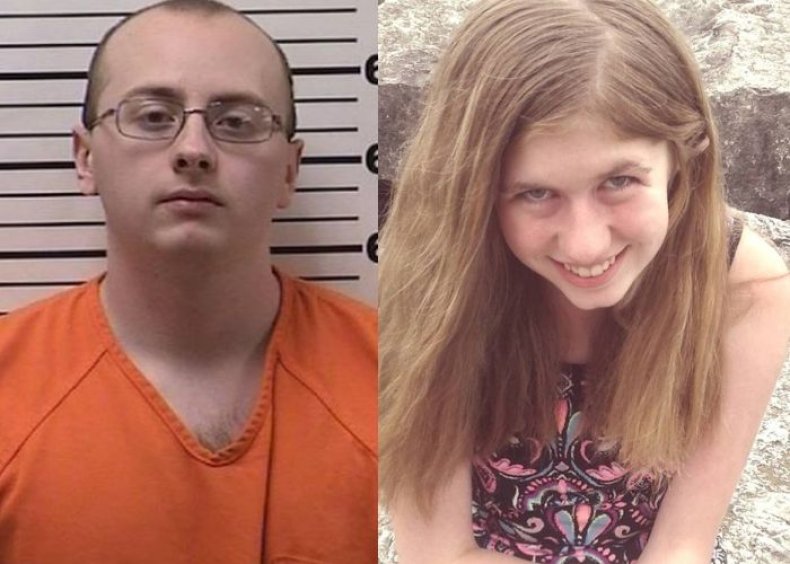 Did Jayme Closs Know Her Alleged Abductor?
While driving to work, Patterson stopped behind a school bus and saw Jayme board it. When he saw her, according to the criminal complaint, he "knew that was the girl he was going to take." He claimed that he had no connection to the Closs family and only learned Jayme's name after they returned to his house.
"The defendant stated he learned the names of the two people he shot and killed after seeing their names reported on multiple news programs and social media," the criminal complaint said, referring to James and Denise Closs.
Although Jayme reportedly did not know Patterson before the abduction, once she escaped, she could positively identify him by name to Nutter.
Was Jayme Closs Targeted?
After Patterson was arrested, Fitzgerald said that Jayme had been the target of the crime. Patterson allegedly told Detective Jeffrey Nelson and Special Agent Joe Welsch that he was "determined" to take Jayme on October 15 and would kill anyone in the house because he couldn't leave behind any eyewitnesses.
While driving away from the the Closs home, he yielded to multiple police cars that had their sirens on, and he allegedly said he was prepared to shoot at police if he was stopped. It's unclear at this time why Patterson would have targeted Jayme.
How Long Was Jayme Closs Missing?
Closs disappeared on October 15, the same night her parents were fatally shot. Since the day she was declared missing, the Barron County Sheriff's Office investigated thousands of tips that were called in and organized mass searches of the area.
On Thursday, the Douglas County Sheriff's Office notified the Barron County Sheriff's Office that Jayme was found safe. She had been missing for 88 days.
Who Placed the 911 Call From the Closs Family Home?
One of the questions surrounding the investigation had centered on a 911 call that was placed. The entire murder and kidnapping only took about four minutes, and officers were able to determine that within that time, a call was placed to 911. Although they knew it came from Denise Closs's cell phone, the caller never made contact with the dispatcher, so it was unclear as to what happened that fateful day.
On the day that she was abducted, Jayme's dog was barking, which alerted her to someone driving up their driveway. She woke up her parents and James saw a man with a gun at the door, prompting Jayme and Denise to hide in the bathroom.
After hearing the gunshot that killed her father, Denise used her cell phone to call 911. However, while she was making the call, Patterson allegedly broke down the door and ordered her to hang up the phone, which accounts for the lack of a conversation with a dispatcher.
Since being found, Jayme was hospitalized overnight for observation and treatment but has since been reunited with her family.