Jayme Closs Updates: Kidnapping Suspect Says 'I Did it,' Confesses to Trapping Her Beneath Bed, Killing Parents, Criminal Complaint Says
Jake Thomas Patterson, charged in killing James and Denise Closs and kidnapping their 13-year-old daughter, Jayme, allegedly decided to carry out the grisly deeds after seeing the teen getting on a school bus.
A criminal complaint filed by Barron County District Attorney Brian Wright claimed that Patterson worked at the Saputo Cheese Factory, near Almena, Wisconsin, and was driving to his job when he saw Jayme. He allegedly was stopped behind a school bus and watched her board, according to the complaint.
"He knew that was the girl he was going to take," read the complaint.
Patterson reportedly went to the Closs family's home in Barron County, Wisconsin, twice before the October 15 killing, but was unable to kidnap the young girl because there were too many people around.
On the night she was taken, Jayme said that she was asleep in her bedroom and heard her dog barking. At that time, she saw someone driving up her driveway and went to her parents' room to wake them up. Her father allegedly saw a man with a gun, later identified as Patterson, and told Jayme and her mother to hide in the bathroom.
While in the bathroom, Jayme told officers, she heard a gunshot, which killed her father. Her mother used her cellphone to dial 911, but Patterson broke down the door and told Denise to hang up the phone. He instructed Denise to put tape over Jayme's mouth, and after she complied, he shot her.
"The defendant stated that Denise and [Jayme] were seated in the bathtub, Denise with her arms wrapped around [Jayme] in a bear hug," the complaint read.
With her hands and ankles taped together, Jayme was dragged out to Patterson's car and placed in the trunk. After what Jayme estimated to be a two-hour drive, they arrived at a house. The tape was removed from her mouth, hands and ankles, and Patterson allegedly told her to take off all her clothes in the bedroom. She was later given pajamas to put on, according to the complaint.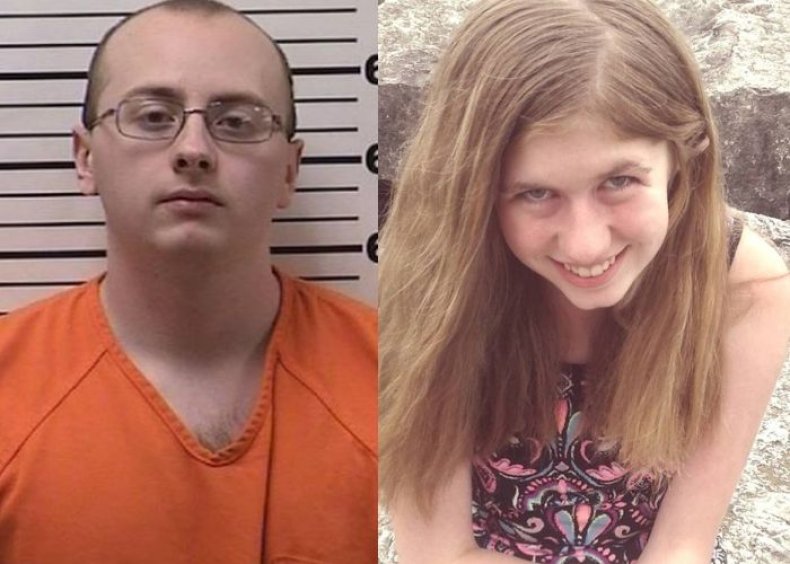 In the nearly three months Closs was held captive, Patterson had people over to the house, and he informed Jayme in no uncertain terms that no one was to know she was there. She was forced to hide under his bed, and weighted bins and totes were stacked around her so he would know if she moved.
At times she was forced to remain under the bed for up to 12 hours without food, water or being allowed to use the bathroom. When Patterson got angry, Jayme said that he would hit her on her back with what she described as a handle for something used to clean blinds.
On the day of her escape, Patterson told Jayme he would be gone for five or six hours and, as was custom, forced her to get under the bed. However, she was able to push the bins away from the bed and crawled out. Grabbing a pair of his shoes, she walked out of the house and toward a woman who was walking her dog.
The woman brought Jayme to a neighbor's house where they called 911 and officers came to positively identify her as the missing teenager.
When officers pulled over Patterson's vehicle on Thursday, they instructed him to get out of his car. As he got out, the criminal complaint claimed that Patterson said he knew what it was about and said, "I did it."
During a conversation with Detective Jeffrey Nelson, Patterson allegedly confessed to killing James and Denise and to kidnapping their 13-year-old daughter.
"The defendant stated he was determined he was going to take [Jayme] that night and was going to kill anyone in the house because he could not leave any eyewitnesses behind," the complaint said. "The defendant estimated he was at the Closs home for only about four minutes total."
To avoid detection, Patterson allegedly stole license plates off a parked vehicle and stopped on the side of the road to replace the license plates on his car with the stolen ones. He also allegedly removed the cord in the trunk of his car that enabled the trunk to be opened from the inside.
Patterson also allegedly used his father's 12-gauge Mossberg pump shotgun on the night of James and Denise's murder because he did research and knew it was one of the most heavily manufactured or owned shotguns. He assumed it would be more difficult to trace than another gun.
When officers arrived at the Closs family home, they observed "blood and brain splattering on the west wall" directly behind the home's entrances where James was murdered. They later found Denise in the bathroom with significant head trauma.
The criminal complaint stated that Patterson had no interaction with the Closs family before the night of the murders and only learned their names after he saw their identities reported on the news. When he wasn't caught within two weeks, he thought he'd gotten away with the killing.
Patterson was charged with two counts of first-degree intentional homicide, kidnapping and armed burglary with a dangerous weapon. He is expected to make his first court appearance on Monday afternoon.