Authorities File Capital Murder Charge Against Suspected Gunman in Killing of 7-Year-Old Houston Girl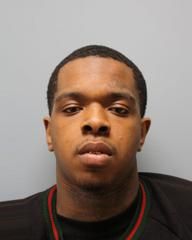 A second suspect in the shooting death of a 7-year-old Houston girl has been charged with capital murder, Texas authorities announced Tuesday.
The Harris County Sheriff's Office said Larry D. Woodruffe, 24, is the suspected gunman in the drive-by shooting of Jazmine Barnes, who was killed Dec. 30 while driving with her family to the grocery store.
The suspected driver of the assailants' car, 20-year-old Eric Black Jr., was charged with capital murder on Sunday.
Investigators believe Woodruffe and Black attacked the car Barnes was riding in because they mistakenly thought it was occupied by people they'd fought at a nightclub hours earlier. Both men were taken into custody on Saturday after police received a tip from activist Shaun King, who said one of his "confidential informants" had identified the suspects.
Police later corroborated King's tip through their investigation.
Barnes' killing received significant attention from media and social activists in part because initial reports suggested it could have been racially motivated. Family members described the shooter as a white man driving a red pickup, and police released a composite sketch of a white suspect based on their description.
But that account turned out to be mistaken, police later discovered. Surveillance video showed a red pickup driven by a white man at a nearby stoplight just before the shooting, but the driver was not involved, according to Harris County Sheriff Ed Gonzalez. Barnes' family may have misidentified the assailants because it was dark and the shooting happened quickly, Gonzalez said.
Community leaders commended investigators for working with activists to track down the suspected killers, but said the discovery that the shooting wasn't racially motivated didn't make Barnes' killing any less tragic.
"We are still heartbroken at the thought of a seven-year-old innocent child losing her life in such a violent way," Deric Muhammad, an organizer of a rally in Houston to demand "Justice for Jazmine," said in a statement Monday.
"We are no less heartbroken that those person[s] currently charged with this homicide are black, not white," he added.
Black and Woodruffe are both being held in the Harris County jail without bail.
Authorities File Capital Murder Charge Against Suspected Gunman in Killing of 7-Year-Old Houston Girl | U.S.