JBL Headphones and Speaker Prove That Boring Doesn't Have to Mean Bad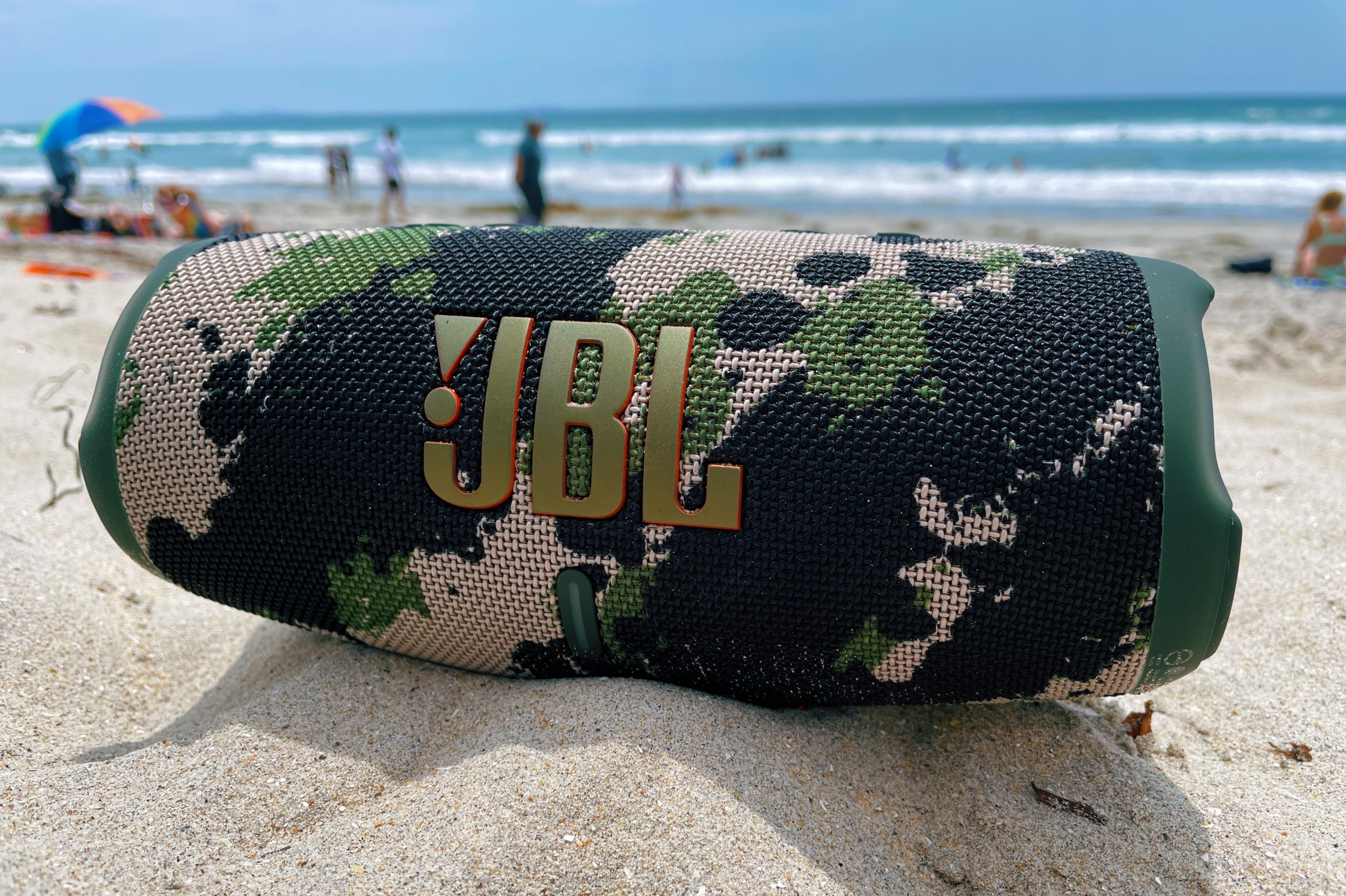 Constantly reviewing headphones and speakers means I listen to a lot of these products. Whatever the final verdict, good or bad, I can usually form some kind of initial impression of the sound or features. JBL really made it hard with its Charge 5 Bluetooth speaker and Tour One wireless headphones. Speaking generally about both products, the sound is solid, but not amazing. The included features are standard and predictable. I didn't even feel swayed in one direction or another by the look of the cylinder-shaped, camo-clad Charge 5. It feels familiar in 2021. Even the price points come in right in the middle of a crowded audio market.
While the headphones and speaker are a bit boring, it's not all bad news. Both products performed well during use and each has at least one notable characteristic. I like the rugged nature of the Charge 5 and the comfort of the Tour One, for example. The biggest problem JBL faces here is that there's very little separating these devices from others. The portable audio space is crowded, and without an extraordinary price, unique features or unbelievable sound, what else does the Charge 5 offer to get excited about?
JBL Charge 5 Bluetooth Speaker
I think the middle-of-road persona the Charge 5 exudes could work in its favor. Of course, the blandness makes it hard to remember to recommend, but it performs really well as a go-anywhere speaker. Hear me out.
My family headed to the beach in Southern California on a recent summer day. In gathering the items to take, I grabbed the Charge 5 to provide some music. The speaker is substantial enough to get loud, but not too heavy or large to throw in a backpack. The tightly woven fabric that covers most of the speaker makes it feel extremely rugged. Because of the speaker's IP67 dust and waterproof rating, I wasn't hesitant to use it in the wet, coastal environment.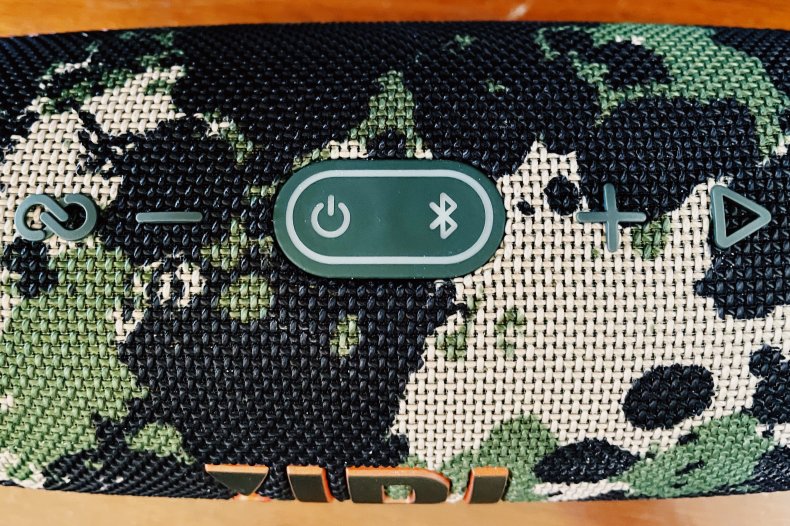 The other X-factor that made this a good choice for a beach day excursion was its USB-A port on the back, enabling the speaker for use as an external battery pack for phones (or other portable devices). It can play music for 20 hours or share some of that power for other devices. It's not an uncommon feature among Bluetooth speakers, but it's still neat here. And how do you know how much battery is left on the Charge 5? There's a light indicator front and center that shrinks from top to bottom as the battery is used.
On sound, the bass is impressive for its size, making for a rich, balanced sound indoors. Outside, it holds its own, even though it might sound weak for larger gatherings. As I listened, acoustic guitars were plucky and clear. Vocals were present. Keys and synths were expansive. Chvrches "He Said, She Said," for example, sounded sharp and clear, with plenty of low-end bass to fill out the song.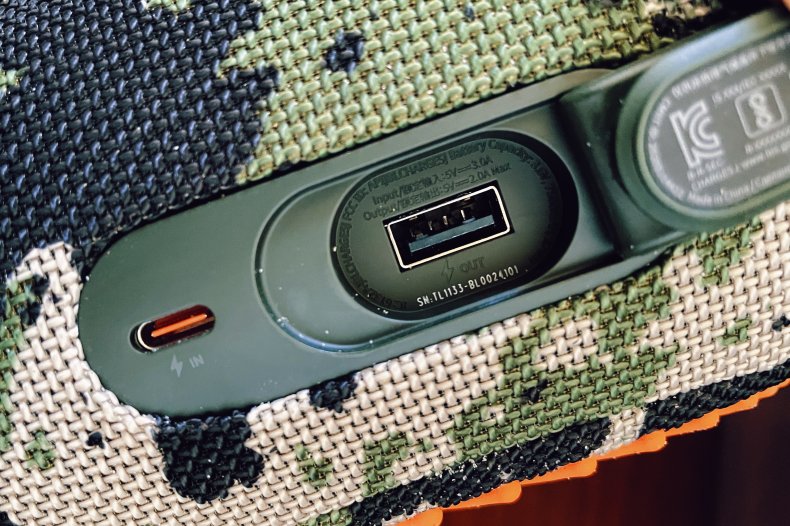 Basically, I didn't have to worry about ruining the Charge 5, or if it would be able to handle the beach or outdoors—it can. The less you need to worry about your gadgets, the more you get to use them.
JBL Tour One Wireless Headphones
Three hundred dollars for ANC headphones? There are plenty of choices. In fact, there are nearly countless ways to spend that amount of money on headphones or earbuds. So, why the Tour One from JBL? That was my question, as well. To skip to the end, the most compelling reason is that they are extremely comfortable—with decent sound and the ability to block out noise.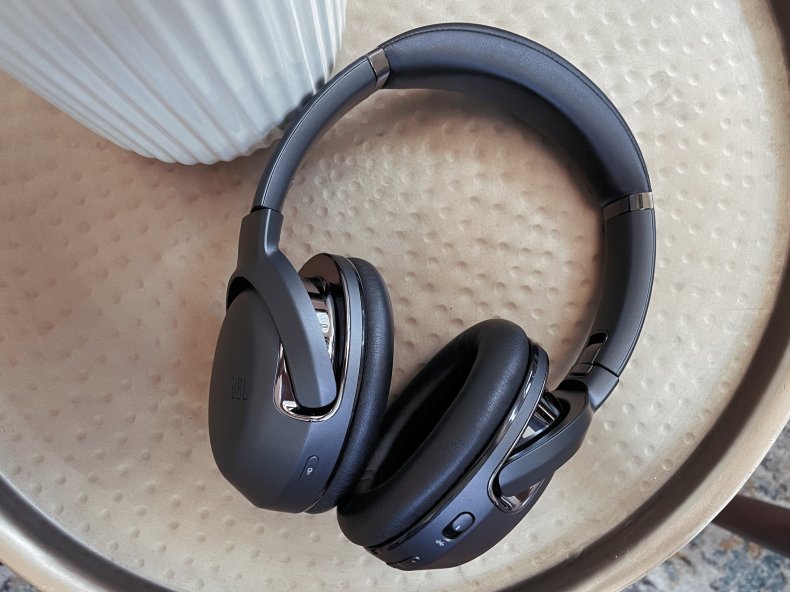 Sound may be crucial to an audio product, but so is comfort when you wear that product on your head for hours at a time. It may seem easy to make a pair of headphones that fits well and doesn't torture some aspect of your ears or skull, but it's not. That makes JBL's fit here a noteworthy item.
If the audio quality matched the comfort and expectations of its retail price, these would be the complete package and a must-buy for people living in their headphones. (Hint: it doesn't.)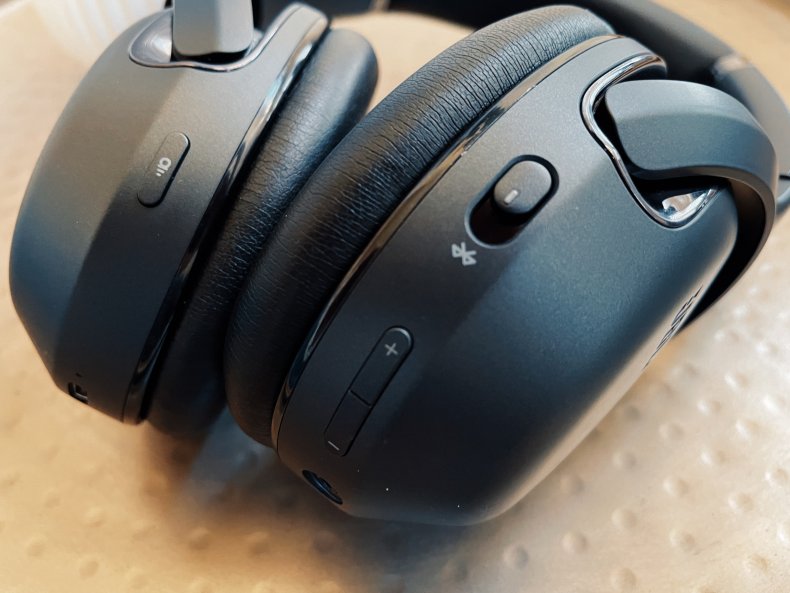 I was immediately taken with the feel of the leathery fabric on the ear cups and headband. It's smooth, soft and squishy. The ear cups look small but are generously sized to fit, even over big ears. The overall weight of the headphones is quite light.
In a lot of ways, the Tour One are reminiscent of headphone models from Bose. The Tour One aren't as dated as the QC25 or as sleek as the 700. Their weight, shape and materials are definitely familiar, though. Their exterior is where the similarities stop. These JBL headphones are very light on the bass out of the box. They are capable of pushing the lower frequencies, but this requires using the My JBL Headphones app. Turning on the EQ in the app unlocks more sound potential. There are three preconfigured EQ settings—jazz, bass and vocal. You can create your own setting, which is nice, but I would have preferred more pre-configured options. It's worth noting that the app is really well laid out and polished, making it one of the nicest audio companion apps out there.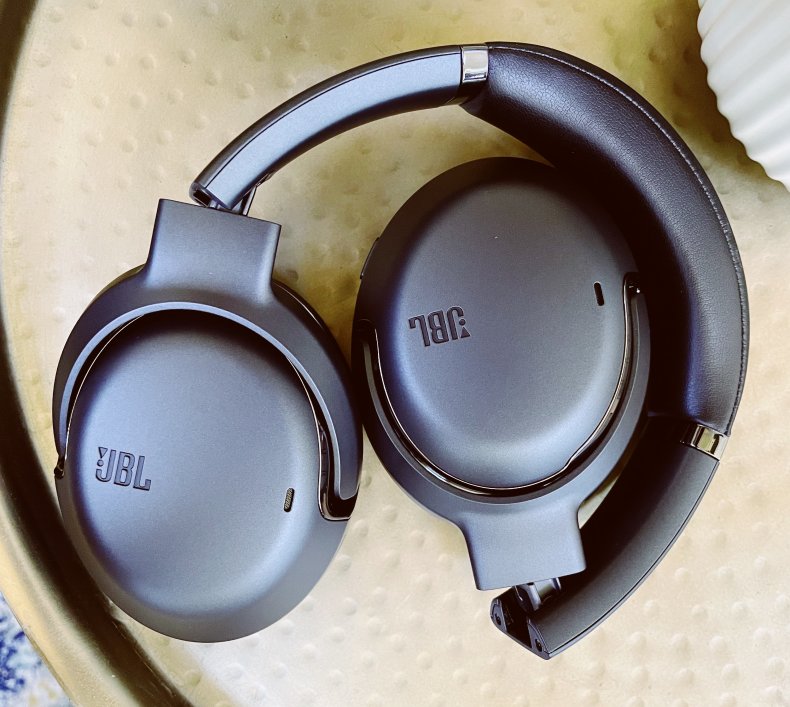 Without the EQ on, songs sound a bit weak and hollow. The headphones seem to have faithful reproduction and good clarity, but they lack the oomph most people will expect when spending $300.
Should You Buy This Speaker or Headphones?
These products don't even scream boring—they just state it matter-of-factly. I really wished there was something that made either one stand out more because I enjoyed using them. The Tour One was overly comfortable with its padded ear cups, but its sound, ANC and controls all felt pretty generic.
Similarly, the Charge 5 Bluetooth speaker sounded good for its size, but even its camo colors couldn't make it stand out from all the other available portable speaker options. In that regard, it might be a good speaker that you don't need to worry about babying.
If either of these audio devices goes on sale heavily, they will be terrific purchases. As it is though, there's just little to differentiate them from lots of other solid options.
Buy Tour One at JBL, Best Buy and Amazon.
Buy Charge 5 at JBL and Amazon.
Newsweek may earn a commission from links on this page, but we only recommend products we back. We participate in various affiliate marketing programs, which means we may get paid commissions on editorially chosen products purchased through our links to retailer sites.