J.C. Penney, Which Survived the Great Depression, Succumbs to Pandemic Lockdowns, Putting 90,000 Jobs at Risk
J.C. Penney, a 118-year-old retailer which survived the Great Depression, filed for bankruptcy on Friday as U.S. retail sales tumbled at a record pace, crushed by restrictions meant to stall the pandemic.
J.C. Penney had previously announced that it would be closing some of its 850 stores. The company employees almost 90,000 workers. It is the fourth major retailer—joining J.Crew, Neiman Marcus and Stage Stores, the company that also owns the chains Goody's, Bealls and Peebles—to file for bankruptcy protection amidst the coronavirus pandemic.
The retailer has not announced which of its stores are closing, which as some employees worried. "I hope the one in Topeka doesn't close [Crying face emoji] this is where I work for my part-time job! [Crying face emoji]," wrote Twitter user @beth4ku.
Sales had been low prior to the pandemic for the retailer, however. During the fiscal fourth quarter of 2019, which ended February 1 of this year, J.C. Penney's profits were down 64 percent. J.C. Penney has entered into an agreement with the lenders of about 70 percent of the company's first lien debt as part of a financial restructuring plan. Part of the plan requires J.C. Penney to file for Chapter 11 bankruptcy protection.
"Implementing this financial restructuring plan through a court-supervised process is the best path to ensure that JCPenney will build on its over 100-year history to serve our customers for decades to come," Jill Soltau, J.C. Penney CEO, said in a statement.
"We have a newly refreshed, highly experienced team of retail executives who remain focused on rebuilding our business and restoring financial strength to JCPenney," she added.
Newsweek reached out to J.C. Penney for further information. This story will be updated with any response.
Retail sales in the U.S. have been down across the board. Over the last 12 months, sales are down 21.6 percent, and in April 2020 alone, sales fell 16 percent, according a report Friday from the Commerce Department. Joshua Shapiro, the chief U.S. economist for the consultancy Maria Fiorini Ramirez told the Associated Press that even as states reopen their economies, sales will remain depressed as "a big chunk of the lost jobs" will not come back.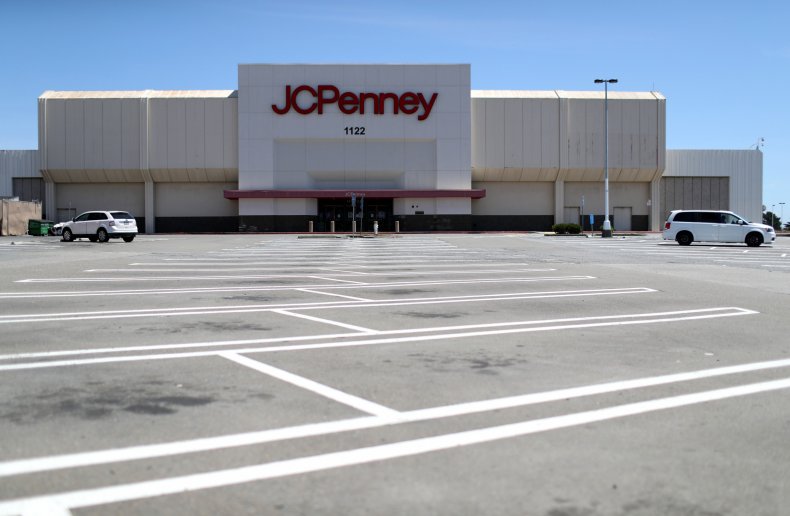 The worst losses in April were suffered by clothing stores, as well as electronics and furniture stores. Department stores like J.C. Penney lost 29 percent of business since March. The only retail sector to show an increase in sales were online and catalog companies.
J.C. Penney was founded in 1902, and thrived until 1929, the year of the Great Depression. Though company founder James Cash Penney lost most of his wealth during the Depression, the company was able to hang on and eventually rebounded. Before 1929, J.C. Penney had opened 1,252 stores across every state.
When the Great Depression hit, however, Penney had to take out loans to be able to make payroll, the company was able to survive, thanks to the low prices on the stores' merchandise. By 1941, however, J.C. Penney had weathered the Depression and started expanding again; in 1966, with the addition of stores in Alaska and Hawaii, J.C. Penney again had stores in every state. The company reached its peak in the 1970s, with over 2,000 stores.
Starting in the late 1990s, however, the retailer began to struggle, due to increased competition. J.C. Penney previously came close to filing for bankruptcy in 2012, after then-CEO Ron Johnson cut promotions. Johnson was fired soon after, spending 17 months in the role.